Hong Kong Blockchain Ecosystem
By
Apr 01, 2020 3 Min Read
Hong Kong Blockchain Ecosystem - Mar 2020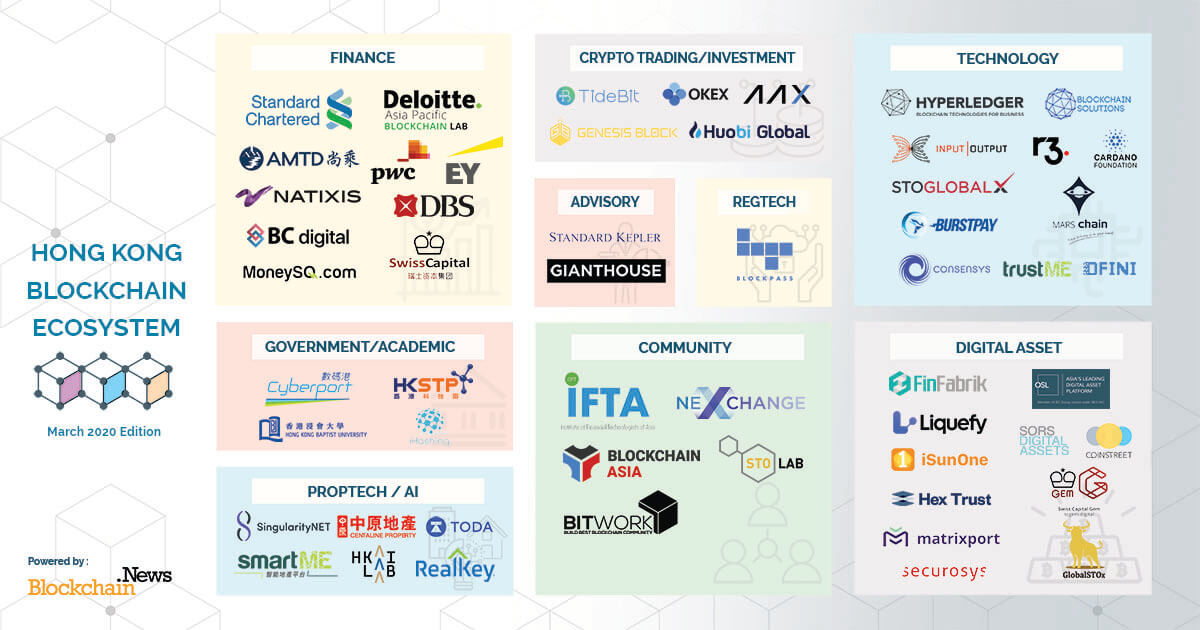 Announcing the Hong Kong Blockchain Ecosystem by Blockchain.News!
What is it?
Powered by Blockchain.News, the Hong Kong Blockchain Ecosystem is the bridge connecting blockchain startups and leading financial institutions in Hong Kong! The ecosystem map will be updated on a monthly basis, and businesses can utilize our network to capitalize on new business opportunities. Blockchain.News facilitates new business opportunities for startups, through our monthly community events, exclusive interviews with leaders in blockchain and cryptocurrencies, and exclusive discount codes in the renowned blockchain conferences worldwide.
Ready to become part of our blockchain ecosystem?
Contact us at info@blockchain.news for details!
Hong Kong Blockchain Ecosystem
Government/Academic
Hong Kong Science Park
HKSTP aims to provide support every step of the way to help technology startups turn their dreams to life. To date, there are over 810 technology companies and 8,700 R&D practitioners in HKSTP. In our conversation with Peter Mok, Head of Incubation and Acceleration Programme of HKSTP, Mok explained the significance of STEP, core incubation programme and Hong Kong's unique positioning of FinTech.
Website: https://www.hkstp.org/en
Insights of HKSTP
Hong Kong Science and Technology Park: Turning Tech Startups' Visions into Reality
Hong Kong with its Incredibly Unique Positioning in FinTech
Hong Kong Cyberport
Hong Kong Cyberport aims to be the hub for digital technology thereby creating a new economic driver for Hong Kong. As an innovative digital community, Cyberport houses over 380 companies engaged in blockchain, cybersecurity, big data etc. Charles Lam, the senior manager of FinTech and blockchain cluster at Cyberport, shared with us the key indicators of successful startups, Cyberport's collaboration with leading enterprise blockchain solution providers and the blueprint for a Smarter Hong Kong.
Website: https://www.cyberport.hk/en
Insights of Cyberport
Cyberport: The Key Indicators for Startup Success in the FinTech and Blockchain Industry
Empowering Enterprise Blockchain Integration with Hyperledger and R3
Cyberport: Integrating New Technology and Blueprint for a Smarter Hong Kong
Hong Kong Baptist University
Hong Kong Baptist University (HKBU) gained university status in 1994 and is one of the leading universities in Hong Kong. To nurture FinTech talents, HKBU offered Master of Science in Finance (FinTech and Financial Analytics) including electives in blockchain and cybersecurity. In our conversation with Prof. Aris Stouraitis, Department Head of Finance & Decision Sciences at HKBU, Stouratis emphasized the practicability of the FinTech Masters and he offered 5 advice for FinTech graduates.
Website: https://www.hkbu.edu.hk/eng/main/index.jsp
Insights of HKBU
Exclusive: Lack of Interdisciplinarity - Culprit for FinTech Talent Shortage
Exclusive: What are Top 5 FinTech Career Advice for Graduates?
iHashing Technology Co. Ltd.
Enlighten people with blockchain values - Founded in 2017, and supported by Cyberport HK. iHashing specializes in the development and application of artificial intelligence, blockchain technology, cloud development, and digital marketing. iHashing is committed to provide education, adoption, and application of blockchain technology for mCommerce. Their services currently include: solution and development of IT applications, infrastructural services, Blockchain Software development, Smart Contract Audit, Cryptocurrency trading support, software technology consultation and digital advertisement. Their clients across Asia extend to Hong Kong, Singapore, Malaysia, Vietnam, Thailand, and Taiwan.
Website: https://ihashing.hk/
Community
Institute of Financial Technologists of Asia (IFTA)
Institute of Financial Technologists of Asia (IFTA) is founded by FinTech professionals in 2017 as a non-profit organization, which aims to lead the global development of FinTech talent with the highest standards of ethics, education and professional conduct. IFTA strived for this goal with the creation of the Chartered Financial Technologist (CFT) and the IFTA FinTech Achievement Award. Paul Pong, the Chairman of IFTA explained the significance of CFT and how IFTA expands to the Asia-Pacific market with 3 key initiatives.
Website: https://cftasia.org/
Insights of IFTA
Exclusive: Why is FinTech the Golden Opportunity for Graduates?
NexChange
NexChange gathers a global team of experts from finance, technology and media that have come together to design an O2O platform to connect the innovation industry. NexChange aims to foster the blockchain ecosystem via a number of events such as HKBlockchainWeek, FinTechO2O, HealthTechO2O, BlockO2O.
Website: https://nexchange.com/
Blockchain Asia
Blockchain Asia provides technical, legal and regulatory advisory services to help clients developing a realistic view of blockchain and how blockchain can be used to improve the efficiency of business operations.
Website: https://blockchain-asia.com/
STO Lab
STO Lab is a global business alliance network and eco-system for sourcing and distributing high-quality STO projects in international markets. The consortium consists of corporate members from different industries, key eco-system enablers and service providers along the value chain, and financial institutions and accredited investors. Together with its consortium members, STO Lab aims to derive a multi-country fully compliant ways and best practices in asset tokenization process.
Please visit - http://thestolab.com/
Bitwork
Bitwork is a blockchain community-based company that assists all blockchain companies in the community to develop their unknown market value. Through a Business-to-Business-to-Customer (B2B2C) complete ecosystem model, Bitwork aims to create a channel for the reciprocal transaction of products or services.
Website: https://bitwork.asia/index.html?l=en
Crypto Trading/Investment
Huobi Group
Huobi Group is a leading global digital asset financial service provider, with cumulative turnover exceeding 1.2 trillion USD as of August 2019. In August 2018, Huobi Group acquired Hong Kong-based listed company Pantronics Holdings Ltd (01611.HK). As one of the leading crypto exchanges, Ciara Sun, Chief of Staff at Huobi Global shared with us the state of crypto exchanges and future plans of Huobi Global.
Website: https://www.huobi.io/en-us/
Insights of Huobi Global
It is not just Liquidity, Huobi on Two Fair Metrics to Rank Crypto Exchanges
OKEx
OKEx is a world-leading digital asset exchange, providing advanced financial services to traders globally by using blockchain technology. Serving millions of users in over 100 countries, OKEx shared with us the 7 keys to assess IEO projects and emerging crypto markets like Turkey.
Website: https://www.okex.com/en/
Insights of OKEx
Exclusive: What are the 7 Keys to Assess IEO Projects?
Exclusive: How Turkish Lira Crisis Facilitates OKEx Expansion?
Genesis Block Hong Kong
A Hong Kong based Over the Counter (OTC) trading center of digital assets. Wincent Hung, Director of Genesis Block Hong Kong shared with us Hong Kong's positioning of Bitcoin ATMs and the key for qualified crypto custodian in Hong Kong.
Website: https://genesisblockhk.com/
Insights of Genesis Block Hong Kong
Exclusive: Why Hong Kong is Asia No.1 in Bitcoin ATM?
Exclusive: Bank Grade Security - The Key For Qualified Crypto Custodian
TideBit
TideBit is a leading crypto asset exchange supporting fiat currency based in Hong Kong. Founded in February 2017, TideBit is the only digital asset exchange in Hong Kong that accept HKD, USD and EUR deposits and withdrawals. Trusted by millions of users from all over the world which allows TideBit to become one of the largest digital asset exchanges in Asia.
Website:https://www.tidebit.com/
AAX
AAX is the world's first digital asset exchange to be powered by LSEG Technology. Offering OTC, Spot, and Futures trading, quoting more than 70 cryptocurrency pairs and listing 5 perpetual futures contracts for Bitcoin, Ether, Litecoin, XRP, and EOS, which can be traded with up to 100x leverage, AAX provides a secure, deeply liquid, ultra-low latency and fully compliant trading platform.
Website: https://www.aax.com/
Digital Asset
FinFabrik
A Fintech firm that specialized capital markets software for the digitization of alternative and illiquid assets. During our conversation with Florian Matthaeus Spiegl, COO of FinFabrik, Spiegl explained the importance of asset digitization and the market potential of digital asset-backed securities in Hong Kong.
Website: https://www.finfabrik.com/
Insights of FinFabrik
Meet the FinTech Entrepreneur: Co-Founder of FinFabrik, Florian Matthaeus Spiegl
Understanding Digital Asset-Backed Securities: Why is Blockchain Important?
Coinstreet
Coinstreet Partners is an award-winning decentralized investment banking group and consultancy firm in the F.M.T. (Finance, Media & Tech) field, providing a business eco-system for the new era of digital economy. As a leading player in digital asset and FMT (Finance, Media & Technology) areas, Coinstreet focuses on five business segments: Token Finance Consultancy, Digital Asset & Wealth Management, PR Media & Investor Relations, Digital Asset Tokenization & Trading Platform, and Decentralized Finance & DLT Solutions.
Please visit - https://coinstreet.partners/
OSL
As the member of BC Group (Stock code: 863 HK), OSL is Asia's leading digital asset platform providing SaaS, brokerage, custody and exchange services.
Website: https://osl.com/en/home
iSunOne
iSunOne is a global digital asset management platform, with AUM exceeding 2 billion USD as of December 2019. Providing better banking on blockchain, iSunOne integrates a global crypto debit card, built-in exchange, collateral loan and staking service for seamless one-stop experience. iSunOne users enjoy the safety and privacy to send each other secret messages and photos, as well as simultaneous gifting or instant paying with BTC, ETH, USDT, XTP and 20+ other assets.
Website:https://isun.one/
Hex Trust
Hex Trust is the Asian leader in enterprise-grade custody for digital assets. Led by innovators from the institutional financial services space, Hex Trust has built a proprietary platform that delivers a modern custody solution for financial institutions, asset managers, and corporations to safely and efficiently operate in the blockchain ecosystem. ZeroKey(TM), a proprietary technology, enables seamless transacting and fast access to assets stored on multiple blockchains, while maintaining the highest levels of security of cold storage solutions. As a registered Trust Company under the Hong Kong Trust Ordinance and holding a Trust or Company Service Provider (TCSP) license under the Anti-Money Laundering and Counter-Terrorist Financing Ordinance, Hex Trust offers a truly end-to-end digital asset servicing solution.
Visit www.hextrust.com to learn more.
Founded in early 2018, Sors Digital Assets brings originality and imagination to global clients by developing suitable solutions for the blockchain and token economy, which is dedicated to the highest standards in the creation of digital assets. Headquartered in Hong Kong and with a presence in Ireland, Paris, Singapore & Korea, SORS Digital Assets bridges the gap between East and West and offer to clients a truly 24 hour global service suitable for the digital economy.
Website: https://www.sorsdigitalassets.com/
GlobalSTOX
GlobalSTOX Limited (GSL) is a rising star fintech company incorporated in Hong Kong. It has been striving to innovate the financial market infrastructures with the cutting-edge technologies, including the Artificial Intelligence (AI), Blockchain and Internet of Things (IoT) technology. GSL has a strong team including Mr. Alec Tsui, the former Chief Executive Officer of the Stock Exchange of Hong Kong. It currently operates a virtual assets trading platform named APX.HK, fully compliant with the rules and regulations in Hong Kong.
Website: https://globalstox.io/
Swiss Capital GEM
"Swiss Capital GEM - world's first gold standard cryptocurrency & crypto-central bank in multibillions scale. GEM as a proprietary gold standard and capital backed cryptocurrency - is the divine ultimate adoption of blockchain technology into global currency market and crypto central banking." Cited by Swiss Capital Group Chairman The Honorable Gary Sum.
Website: https://www.scgem.digital/
Liquefy
Liquefy is a venture-backed and award-winning FinTech platform which enables the issuance of tokenized securities backed by real assets, to bring in a new world of accessible investments. We aspire to be the next-generation wealth manager, leveraging blockchain technology to offer a full suite of financial products.

Website:
https://www.liquefy.com/
Securosys
Securosys SA is a technology company headquartered in Zurich, Switzerland. Securosys secures data and communications, which the products are developed and manufactured in Switzerland and with vested European partners using a trusted supply chain. There are no backdoors. The flagship product of Securosys is the Primus Hardware Security Module used to protect the Swiss banking system SIC, blockchain and crypto assets solutions, and Public Key Infrastructure Systems.
Website: https://www.securosys.com/en/
Matrixport
Matrixport, span off from the crypto giant Bitmain and officially established in February 2019, is a one-stop crypto financial services platform offering digital currency trading, institutional custody (branded as "Cactus Custody"), lending as well as asset management to both institutional and retail customers. The digital currencies traded on its platform include bitcoin, bitcoin cash, ethereum, litecoin, Ripple, Tether, USD Coin and many others. Matrixport was co-founded by Jihan Wu and John Ge, who were both mining industry veterans and co-founders of Bitmain.
Matrixport has 150+ staff globally with global headquarters in Singapore and offices in Hong Kong, Zurich, and Moscow. With rich industry resources and leading technology capabilities, Matrixport aims to make crypto easy for everyone and create the next generation of digital financial service experiences. Matrixport's vision is to enable a more open and equal financial system using blockchain technologies.
Website: https://www.matrixport.com
Technology
Hyperledger
Hyperledger is an open-source community focused on developing a suite of stable frameworks, tools and libraries for enterprise-grade blockchain deployments. It is a global collaboration, hosted by The Linux Foundation, and includes leaders in finance, banking, Internet of Things, supply chains, manufacturing and Technology. Similar to The Linux Foundation, Hyperledger has a modular approach to hosting projects. The Hyperledger greenhouse hosts developing business blockchain projects from Hyperledger Labs (seed) to stable code ready for production (fruition). All are invited to contribute to the greenhouse; collectively advancing industry goals of distributed ledger and smart contracts.
Learn more about Hyperledger: https://www.hyperledger.org/
R3
R3 is an enterprise blockchain software firm working with the world's leading financial institutions. R3 launched Corda in 2016 which is the key driver of enterprise blockchain adoption. In our conversation with Carl Wegner, Wegner explained the various initiatives of R3, including Project Lionrock Inthanon, a CBDC initiative announced by the Hong Kong Monetary Authority (HKMA) and the Bank of Thailand.
Website: https://www.r3.com/
Insights of R3
R3 and Asian Central Banks Join Forces to Unravel Central Bank Digital Currencies
R3 - Revolutionizing Trade Finance with Blockchain
ConsenSys
Founded by Ethereum's co-founder Joseph Lubin, ConsenSys Hong Kong aims to build Ethereum blockchain infrastructure and applications for new economic systems. The company partners with Forbes Global 2000 companies, non-profits and governments to deploy public and private blockchain solutions. Charles d'Haussy, Director of Strategic Initiatives at ConsenSys shared with us the role of ConsenSys on the growing Ethereum and DeFi ecosystem.
Website: https://consensys.net/
Insights of ConsenSys
ConsenSys on growing the Ethereum Ecosystem
How does DeFi shape the future financial market?
IOHK
Founded in 2015, Input Output HK (IOHK) is an engineering company that builds cryptocurrencies and blockchains for government entities, academic institutions and corporations. Charles Hoskinson, CEO of IOHK compared the progress of Proof-of-Stake by Ethereum and Cardano and he explained Cardano's effort in Africa in driving mass blockchain adoption.
Website: https://iohk.io/
Insights of IOHK
Exclusive: State of Cardano and Ethereum towards a Proof-of-Stake Protocol
Exclusive: Key Blockchain Developments and Cardano's Efforts in Africa
Cardano Foundation
Based in Switzerland, Cardano Foundation works closely with IOHK to design and build Cardano. In our conversation with Nathan Kaiser, Chairperson (ad interim) of Cardano Foundation explained the state of on-chain and off-chain governance and the state of blockchain regulation.
Website: https://cardanofoundation.org/en/
Insights of Cardano Foundation
Exclusive: Does Forking Mechanism Allow for a Better Blockchain Governance Model?
Exclusive: Liberal Society Comes with Friendly Crypto Regulations
STOGlobalX
STO Global-X (STGX) is a Singapore-based technology company that offers an institutional-grade, white-label marketplace solution for broker dealers, licensed institutions and regulated marketing operators. STGX offers end-to-end asset tokenization and life cycle management in a secure and compliant manner, including asset tokenization, initial offering, post-offering management, secondary trading and on-going asset management modules. STGX platform can tokenize a wide spectrum of asset types, including fixed assets, real estate, commodities, derivatives, equities, debts, cashflows and investment funds, etc.
Please visit - https://www.stoglobalx.com/
DFINI
DFINI is a solution provider focused on the decentralized finance sector. We develop decentralized finance solutions that allow established institutions to adopt distributed ledger technology, and provide open finance platforms that empower individuals around the world to engage with new and restructured financial systems.
Please visit - https://dfini.com/
Mars Chain
Mars Chain is the product of a well-composed team of seasoned developers and entrepreneurs with vast experience in the blockchain space and the global banking industry. Its businesses include stablecoin, digital currency exchange, mining, media, digital asset management and more.
Website: https://marsblockchain.com/en/
BURSTPAY
BURSTPAY - Eco-friendly & Smart Blockchain Payment Solution, helps mCommerce & users who care about data privacy & ownership, to make trustless transaction instantly & globally, and to secure & automate your trade or refund by smart contract. Features Easy & Fast - Transact instantly. Get confirmed in minutes. Secure & Fair- Robust BURST Blockchain Payment that Reward & Pay Back. Green - Transaction validates by Solar energy. Borderless - Shop around the World. Reach New Markets. Censorless - No Bank Freezing Accounts. Serverless Solutions. Trustless - No Middleman Platform. No Custody Risks.
Website: https://burstpay.io/
trustME
trustME was founded in early 2018 as a technology company with an avowed mission to establish itself to be the technology innovator in Hong Kong. Since then, trustME has made a significant impact in the technology scene in Hong Kong, notably in the Fintech areas where we excel in the innovation with blockchain, AI and data-driven financial analytics. trustME has launched a business blockchain platform "trustME" in 2018, the first of its kind in Hong Kong to bring transformative and distributive innovation across industries. The company's expertise in blockchain permitted them to provide a unique blockchain solution to different industries and offer unparalleled and expert blockchain consulting services to diverse industries.
Website: www.trustmechain.com
Blockchain Solutions Limited
Blockchain Solutions Limited (BSL), is a new technology start-up founded in 2017, with the vision of being the pioneer and market leading One Stop Solution Provider for clients and corporations both globally and locally. We are partners of IBM, R3 Corda, and Hitachi as we focus on applications with different blockchain platforms. In 2019, HKSAR government has opened 3 blockchain project tenders and BSL awarded 2 of them. Also, Blockchain Solutions was awarded the first HKSARS government initiated blockchain project. The mission of BSL is to leverage the research and development team to enable business entities to fully transition and maximize the benefits through various application of the distributed ledger technology (DLT). Through technical expertise, BSL offers consulting services and industry leading solutions.
Please visit - https://www.blkchainsolutions.com/
Proptech/AI
SingularityNET
SingularityNET is a full-stacked, decentralized Artificial Intelligence (AI) network that served as an AI-as-a-Service (AaaS) Marketplace. Dr. Ben Goertzel, the mastermind behind SingularityNET, revealed the state of artificial superintelligence, the partnership with PayPal and the future of AaaS marketplace.
Website: https://singularitynet.io/
Insights of SingularityNET
Dr. Ben Goertzel—Striving towards an Autonomous Decentralized and Compassionate Artificial Super Intelligence
Dr. Ben Goertzel—Creating an AI Marketplace for Paypal's 286 Million Users
SingularityNET Dr. Ben Goertzel: Creation and Emergence of the Global Super Brain
Centaline Property
A leading property agency in Hong Kong with nearly 40,000 employees and more than 2,000 offices in 39 cities in Mainland China, Hong Kong and Macao. Centaline Property has been a pioneer in PropTech back in 2015, and they collaborated with Microsoft and TFI Blockchain to unveil the first blockchain platform for second-hand property sale and purchase in Hong Kong. Alex Shih, vice chairman of Centaline Group shared with us the role of blockchain to property agents, operations of property agencies and the latest PropTech roadmap of Centaline Group.
Website: http://hk.centanet.com/info/index
Insights of Centaline Property
Exclusive: Latest PropTech Roadmap Revealed From HK No.1 Property Agency
Exclusive: Will Blockchain Make HK Property Agents Unemployed?
HKAI LAB
HKAI LAB is a not-for-profit initiative that is fully funded by Alibaba Hong Kong Entrepreneurs Fund (AHKEF). The platform gathers academics, scientists, and entrepreneurs in AI to focus on advancing the frontiers of AI with cutting-edge technologies as well as helping startups to utilize AI technologies. Timothy Leung, Executive Director of HKAI Lab revealed the AI talent shortage in Hong Kong and how Hong Kong can utilize resources to cultivate AI talents in the future.
Website: https://www.hongkongai.org/
Exclusive: Talent Shortage is The Key Pain Point in AI Industry
Exclusive: Why Hong Kong is so Unique in AI Industry?
smartME
smartME is a technology company with an ambition to anchor itself to deliver technology transformation to create an innovative and sustainable platform driven by blockchain technology. The company's prime focus is to provide an easy and yet secure and reliable method to manage property listing, selling and renting in Hong Kong. smartME was created with one simple aim, to reinvent the real estate from an archaic process and to use a novel approach to reshape the real estate industry that will not only streamline the existing large manual process but provide a more secured, cost savings and transparent process based on the advanced technology.
Website: www.smartme.com.hk
RealKey
RealKey automates processing and underwriting of mortgage through a web-based mortgage process facilitator that centralizes and simplifies both documentation collection and review to reduce touches (back and forth) with underwriting by getting documents and data direct from the source through APIs and OCR. RealKey stores all data and documents securely and centrally for all parties to access. A review of data is automated through algorithms coupled with machine learning to improve accuracy over time.
Website: https://www.realkey.com/
Toda Network
TODA/IP is an internet protocol enabling implementations of complete Autonomous Decentralized Governance. By enabling each network packet to have unique global identifier while belonging to a data structure that can ensure the belonging of the packet is to a single signing public key. Toda.Network is a platform built on TODA/IP to accelerate implementations and deployments. The Founding team of Toda.Network includes Silvio Micali, a renowned Turing-award winner.
Visit: https://www.toda.network/
Finance
Standard Chartered
A British multinational banking and financial services company with more than 1,200 branches and outlets across more than 70 countries. In the era of digital finance, the Virtual Bank of Standard Chartered obtained the virtual bank license issued by the Hong Kong Monetary Authority (HKMA). Deniz Güven, the CEO of the Virtual Bank by Standard Chartered explained interesting concepts like "Heart Share", "Generation Moth" and the significance of them in penetrating the virtual banking market.
Website: https://www.sc.com/hk/
Insights of Standard Chartered
A New Era of Smart Banking: Virtual Bank by Standard Chartered Building Digitally-Born Services
AMTD
AMTD is a Hong Kong-based comprehensive financial institution and offers service including investment banking, asset management, and strategic investment. Listed on the New York Stock Exchange in August 2019, Calvin Choi, Chairman of AMTD revealed the success of the Hong Kong homegrown investment bank and the competitive edge of AMTD's virtual bank, in collaboration with Xiaomi.
Website: https://www.amtdgroup.com/
Deloitte Asia Pacific Blockchain Lab
An accounting organization and globally the largest professional service network by revenue with headquarters in London. Deloitte entered the battlefield of blockchain with the establishment of Asia Pacific Blockchain Lab, bringing advisory in blockchain implementation, audit, taxation for enterprises. Dr. Paul Sin, Leader of Deloitte Asia Pacific Blockchain Lab revealed how we can utilize blockchain at the stage of tech convergence and shared some interesting use cases with the HKMA.
Website: https://www2.deloitte.com/cn/en/pages/financial-services/solutions/asia-pacific-blockchain-lab.html
Insights of Deloitte Asia Pacific Blockchain Lab
Exclusive: Deloitte Blockchain Lab on the 3 Collaborations with HKMA
Exclusive: Blockchain at the Stage of Tech Convergence
PwC
PwC is the second largest professional services firm in the world with headquarters in London. PwC is the first "Big 4" accounting firm to found crypto team, providing advisory services in blockchain and cryptocurrencies. Henri Arslanian, PwC Global Crypto Leader; Felix Kan, Partner of PwC Assurance in Cybersecurity and Lim Shu Ning, Director of PwC Singapore Venture Hub shared with us the latest development of PwC in blockchain, cybersecurity for 2020.
Website: https://www.pwc.com/gx/en/industries/financial-services/fintech-survey/crypto-services.html
Insights of PwC
PwC Singapore's Venture Hub, on the Investment Sentiment of Blockchain Startups
PWC Singapore's Venture Hub: A Breeding Ground for Singaporean Unicorns
How does DeFi shape the future financial market?
Ernst & Young
Ernst & Young (EY) is a multinational professional service firm headquartered in London. As one of the "Big 4" accounting firms, Jimmy Ong, Asia-Pacific Blockchain Leader at EY shared the key use cases of EY Opschain, blockchain in taxation and the use of zero-knowledge proof in public blockchains.
Website: https://www.ey.com/en_gl/blockchain
Insights of EY
EY Ops Chain: Bringing Transparency and Accountability to Public Finance Management
EY: How Blockchain Revolutionizes Tax Operations for Businesses in 2 Ways
Natixis
Founded in 2006, Natixis chose Hong Kong as the Corporate & Investment Banking's headquarters for the Asia Pacific. Central Bank Digital Currencies (CBDC) has sparked interest in recent months, Dr. Alicia Garcia Herrero, Asia Pacific Chief Economist at Natixis revealed the implication on monetary policy, financial stability brought by CBDCs.
Website: https://www.natixis.com/natixis/jcms/j_6/en/home
Insights of Natixis
Central Bank Digital Currencies Unmasked by Dr. Alicia Garcia-Herrero at Natixis
Dr. Alicia Garcia-Herrero's Take on China's CBDC and Facebook's Libra
BMI-Coinstreet Digital (BC Digital)
BMI Coinstreet Digital Limited ("BC Digital") is a BMI Group's company, a joint venture between BM Intelligence ("BMI") and Coinstreet Partners. By combining extensive professional experience and industry best practices from traditional capital market and the innovative FinTech eco-system and distributed ledger technology, BC Digital is driving the forefront of the fintech industry by providing professional, fully compliant, one-stop, end-to-end asset tokenization and STO advisory service and solutions.
Please visit - http://bcdigital.io/
MoneySQ
MoneySQ, a revolutionary company that disrupted the financial market, made history in 2017 by becoming the first crowdfunding and online lending platform in Hong Kong. Since then we made further business evolution by establishing a Smart Lending Platform utilizing OpenAPI integration with financial system providers allowing access to financial data with sophisticated business intelligence tools to extract, consolidate, transform and visualize key financial performance indicators. Our Smart Lending Platform creates a financial ecosystem that connects all players with the like of SMEs, up and downstream business partners, buyers, sellers, logistics companies, financial institutions and credit report agencies.
Website: www.moneysq.com
Swiss Capital Group
Swiss Capital Group is world's leading Royal and Swiss heritage multifamily office, sovereign wealth investment bank, Princely advisory to His Excellencies and humanitarian programs. Swiss Capital Group is poised to be world's top crypto investment bank, liquidity provider and technology innovator, enabler, incubator with group's best practice, best-of-breed fintech and proprietary resources, nurturing Swiss Capital GEM aiming to contribute 20% share of global crypto market capitalisation, circulating cryptomoney supply, liquidity provision and transaction turnover - an aggregate in excess of $2 Trillion before 2025.
Website: http:/www.swisscapitalbank.net

DBS
DBS is a leading financial services group in Asia with a presence in 18 markets. Headquartered and listed in Singapore, DBS is in the three key Asian axes of growth: Greater China, Southeast Asia and South Asia. DBS provides a full range of services in consumer, SME and corporate banking. As a bank born and bred in Asia, DBS understands the intricacies of doing business in the region's most dynamic markets. DBS is committed to building lasting relationships with customers, and positively impacting communities through supporting social enterprises, as it banks the Asian way.
Visit: https://www.dbs.com/hongkong/
RegTech
Blockpass
Blockpass offers digital identity verification for businesses that participate in regulated industries, including crypto wallets and exchanges, virtual banks, traditional financial institutions and gaming.
Website: https://www.blockpass.org/
Advisory
Standard Kepler
Standard Kepler is Asia's leading blockchain financial services provider, offering market changing research insights, in addition to holistic advisory, brokerage, and custodian services. Headquartered in Hong Kong, Standard Kepler's management team previously served in JP Morgan, Macquarie Capital, State Street, and KPMG.
Website: https://www.standardkepler.com/en/
GIANTHOUSE
GIANTHOUSE was started by the spirit of turning imaginations into reality. It is an IT production house specialized in the development of web and mobile applications, as well as providing customized IT and blockchain solutions. GIANTHOUSE is venture-backed and its clienteles range from large corporates to early-stage startups.
Website: https://www.gianthouse.io/
About the author
---
Like this post:
Read More