Exclusive: Blockchain at the Stage of Tech Convergence
Exclusive interview with Paul Sin: Part 2
How does Deloitte Blockchain Lab envision the future of blockchain? Dr. Paul Sin believes that blockchain is at the stage of technology convergence with IoT, big data and artificial intelligence. He also explained the three challenges for enterprises to implement their own blockchain and various blockchain auditing services offered by Deloitte.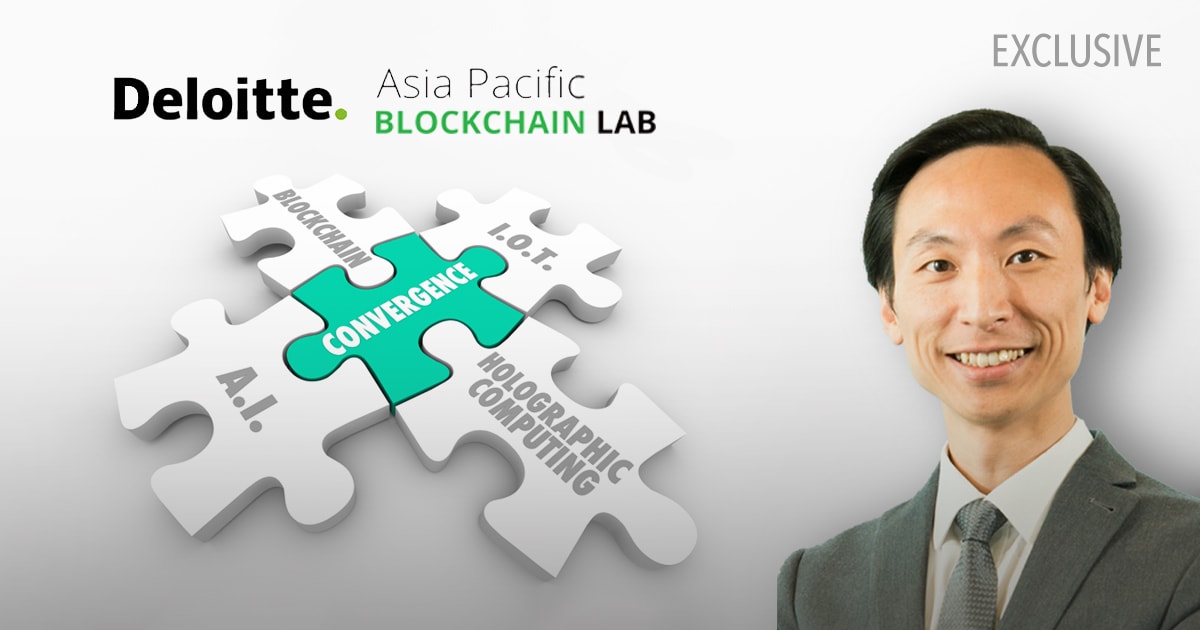 From your experience, what are the pain points for enterprises in implementing their own blockchain?
Since these are enterprise permissioned blockchains, one of the challenges is the commercial model. We need to figure out how these people share the cost of the platform. Going forward, [we need to look at] how they can recover their investments.
The second challenge is regulatory concerns, we need to comply with all the different regulations such as the GDPR in Europe, China's cybersecurity law, Hong Kong's PDPO. Liability issues are also a concern. If you are creating a KYC network, for example, if Bank A opens an account for terrorists and Bank B finances the terrorists based on the records from Bank A, who will bear the liability for terrorist financing? This will also be something we will need to sort out. We classify these problems as the governance model.
The third challenge will be the interoperability of the technologies being used by more than 20 platforms on trade finance and supply chain across the world that are in production. You need to exchange data across different distributed ledger technologies, you need to interoperate on Corda, Hyperledger, Ethereum, and also connect the Internet of Things (IoT) with blockchain so that the physical products can be linked to the digital record of the blockchain. You also need to create advanced analytics models that will make use of the data on the blockchain. There is a lot of technology convergence happening at the moment in the market. This is a challenge but also an interesting part of the technology.
Which blockchain-as-a-service (BaaS) platforms are the most popular from your experience working with enterprises, and what are the reasons behind choosing them?
We generally recommend open-source platforms for our clients because it enhances adoption. Even though we deploy blockchain on hybrid cloud infrastructure, we try not to use managed blockchain services unless they are truly open. Some cloud providers have BaaS with open-source technology; those would be the ones we are more comfortable working with. Some blockchain services providing blockchain on a proprietary platform—if one party is on that platform, the whole ecosystem must be using that vendor—those are not recommended. If you see some corporations working with certain well-known vendors who provide proprietary managed blockchain on the cloud, they will have a lot of challenges with adoption. A corporation may find that only they are on the blockchain and no other corporations are willing to join, mostly because the platform is proprietary. This is the reason why it is not attractive from the perspective of supporting the whole ecosystem.
From a corporate perspective, it can certainly save time developing and deploying the technology, so using blockchain managed by the cloud is understandable.
How do you envision the future of blockchain and what is your outlook for enterprise blockchain adoption?
We are now getting to the stage of convergence, as I mentioned earlier, it is now feasible to exchange data with each other without compromising on the authenticity and authorization mechanism. We are also working on technology convergence, where IoT puts data on the blockchain to share among exclusive members, we create a big data pool for the whole ecosystem and we run AI engines on top of that to create insights for analytics. This is what we are working on at the moment.
Other Big Four auditing firms—PwC, KPMG, EY— have launched blockchain auditing services. Does Deloitte have blockchain auditing services currently?
Yes, we have blockchain auditing services. Blockchain auditing is a very confusing term, there are different kinds of blockchain auditing. If a company has certain assets, stored in a crypto format, you will need financial auditing, which is a kind of blockchain auditing. There are also ICOs, STOs, stablecoin issuances, etc., and those need audit firms to audit liquidity, for example. We also conduct IT audits for blockchain platforms, to make sure they are not breaching any technology risks or guidelines, from regulators as well as data privacy auditors.
What are your views on consensus as a service?
I believe this is more for public blockchains because in public blockchains, consensus is very resource-consuming, and it does not make sense to build ASIC server farms in order to create consensus. For permissioned blockchains that we use, the underlying consensus mechanism is very light in terms of power consumption. Many new permissioned blockchains support plug-and-play consensus mechanisms, all of which are open-source, and do not need to do any outsourcing for them.
Read More