It is not just Liquidity, Huobi on Two Fair Metrics to Rank Crypto Exchanges
Huobi Group is a leading global digital asset financial service provider with a stated mission of "empowering financial services and liberating global wealth" coupled with the concept of putting the needs of their users first. In October 2017, Huobi initiated its global strategic layout with the establishment of the Huobi Korea Team and the start of its official operations. Two months later, Huobi Global was officially launched and started operations with a first month cumulative turnover in excess of 4.6 billion USD.


Ciara Sun, Head of Global Business Development & Partnerships at Huobi Group, has a wealth of experience in financial analysis, strategic consulting, and corporate management from her previous roles with prestigious enterprises such as Boston Consulting Group, Deloitte Consulting, and Ernst & Young. She collaborated with Banking and Capital Markets group for 15 major banks, performed investment analytics to support clients managing billions of dollars of assets - including hedge funds, private equity firms, and investment management corporations.
Sun sat down with Blockchain.News at the Blockshow Asia 2019 to discuss Huobi's rising profile, China's decentralized economy, and what she considers fair metrics for ranking exchanges.

Huobi Global
Huobi Global is a revolutionary blockchain-based service provider operating 24/7. It has emerged as one of the market leaders in crypto-exchange. Sun said, "We are active in many countries in three different ways—we have the Huobi Global which accepts customers from most major countries except Japan and the US. We also have local exchanges that are 100% owned by the Huobi Group in the US, Korea, and we recently got the license for Japan. We also have another way of penetrating different markets through Huobi Cloud, which are joint venture exchanges with local partners. Local partners include Huobi Argentina, Huobi Russia, Huobi Indonesia, and Huobi Thailand, among others.
Sun highlighted compliance and working with the regulations as one of the keys to Huobi's incredible success. She said, "As I mentioned, we have set up all the separate local entities within these countries to deal with their specific regulation."
On Oct. 25, President Xi Jinping called for the acceleration of blockchain development and adoption in China. Sun said, "When President Xi endorsed blockchain technology, it created a lot of amazing opportunities for us as well as some challenges. We have a Chinese entity - Huobi China - it's blockchain solutions and education entity that will roll out over 100 educational sessions for different government departments and large corporations in China."
Revenue + Accumulated Assets > Liquidity?
Huobi Global consistently ranks in the top ten for exchanges in terms of trading volume and is recognized as one of the largest and most prominent in the world. Exchange rankings were a hot topic this year as CoinMarketCap (CMC) recently announced its new liquidity metric being integrated to combat rampant wash trading detected within exchanges. While Sun acknowledged that trading volume was "really easy" to fake, she believes that there are two fairways to rank exchanges.
The first is revenue, Sun explained, "Exchanges are businesses, which means revenue is the percentage of your trading volume - so if an exchange is just trading with zero-fee accounts, it will probably have the highest trading volume, but it won't actually be reflected in revenue, and that's very easy to check."
According to Sun, the second way she would propose to rank an exchange is by the assets that are accumulated. She explained, "Exchanges are different than wallets. The assets you deposit onto an exchange are there for trading purposes, so I think measuring these two factors would be a fair way to rank exchanges."
China's Future Decentralized Economy
Huobi Group recently developed Huobi Chain, a regulator-friendly, high-performance open-source, public chain that allows enterprises, financial institutions, and exchanges to deploy their own blockchains, tokenized assets, and DeFi services. The high-performance public chain was developed in partnership with Nervos to be publicly available to the entire developer community. Blockchain developers, partners, enterprises, and regulators can access the code on Github, track the project's progress, and openly contribute to the development of Huobi Chain.
"The project is a public open-source chain, so we partnered with Nervos, who has been doing some really great work, " said Sun, "From next year, it will support a variety of decentralized applications known as Dapps."
Huobi Cracks Turkey
There are no all-encompassing global compliance standards for exchanges and set up in each different country means dealing with specific compliance requirements and regulations. Sun said, "There are many challenges when dealing with the different government regulators and setting up bank accounts for our business." She added, "There is also a cultural factor that we must contend with, besides teaching the local user base to understand the value of our product and earning their trust."
On Oct. 18, Huobi Global announced plans for Turkey at the Eurasia Blockchain Summit, starting with the coming launch of a Turkish Lira (TRY) fiat gateway, providing Turkish users an accessible gateway to trade more than 250 digital assets with greater liquidity.
Turkey has evolved into a thriving crypto-friendly nation and a theater of commerce for exchanges and blockchain businesses. In Sept. 2018, the Turkish government revealed plans to create a national blockchain infrastructure to aid the public deployment of distributed ledger technology.
"We are 100% confident in Turkey, and we have very strong local partners working with us as well who oversee the entire Middle East and North Africa market. We have set up our offices with a strong round of recruitment targeting staff with rich experience in working with the financial regulators." she said, "Turkey is a really great market. I was really surprised to discover that 20% of the population owns cryptocurrency, and the Lira is the fifth most popular fiat currency for crypto pairing in the world."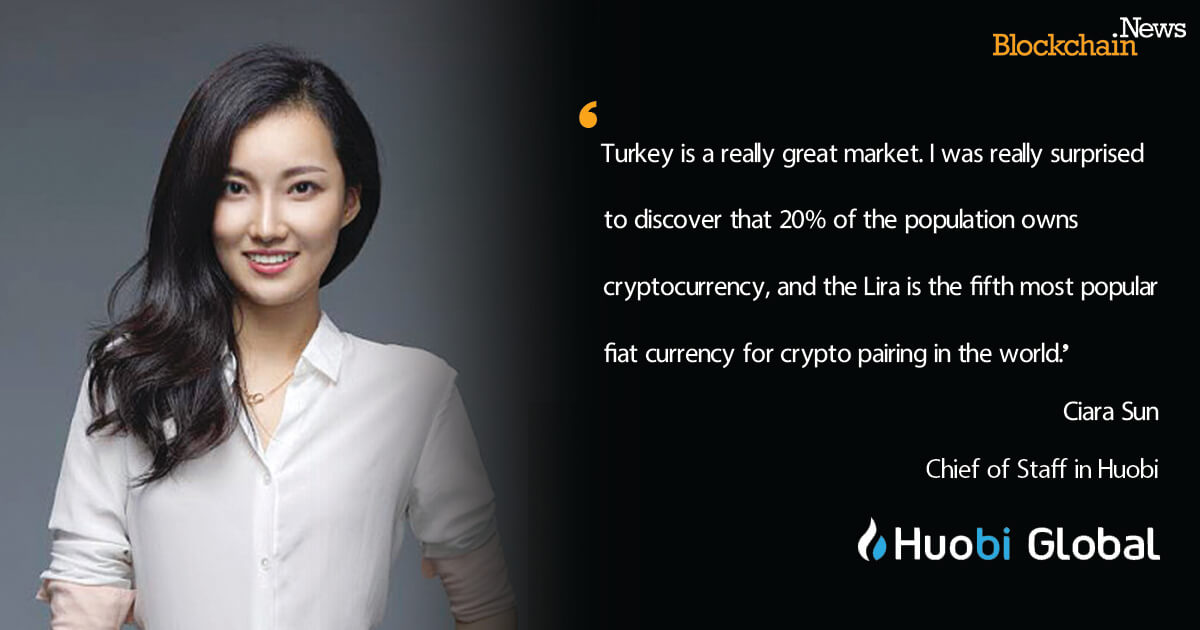 Huobi Japan FPG
Huobi Group merged with BitTrade to open Huobi Japan as a fully regulated exchange under Japan's Financial Services Agency (FSA). According to Sun, "This is only the seventh license ever to be given to an exchange validated by the FSA in Japan."
The license gives Huobi a huge advantage over many other global exchanges, as Japan is notoriously a difficult market to achieve regulatory approval. "We will be helping a lot of projects get their assets listed for trading."
The expansion into Turkey and Japan is in line with one of Huobi's major strategies going forward, which is to increase its percentage of the overseas trading volume. Sun said, "We are looking at a lot of interesting areas and have plans to move into South Africa in 2020."


Read More