CNBC Mad Money Host Jim Cramer From Skeptic to Bitcoin Bull
CNBC's Mad Money host Jim Cramer thinks a major shift in safe-haven assets is on its way and believes Bitcoin and crypto will be the choice of the next generation.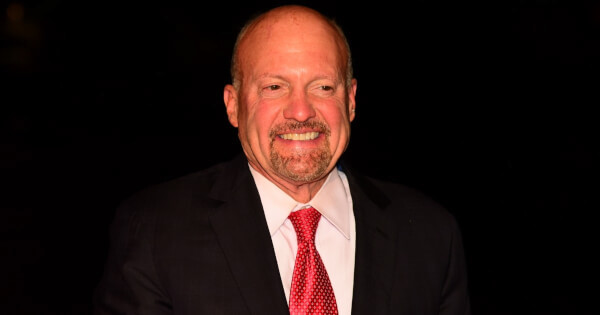 Mega popular financial markets analyst for CNBC's Mad Money—Jim Cramer appeared on a podcast with Anthony Pompliano to discuss the changing generational mindsets on storing wealth from traditional stored like gold and real estate to Bitcoin and cryptocurrency.
Appearing on Morgan Creek Digital co-founder Anthony Pompliano's podcast on Sept 15, Cramer thinks that his own children won't feel comfortable inheriting gold but "will feel comfortable with crypto." Cramer admitted that maybe he was stuck in the past with some of his previous assessments and gold wealth storage leveraging.
Cramer said about upgrading from Gold to Bitcoin:
"I have to start recognizing that maybe I am using a typewriter."
Cramer spent much of the Pomp Podcast probing host Pompliano about Bitcoin and cryptocurrency. As all market conversations have lately, the discussion soon turned to safe-haven assets and wealth storage measures to combat the current economic situation of the United States—which has continued to print trillion's of dollars in stimulus and coronavirus relief, actions that are expected to ultimately debase the US dollar further.
Cramer who has been investing and analyzing markets since the 80s admits that Bitcoin and cryptocurrency were not in his "inflation handbook" and for his generation—gold, art, and real estate were the preferred stores of wealth. He said, "What we didn't have in the menu, was crypto."
Cramer believes with the current economic situation, when it comes to safe havens like gold, bitcoin, and crypto, "You have to have one or the other." He added later, "We're on a collision course […] it's perfectly logical to add crypto to the menu."
Since the announcement by Pompliano that he had convinced CNBC's most famous stock market pundit Jim Cramer to join the ever-growing list of high-profile Bitcoin investors—Bitcoin has seen a slight rise in price, whether related to the news or not and currently sits at $10,740 at the time of writing, its highest price since crashing on September 3rd.
The Economic Bubble
Extreme conditions have a way of changing people.Chairman of Roger Holdings and prolific American investor Jim Rogers has also warned that the trillion-dollar bailout will lead to an economic meltdown and mainstream investors appear to be flocking to Bitcoin as a means of wealth storage.
Bitcoin's scarcity has transformed the crypto asset into a reliable safe-haven asset, and it currently bears its strongest correlation to gold. Analysts like the Winklevoss Twins, Paul Tudor Jones and even George Ball now view BTC as a reliable hedge against debasing monetary policy and believe higher inflation will push the Bitcoin price higher.
Jim Cramer, who until recently was a staunch Bitcoin opponent said during the Pomp's show that he would be allocating at least 1% of his wealth storage to crypto.
Image source: Shutterstock
Read More