Bitcoin Struggles to Maintain Above $40,000 Level as Ethereum, Dogecoin, And Litecoin Follow Suit
Bitcoin declined 3% from its previous close at $39,149.17 over the past 24 hours, trading at $37,929.91 during the intraday on June 4. Its market capitalisation currently stands at $710.727 billion.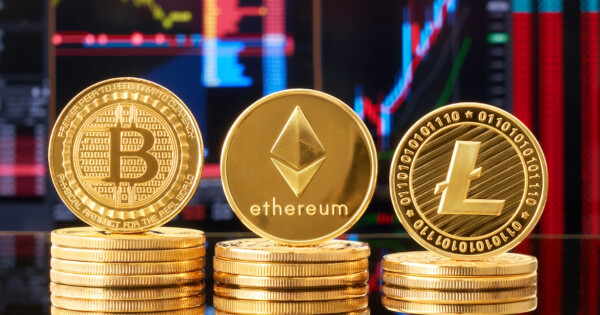 Bitcoin price dropped on Thursday night after Elon Musk, Tesla CEO, posted a meme on the Twitter platform describing Bitcoin having a broken heart emoji.
Musk's tweet stated the broken heart emoji for the leading cryptocurrency and featured a couple going through a breakup.
Bitcoin fell from $38,000 levels above to settle at $37,954.19 following Musk's tweet.
However, Bitcoin remains on course for its best weekly gain as it attempts to make a recovery from May's crash. Other altcoins seem to support Bitcoin to break the $40,000 resistance level.
Ethereum also followed suit and dropped from $2,800 levels to $2,750.00 at the time of writing. Over the past 24 hours, Ether gained 1.5%. Currently, most of the liquidity is concentrated, implying that traders are accumulating power within the range. The chances of Ether returning to the $3,000 level are pretty high. If bulls can keep the rate above $2,600, then the likelihood that Ethereum will retest the resistance level of $2,944 level remains high.
Since mid-this week, Dogecoin saw a significant uptrend, thus allowing bulls to regain some of the losses experienced during May's massive crypto crash. Dogecoin was trading at $0.392343, a decline of 9.27% from the last 24-hour trading close. The meme coin extends its bullish leg above $0.3 and embraces the 50 SMA as immediate support.
Coinbase Pro's move to add support for Dogecoin trading was a breath of fresh air to the popular meme cryptocurrency. Investors welcome the move and describe the consolidation as legitimate. Some investors also predict that Dogecoin could be accepted as a payment option on several platforms soon, thus triggering mainstream adoption.
Apart from that, Litecoin was trading at $183.42, a decline by 2.89% over the last 24 hours and appears to move downwards by -0.07 according to last hour transactions.
The 24-hour volume of Litecoin is $2,740,620,214 while its market capitalization is $12,474,560,487 which ranks it as number 14 of all cryptocurrencies.
On May 9, the price of Litecoin reached its all-time high level of $410.26. On a weekly basis, Litecoin price dropped by -5.73%. According to its price one year ago, the variation of price monthly, Litecoin is down by -40.27%, whereas it is up by 287.95%.
Image source: Shutterstock
Read More