Why Energy Experts are Watching the Crypto Market Closely


The oil market is currently witnessing a tussle between Russia and Saudi Arabia on the issue of oil production to counter the slowdown of the US Market.
If the rumors are to be believed, the Iranian Government is making efforts to use cryptocurrency to bypass the sanctions which resulted from their involvement in the manipulation of the oil market. If one takes a closer look, China, Russia, and Iran have been some of the most active countries taking a keen interest in the cryptocurrency space. They are also some of the top oil-producing countries in the world.
Many cryptocurrencies, particularly Bitcoin operates on 'Proof-of-Work' algorithms which require energy for mining.
"Big crypto mining pools are rejecting Iranian miners because of sanctions We don't give a damn about sanctions. If we get sanctioned we'd just shut down the company and open a new one." as stated by Mikhael Jerlis, CEO of the Russian EMCD.IO mining pool
The three years of the proxy war between Saudi Arabia and Iran in Yemen has left the oil market in chaos. The catalyst appears to be the attacks executed by Houthi rebels at Red Sea's Bab al-Mandeb Strait resulting in Saudi Arabia halting its oil supplies. This is why the crypto savy alliance of Russia, China and Iran are keeping a close watch on US sanctions and Saudi Arabia's oil movement.
How Cryptocurrency Kicks In?
It is interesting to address that Bitcoin or for that matter, any other cryptocurrency can replace the 'dollar' in the oil market since Bitcoin is the least correlated asset in the glocal economy as compared to the oil market. Despite the havoc 'Coronavirus' is creating on the global GDP (reportedly $2.7 Trillion Loss), Bitcoin doesn't seem to be shaken off from its steady route, having gained twice the market price of $7,900 as compared to last year's market price.
"You could argue they [gold and the dollar] are inversely correlated. That could be an indication of how bitcoin will be impacted if it's deemed to be a store-of-value asset class." Aboualfa said.
However, he also mentioned that Bitcoin/cryptocurrency is looked upon as 'sanction play' and not any store-of-value asset class.
Apart from bypassing sanctions via playing with Bitcoins, another factor that makes the energy experts keep a close watch on the crypto market is their deep pockets in the crypto markets. Bitcoin, like any other asset, is currently without a doubt a 'hot stock' which is wanted by everyone. Whether or not it is going to make a big mark in the future, its potential to earn you big money in the current case scenario is very real.
On 7th March 2020, Bitcoin took a big hit as its price crumbled to $7,500 from a soaring $9,100. A total of $26 Billion was completely wiped off from the cryptocurrency market. Such a reaction came soon after the oil market plunged 24%, the worst day since 1991. The US West Texas Intermediate Crude posted their report on Monday with a drop as low as 24.59% settling for $31.13/Barrel. The drop in terms of absolute dollars was $10.15.
Apart from the drop on 7th March, Bitcoin again faced a nose crushing fall on 12th March where the price fell below $3,000 bouncing back to struggling $5,500. The reason for such a fall was again attributed to the poor stock market condition in US and fall in Oil Price, not to forget the COVID-19 outbreak.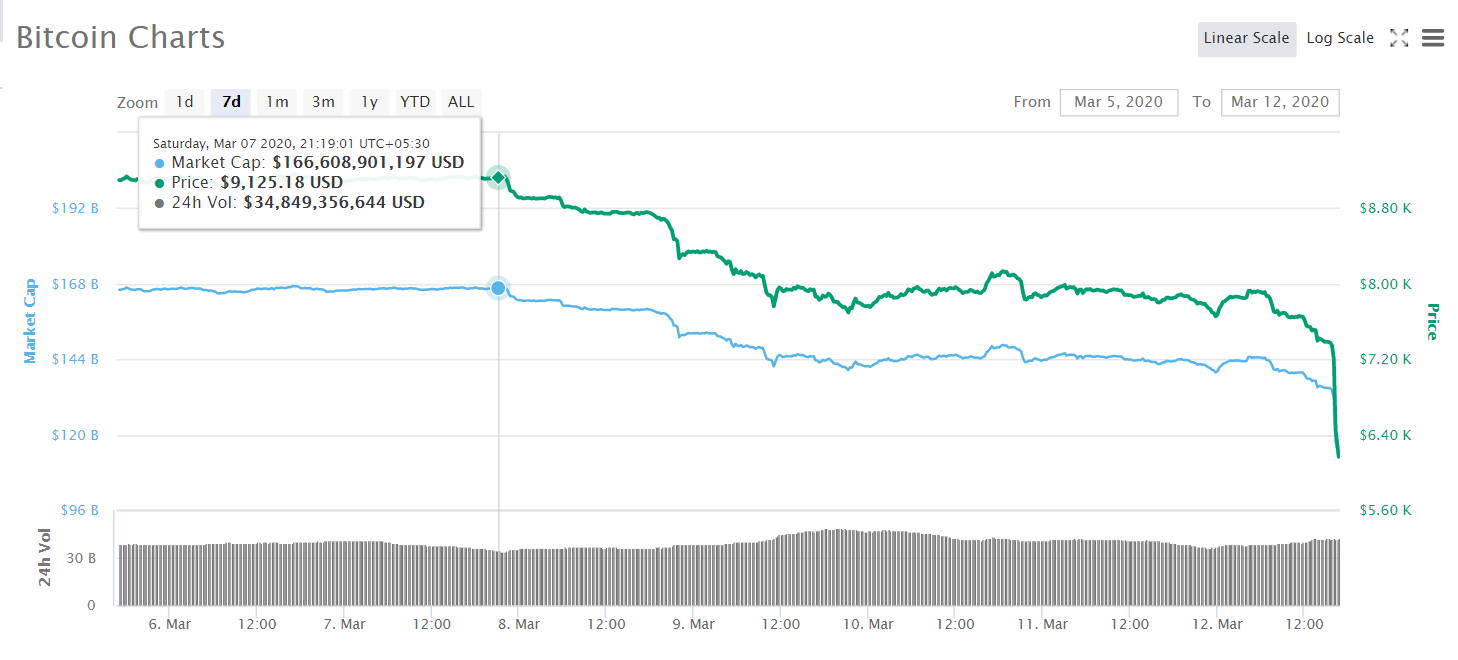 Source: CoinMarketCap
Such kind of dips in the crypto markets (triggered by oil market) are huge opportunities for the big corporate giants and energy experts with a vested interest to buy crypto assets at low prices and make a profit out of it once the market is on the rise again.
Jehan Chu, co-founder of Kenetic Capital said,"For those who have long term investment horizons, bitcoin is absolutely a buy during these dips. We can expect more of this volatility sparked by macro health and financial shocks, but ultimately long term investments in the digital future and it's key asset Bitcoin will be a winning strategy"
In order to maximize profits and take the full advantage (even when oil market is down), energy experts are keeping a close watch on the crypto market as part of their asset portfolio diversification.
Image via Shutterstock
Read More