United States Congress Will Vote on American COMPETE Act to 'Beat China' in Blockchain Technology
The House of Representatives will vote for the first time on a bill that specifically aims to ensure the United States remains competitive with China in the race for blockchain and technological supremacy when it meets via webinar to discuss the American COMPETE act.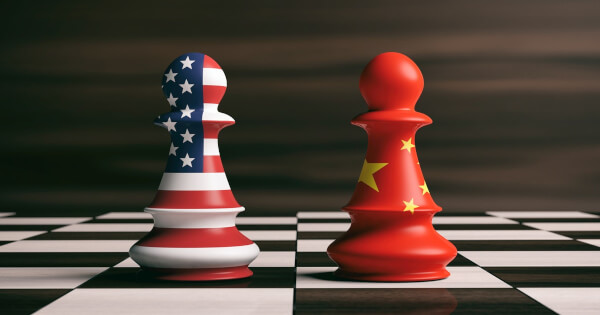 The American Competitiveness of a More Productive Emerging Tech Economy Act (American COMPETE Act) was introduced just last week Sept. 1 and will be discussed in the House Energy and Commerce Committee markup hearing today, Sep 9.
The bill has been expeditiously put before the House of Representatives and was sponsored by Congressman Bobby Rush (D-IL) and Congresswoman Cathy McMorris Rodgers (R-WA) along with 12 other Co-Sponsor. The bill calls for the Department of Commerce and Federal Trade Commission to research and advance blockchain technology implementation and development in the United States.
As the China-US tech cold war heats up, the United States COMPETE act bill expands to the study of all disruptive and emerging technologies including the Internet of Things (IoT), Artificial Intelligence (AI), and quantum computing.
The bill calls on the Commerce and Federal Trade Commission to make four key recommendations to Congress—how to accelerate the development of blockchain in the United States; to devise a national strategy to advance the US business sectors global position; advice on ways to secure the marketplace and supply chain of blockchain from foreign actors; and recommendations on legislation that could promote faster adoption of the blockchain technology.
As reported by Forbes on Sep 8, McMorris Rodgers highlighted it was critical to 'Beat China' through this strategy as they cannot compete with China at its own game of subsidizing its tech companies. She said:
"As we have seen in past global crises and in recent months, the Chinese Communist Party will do whatever it takes to get ahead by stealing, cheating, and subsidizing their State-Owned Enterprises. We cannot out subsidize China or beat them at their own game, nor should we."
US-China Blockchain Race
As reported by Blockchain.News on May 22, Lawmakers in the US have been coaxing the federal government to consider a national blockchain strategy for regulation and growth, citing China's Blockchain Service Network as an example.
China, for all purposes, is currently leading the world in blockchain study, framework, and regulation. Highlights include the creation of a national blockchain strategy (BSN), pilot projects on digital currencies, and dedicating entire areas towards DLT research and development.
China's state-backed Blockchain-based Service Network (BSN) has been rapidly advancing in 2020 and has already integrated with six public blockchains including Tezos, NEO, Nervos, EOS, IRISnet and Ethereum. By opening the national blockchain platform to allow developers around the world to experiment at a subsidized low cost, the United States could fall even further behind in the current tech cold war.
The United States COMPETE act aims to rapidly improve the American position in the race for blockchain dominance.
Image source: Shutterstock
Read More