Tesla Inc Purchases $1.5 Billion in Bitcoin and Plans to Begin Accepting BTC Payments
On Monday, February 8, Tesla Inc. announced that it has purchased $1.5 billion worth of Bitcoin. In a filing with the US Securities and Exchange Commission (SEC), the electric vehicle company stated that it purchased the Bitcoin for "more flexibility to further diversify and maximize returns" to enable it to invest in cash reserve in "alternative reserve assets including digital assets".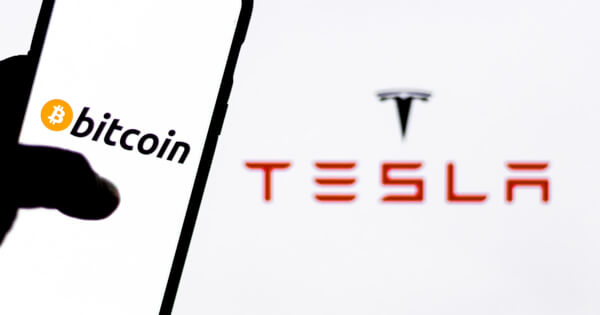 Furthermore, the firm stated that it will begin accepting payments in Bitcoin in exchange for its products. This sets to make the company the first major auto manufacturer to accept crypto payments.
The company mentioned that since its audit committee approved the decision, it had "invested an aggregate $1.5bn in Bitcoin under this policy and may acquire and hold digital assets from time to time or long term".
As per the SEC filing, the $1.5 billion held in Bitcoin represents an estimate of 8% of the entire $19.4 billion that Tesla holds in liquid assets and cash.
The decision has raised immediate questions around Tesla CEO, Elon Musk's behavior on social media recently, when he has been crediting for driving the prices of cryptocurrencies such as Bitcoin and dogecoin by tweeting positive messages that have encouraged more people to purchase the virtual currencies.
Two weeks ago, the Tesla founder and owner added the hashtag #bitcoin to his Twitter bio, a move that helped to increase Bitcoin price by almost 20%. On February 2, the price of dogecoin also rose by 50% after Musk tweeted about it.
Following Tesla's announcement on Monday, the prices of Bitcoin have surged to new highs, hitting a price of around $44,200. Tesla shares also rose more than 2.5% in premarket trading. In its SEC filing, the automaker warned its investors of the volatility associated with the price of Bitcoin.
Companies Betting Big on Bitcoin
Tesla's move to invest in Bitcoin comes over a month after the CEO of MicroStrategy, Michael Saylor, invited Elon Musk's Tesla to get into the leading cryptocurrency. It was not long before Musk began tweeting more about Bitcoin and even adding the cryptocurrency to his Twitter bio.
Last week, February 3, Bitcoin evangelist, Michel Saylor, hosted MicroStrategy WorldNow conference, an event aimed to entice institutional investors into Bitcoin. At the event, Saylor predicted that several public companies would convert their balance sheet into Bitcoin. His revelation has come true, demonstrated by Tesla's move to make a big shot into Bitcoin. This legitimizes Bitcoin as a currency, a store of value, and a hedge against inflation. Therefore, many other companies on the S&P 500 would likely follow Tesla's lead in converting the cash reserves into Bitcoin. Software firm MicroStrategy became the first publicly-traded company to heavily invest in Bitcoin and it was followed by Square Inc.
Image source: Shutterstock
Cardano Will Outperform Ethereum 2.0 in DeFi Says Hoskinson as ADA Price Surges
Read More