Spain Bank BBVA Launches Bitcoin Trading Service in Switzerland
Spanish banking giant BBVA has announced that the financial institution launches a new Bitcoin trading service on Monday for private banking clients in Switzerland interested in digital asset investment.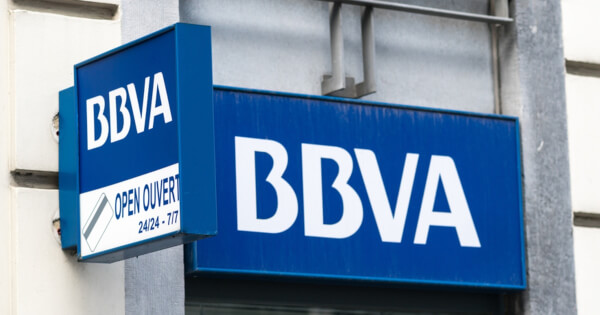 The Spanish Bilbao-based bank stated that it is starting to operate its new Bitcoin trading and custody services on Monday and plans to roll out services of other cryptocurrencies soon. However, the multinational bank said that it would not provide advice on such types of investments.
After six months of testing the Bitcoin service with a selected group of users, BBVA is now making the trading available to its customers in Switzerland.
BBVA Switzerland's Chief Executive Alfonso Gomez stated that the bank had noticed a significant appetite among investors for cryptocurrencies or digital assets to diversify their portfolios despite their high risk and volatility.
On Friday, BBVA stated the new Bitcoin trading services would only be available to customers in Switzerland because the nation has clear regulation and widespread adoption of digital assets. The bank sees Switzerland as having relatively comprehensive regulations around digital assets, set out by the nation's Financial Market Supervisory Authority(FINMA ).
"It's an extension to new countries, or other types of customers will depend on whether the markets meet the appropriate conditions in terms of maturity, demand and regulation," Gomez said.
BBVA is present in Switzerland through a wholly-owned franchise focused on international banking services. The bank, an international bank in 35 countries globally, has more than 130,000 employees and serves 66 million globally.
Bitcoin Coming to Banks
Currently, an increasing number of large investment banks are showing interest in launching Bitcoin trading and custody for their customers. In April, Goldman Sachs and JPMorgan announced plans to make cryptocurrencies more accessible to the public. Last month, Citi Group revealed that it is offering crypto trading services after witnessing surging client interest.
Efforts to offer Bitcoin trading services come amid rising institutional interest in cryptocurrency. Investors and firms see Bitcoin as a hedge against inflation as central banks and governments turn on the stimulus taps.
El Salvador has become the first nation to adopt Bitcoin as a legal tender currency. However, central banks across the globe have frequently warned investors about losing their money in crypto investment.
In recent weeks, major countries like China and the US have signalled a stricter approach to cryptocurrency regulations while building their plans to create their own central bank digital currencies.
Image source: Shutterstock
Switzerland's New Regulations for Blockchain And DLT Trading Facilities Usher In A New Era Of Clearer And Lighter Regulatory Regimes
Read More