President Trump Instructed Clamp Down on Bitcoin, Alleges Former National Security Advisor
John Bolton, a former national security advisor in the Trump administration, has purported that the US president ordered Treasury Secretary Steven Mnuchin to crack down on Bitcoin in mid-2018. As reported by the Washington Examiner on June 18, these claims are documented in Bolton's book titled "The Room Where It Happened" that highlights his time in the US government.
Trump administration's skepticism about crypto
Bolton noted that these instructions by the American president were intended to curb the sale and trading of Bitcoin. However, it shouldn't be a surprise, because Trump has aired his reservations about cryptocurrencies, as depicted by a tweet he made in July 2019 concerning their high volatility and thin air concept. Trump did not stop there, as he openly criticized Facebook's Libra project as holding no water. Rather, he declared, "I am not a fan of Bitcoin and other Cryptocurrencies, which are not money, and whose value is highly volatile and based on thin air. Unregulated Crypto Assets can facilitate unlawful behavior, including drug trade and other illegal activity..."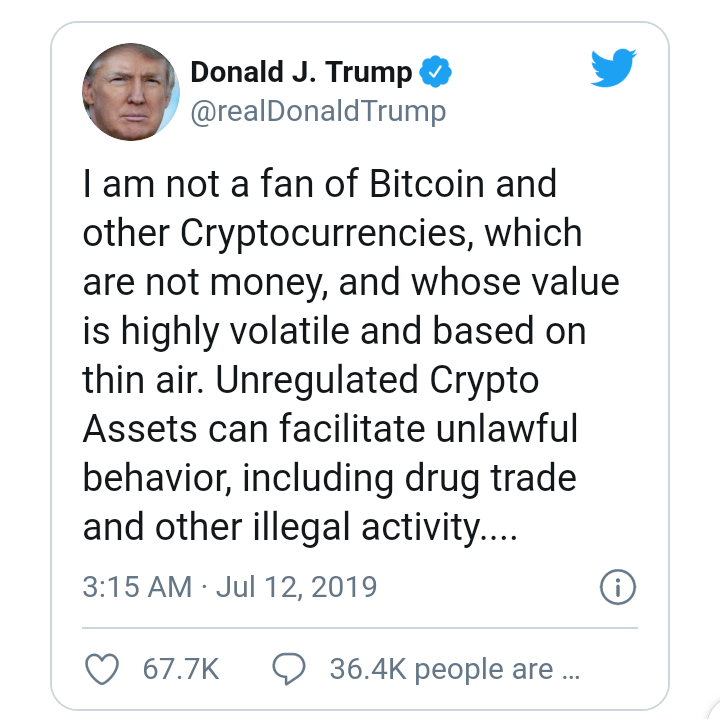 Following the July 2019 revelation, Mnuchin backed this position by stipulating that the Trump administration was going to delve deeper into crypto assets because the latter claimed that cryptocurrencies like Bitcoin were considerably being used to commit money laundering compared to cash.
It seems that the US administration is not relenting in having its hands-on crypto surveillance, as it was recently reported that Coinbase was planning to sell its blockchain analytics software to two governmental watchdogs. If the deal sails through, the leading American cryptocurrency exchange will give the US Drug Enforcement Administration (DEA) and the Internal Revenue Service (IRS) an upper hand in identifying attribution for international and domestic cryptocurrency addresses.
Trump hits back
Bolton stipulated that the presidential orders were made during a discussion about trade tariffs and sanctions against China. Trump had instructed Mnuchin not to be a trade negotiator and go after Bitcoin.
In addition, the President did not have some kind words for Bolton based on this revelation as he tweeted that the book was deceptive and he was venting his anger after being sacked: "Wacko John Bolton's 'exceedingly tedious'(New York Times) book is made up of lies & fake stories. Said all good about me, in print, until the day I fired him. A disgruntled boring fool who only wanted to go to war. Never had a clue, was ostracized & happily dumped. What a dope!"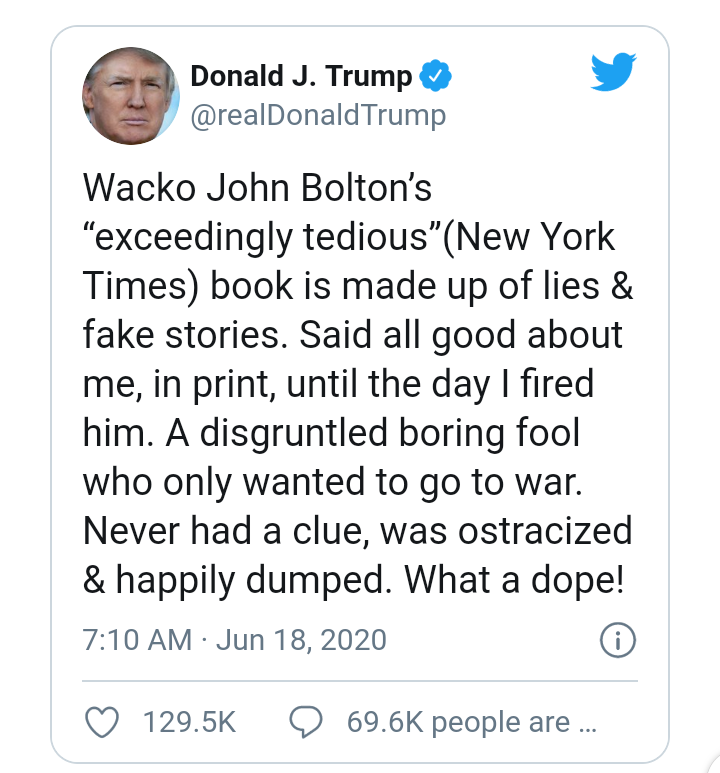 Image source: Shutterstock
---

Read More