Microsoft Patents Cutting Edge Human-Powered Crypto Mining System
Microsoft has filed for a patent for a new cryptocurrency mining system that will purportedly leverage the data collected from people via sensors, as they interact with advertising or exercise, instead of using equipment that requires massive amounts of power.


The technology giant filed the patent with the World Intellectual Property Organization (WIPO) on March 26. The new system proposes using sensors to detect and calculate the amount of energy and time spent on a pre-determined activity, like engaging with an advertisement, and convert that sum into data that can be used by computers to solve computational problems and create new blocks.

Microsoft's new proposed system will maintain a blockchain and its token using the same premise as a traditional proof-of-work (PoW) network without the physical miners and without the heavy computational power expense of their equipment, substituting it with the data gathered and converted from the unconscious activity of people, like Bitcoin Revolution.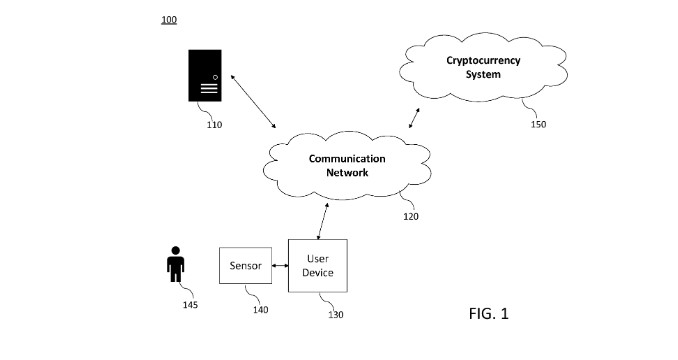 Source: W02020060606 - Cryptocurrency System Using Body Activity Data
As outlined above, the system will monitor a person's physical actions and energy spent via sensors to mine cryptocurrencies. When the sensors detect that the monitored body is exerting themselves physically, it converts the data recorded on the subject and converts them to power to unlock blocks. The system is also purported to monitor mental exertion, mind power used when a person is reading or writing, and convert this into data respectively.
According to the patent application, "Instead of massive computation work required by some conventional cryptocurrency systems, data generated based on the body activity of the user can be a proof-of-work, and therefore, a user can solve the computationally difficult problem unconsciously."

This patent was also published in the United States as US20200097951.
EY, Microsoft and ConsenSys Create a Platform For Enterprises on Ethereum Mainnet
Microsoft continues to make waves in the world of blockchain and has been one of the driving forces behind EY's open-source Baseline protocol which aims to address privacy issues and encourage enterprise adoption of public Ethereum.
Baseline was created by EY in collaboration with the technology giant Microsoft, as well as ConsenSys, and is specifically designed for enterprises to build applications on top of the Ethereum public blockchain.
According to the announcement on March 4, the Baseline Protocols' aim is to empower enterprises to adopt the public Ethereum blockchain for complex and confidential processes, without storing sensitive data on-chain.
John Wolpert of ConsenSys and Hyperledger Fabric explained, "This is not a platform. It's not a product. It's not a coin, a token. It is a way of using the main net (public Ethereum) that will be acceptable, we think, to very conservative corporate CSOs (chief security officers), CIO, CTOs, where they can finally say, yep, it's okay to use the main net in this way."
Read More