Bitcoin Ad in Hong Kong Apple Daily Publication Promotes Bitcoin As Beyond Government Control
In the Hong Kong Apple Daily today, a full-page ad was dedicated to Bitcoin and called on Hong Kongers to move their wealth from banks and into Bitcoin which is beyond the control of "any" government.
A new full-page advertisement for Bitcoin appeared in the Hong Kong Apple Daily, the local tabloid and pro-democracy media outlet. The advertisement did not promote any specific exchange or business but instead appeared to be an open call to promote the revolutionary cryptocurrency Bitcoin itself.
In English the advertisement read:
"Bitcoin is digital money. It is not issued or controlled by any government or corporation. Nobody can stop you from transacting on the network and it cannot be shut down. Bitcoin is available to anyone regardless of their nationality, gender or beliefs. Bitcoin began with the Genesis Block during the financial crisis of 2009. Now its time is coming."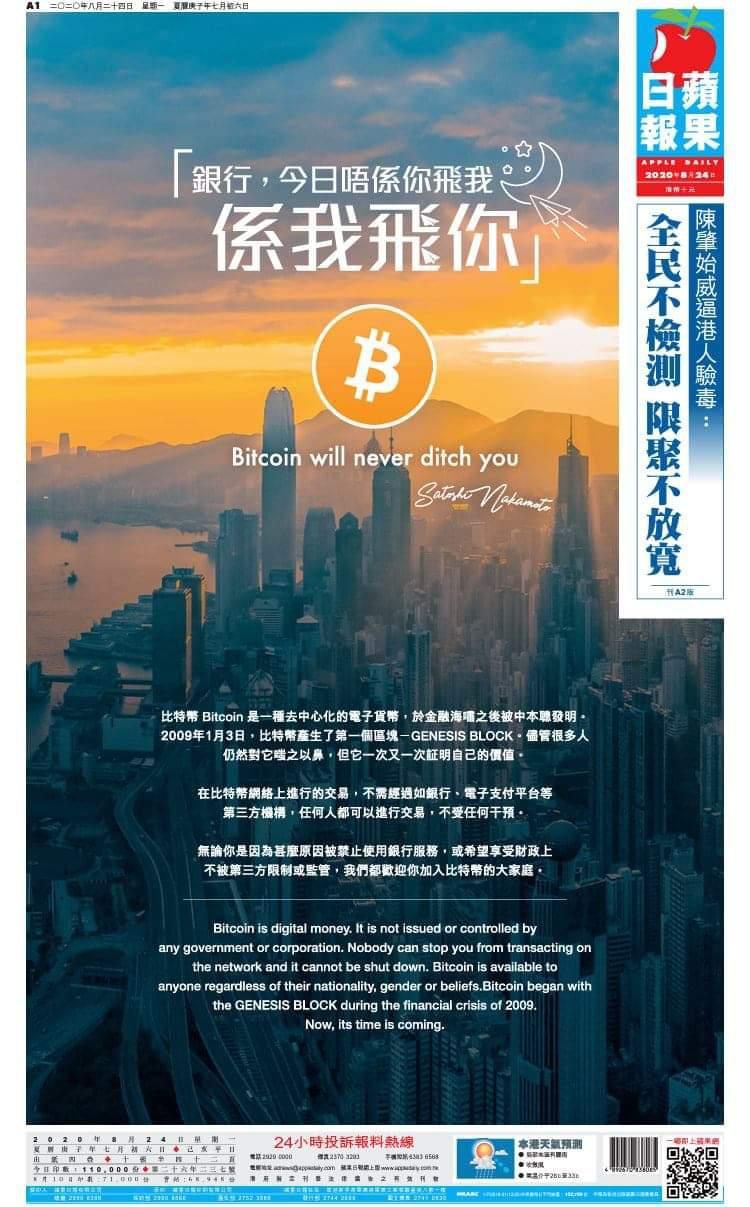 The anti-establishment message of the Bitcoin advertisement of the unstoppable nature of Bitcoin is most likely due to the current political tensions between Beijing and the Hong Kong pro-democracy movement. The Hong Kong Apple Daily is a marked "yellow" news publication, which symbolizes the yellow umbrella revolution a few years back, pro-establishment businesses have been marked as "blue."
Recently the CEO of the Apple Daily Jimmy Lai was arrested under Hong Kong's new National Security law. The tabloid paper's headquarters were also raided by authorities the same day. His detainment has been viewed as the beginning of a crackdown against pro-democracy figures in the special administrative region of Hong Kong. Lai was released 40 hours after arrest on bail.
Has the Bitcoin Migration of Wealth Begun
As reported by the Blockchain.News on Aug 11, Hong Kong's wealthy have been moving large amounts of gold out of the Asian financial center following Beijing's imposed national security law measure which came into effect in July 2020.
Following the reports, Max Keiser the American broadcaster and Bitcoin advocate said he is confident the tensions in the region are one of the contributing factors to the Bitcoin price surging up to $12,000.
Keiser suggested that capital flight out of Hong Kong and Asia is driving Bitcoin to new highs, as moving your wealth internationally is "something near impossible with Gold."
In a tweet on Aug 10, Keiser alluded to Bitcoin being the most efficient method of moving large amounts of capital across borders and most likely the method being leveraged as geopolitical tensions rise in Asia. He wrote:
"Capital flight out of Asia taking the #Bitcoin express. You can't take it with you unless it's Bitcoin - then you can take IT ALL with you. (Something near impossible with Gold)."
Keiser has been famously bullish on Bitcoin and believes the price won't see further resistance until $28,000 before it continues on its way to $100,000 in the coming year.
Image source: Shutterstock
---

Read More