Billionaire Shark Tank Investor Mark Cuban Changes Tune on Bitcoin as Store of Value
Mark Cuban, a billionaire entrepreneur famous for his role as an investor on Shark Tank where aspiring entrepreneurs pitch their business models, has watered down his Bitcoin criticism and now appears to view it as a store of value.
Complimenting Bitcoin
During a conversation with Preston Pysh, a bitcoin believer and co-founder of the Investor's Podcast Network, Cuban tweeted that Bitcoin can be a store of value. Still, it has not yet proven that it can replace the present financial system.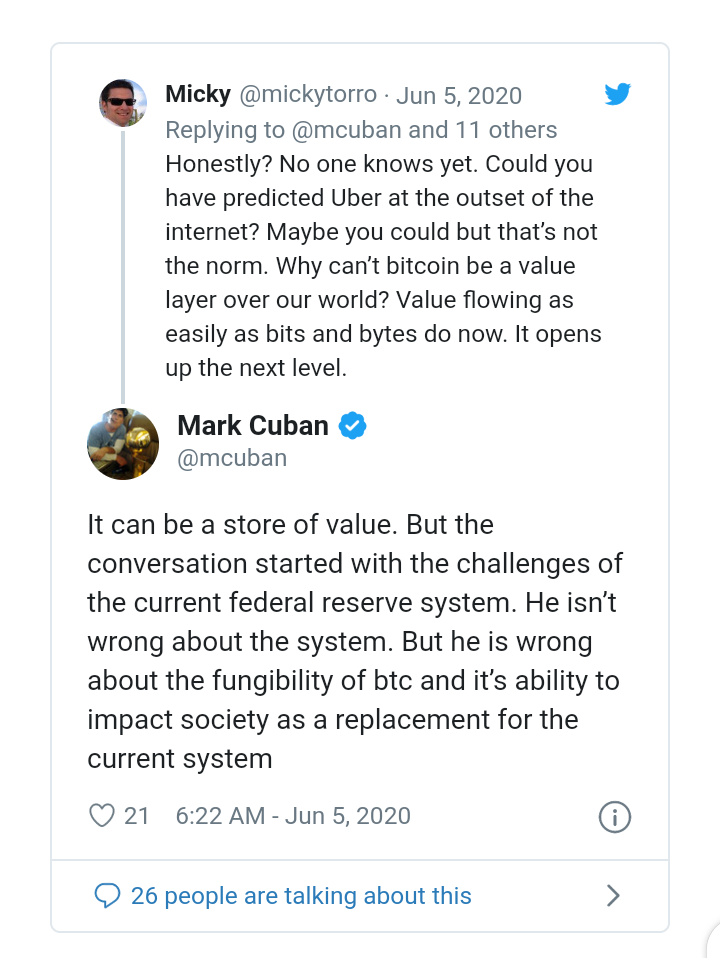 This response by Cuban marks a remarkable change in the billionaire's attitude towards Bitcoin, when compared to a response he made late last year after being asked why he was not a crypto supporter.
He stipulated, "I'd rather have bananas. I can eat bananas. Crypto, not so much. Look, I can make a great argument for blockchain. There's a lot of applications, and they'll be used. But you don't need public Bitcoin, BTC. You can create blockchain on your own without using all the available cryptocurrencies."
Cuban's view about Bitcoin being a store of value comes at a time when a recent survey revealed that 60% of Bitcoin supply has not moved in the past year. The on-chain analysis company noted that this trend illustrated investor's hodling behavior as the leading cryptocurrency is regarded as a store of value.
Bitcoin making airwaves
Cuban's sentiments show the way Bitcoin is no longer an asset that is in oblivion in the eyes of many investors.
Moreover, analysis from leading companies like Bloomberg suggests that Bitcoin price could surge past $20,000 this year, by doubling an all-time high of $14,000 recorded last year. It further indicated that adoption was the key metric as the much-anticipated Bitcoin halving event took place on May 11, and mining rewards were slashed from 12.5 BTC to 6.25 BTC.
Image source: Shutterstock
---

Read More