Glassnode Survey: 60% of Bitcoin Supply has been Immobile Showing Investors' Hodling Behaviour
Glassnode, an on-chain analysis company, has revealed that 60% of Bitcoin (BTC) supply has remained inactive in more than a year. This considerable number shows the hodling tendencies adopted by investors, and a similar trend was witnessed in 2017 some months before the BTC price skyrocketed to a record high of $20,000.
Keeping fingers closed
As per the tweet, 60% of Bitcoin supply has been motionless for the last 12 months depicting that some see the leading cryptocurrency as a store of value.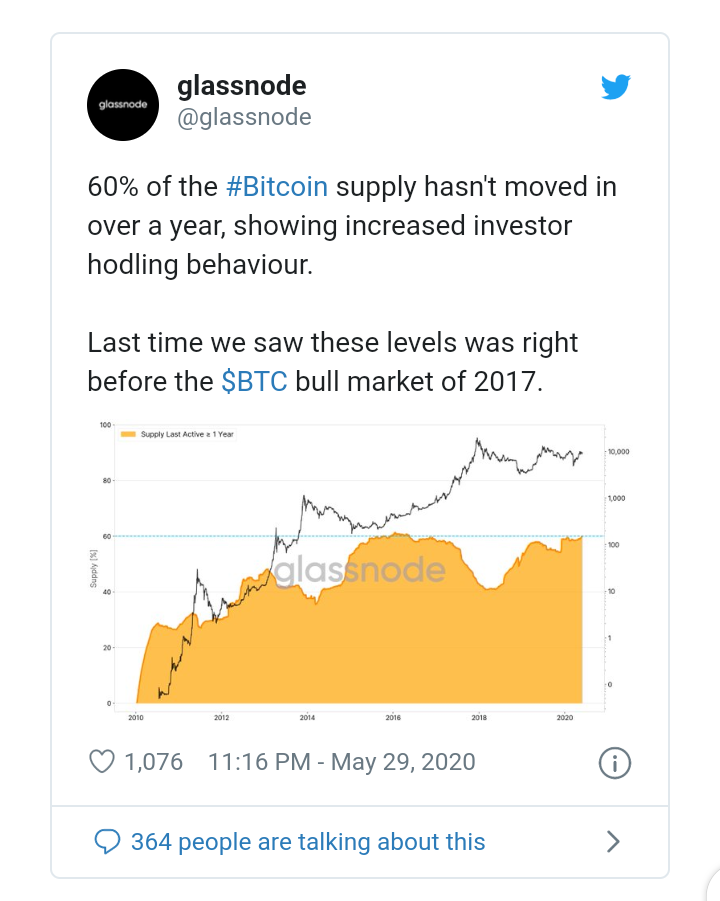 Glassnode noted that before Bitcoin made its notable bull run to hit an unprecedented level of $20,000, a related percentage of dormant BTC was recorded. Therefore, it shows that hodlers were anticipating an increase in price because the second halving event had occurred in July 2016.
It seems Bitcoin investors are speculating a price surge in the future, especially given that the much-anticipated halving event occurred on May 11, and this reduced mining reward from 12.5BTC to 6.25BTC.
Earlier last month, it was reported that the non-zero Bitcoin addresses had surpassed 30 million, and this was an ideal indication of how more people were joining the BTC bandwagon.
Upbeat trend
This hodling trend highlighted by Glassnode stayed put despite Bitcoin losing at least 50% of its value in just 48 hours on March 12 or Black Thursday. The price plummeted to $3,800, and this crash was instigated by the coronavirus (COVID-19) pandemic.
Nevertheless, BTC has recovered this loss as it is currently trading at $9,580. It, therefore, remains a matter of time to see where the Bitcoin price takes off from here.
More developments are being witnessed in the crypto space as CoinMarketCap, a notable crypto data aggregator recently introduced an algorithmically ranked system for cryptocurrency trading pairs. It intends to eliminate volume inflation giving users better decision-making in their trading incentives.
Image via Shutterstock
---

Read More