Post-Halving Prediction: Bitcoin Price Hitting $20,000 Only a Matter of Time
With the much-anticipated Bitcoin halving just around the corner, pundits, investors, and traders are keeping a keen eye on this event because mining rewards will be slashed from 12.5 BTC to 6.25 BTC. Crypto trader TheMoonCarl tweeted that the number of non-zero Bitcoin addresses has now exceeded 30 million.

Jumping on the Bitcoin (BTC) bandwagon
The trader added that this record-breaking gesture was instrumental in showing the way people were flooding the Bitcoin bandwagon. As a result, he believes that the all-time high Price of BTC of $20,000 will be broken.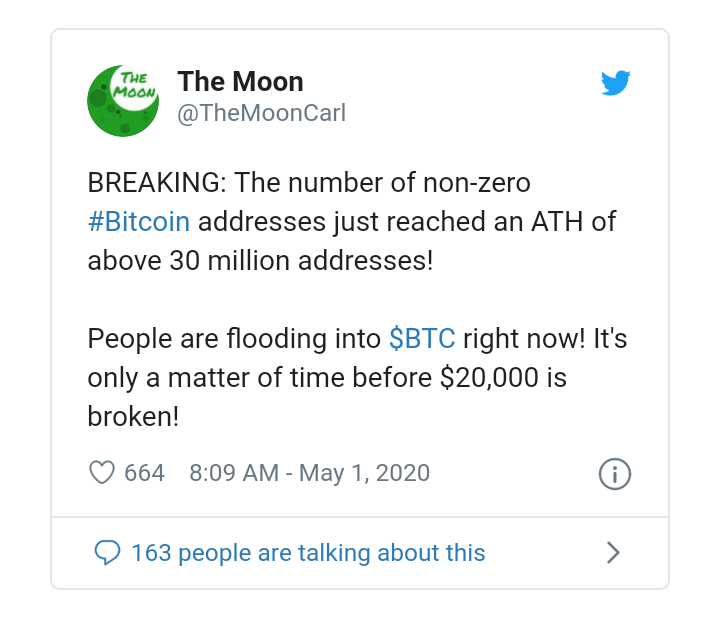 This data corresponds with information availed by Glassnode, an on-chain crypto data provider, that the record of 30 billion non-zero Bitcoin addresses was noted in April 2020.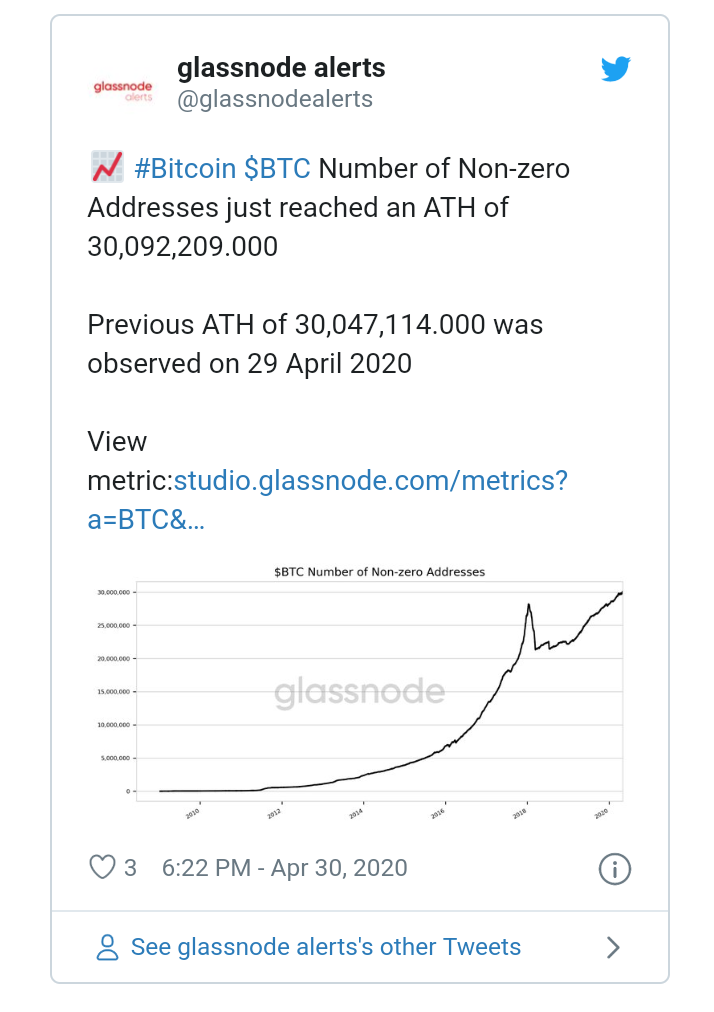 These figures, therefore, show that people's interest in Bitcoin is on an uptrend before the third halving event as the previous ones happened in November 2012 and July 2016.
Importance of Bitcoin halvings
Bitcoin halving events usually happen after every four years as the coin supply is reduced by 50%, and if demand remains the same or increases, BTC price is anticipated to rise. They, therefore, make Bitcoin a deflationary currency as its value increases with time.
On July 9, 2016, the second halving incident happened, and the price stood at $664. An upward trajectory was witnessed because on February 23, 2017, it escalated to $1,167, and this served as the spark that triggered a bull run to an all-time high of $20,000 in December 2017.
With the BTC price having shattered the $8,000 mark, it seems investors are on a buying spree so that they cannot miss out before the halving event docks as history shows past incidents are followed by considerable bull runs. Notably, it was revealed that after some Americans received their Stimulus Checks to caution them against the harsh coronavirus effects, they decided to invest them in BTC.

Image via Shutterstock
Read More