Coinbase CEO: Americans are Investing Their COVID Stimulus Checks in Bitcoin


Brian Armstrong, the CEO of US-based crypto exchange Coinbase, has revealed data showing how $1,200 deposits similar to the stimulus checks being offered to Americans by the government have skyrocketed this week. Coinbase is the leading crypto exchange on American soil.
Americans bullish on Bitcoin
The information presented suggests that some Americans are looking at the other side of the coin in their stimulus checks as they are not using them to purchase food and gas. Instead, they are keeping their fingers crossed and investing in Bitcoin.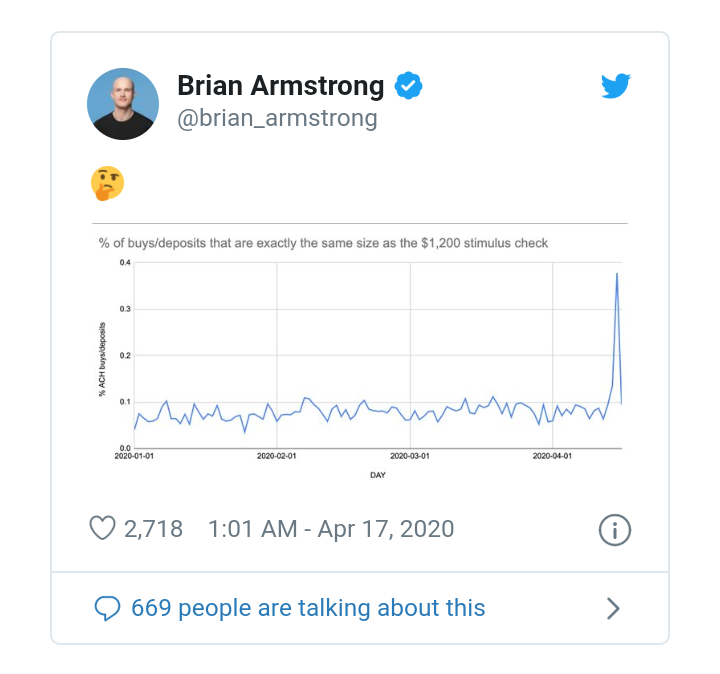 The stimulus cheques are part of US President Donald Trump's plan to render a helping hand to U.S. citizens as the coronavirus pandemic continues causing economic turmoil across the globe. Reportedly, at least 22 million Americans have lost their jobs.
The Internal Revenue Service (IRS), the revenue arm of the United States federal government, started disbursing the stimulus checks worth $1,200 to approximately 80 million people. Eligibility was pegged on annual gross income that did not exceed $75,000.
Statistics from a CNBC survey showed that the majority of Americans were using the stimulus checks on food and gas at 16% and 10%, respectively.
Bitcoin halving on the horizon
With the much-anticipated Bitcoin halving event just around the corner, the data availed by Armstrong imply that some Americans want to add value to their stimulus checks by investing in Bitcoin.
The Bitcoin halving scheduled for May will slash the mining reward from 12.5 BTC to 6.25 BTC. As a result, the supply of Bitcoin will reduce, and depending on demand; the price is anticipated to increase. The second halving event took place in July 2016, and a year later, in December 2017, Bitcoin's price reached an all-time high of $20,000.
Recently, a surge in Bitcoin online courses was witnessed as the demand hit 300%, and this is linked to measures, such as lockdowns, social distancing, and quarantines, being necessitated to curb the coronavirus pandemic.

Image via Shutterstock
Read More