Polygon Surges by 2600% on a Year-to-Date Basis as Adoption of Layer 2 Accelerates
Matic Network provides scalable, secure, and instant Ethereum transactions designed to use Plasma side chains and a Proof-of-Stake (PoS) network to solve the pain points of slow block confirmation and high gas fees, thereby simplifying the interaction between users and the decentralized world.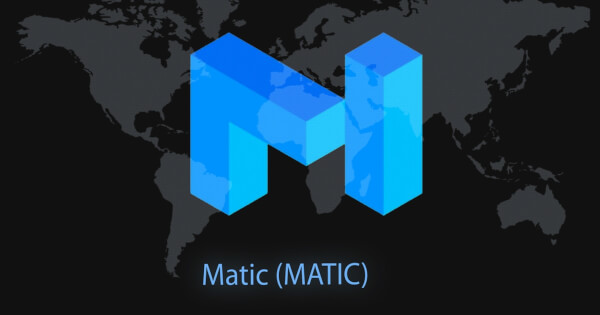 Due to the high transaction fees on the Ethereum network, more and more Ethereum-based projects are seeking network integration with faster transactions and lower fees to ensure to maintain a competitive advantage.
Therefore, the market is now paying increasing attention to layer 2 solutions, which can help Ethereum keep up with the competition as it continues to convert to proof-of-stake.
Polygon, a protocol focused on Ethereum expansion and infrastructure development, strives to expand the adoption of its Layer 2 proof-of-stake sidechain platform that runs alongside Ethereum's main network. As one of the top choices of preferred L2 aggregator, Polygon (previously known as Matic Network) has been integrated with multiple Decentralized Finance (DeFi) and non-fungible token-related projects.
These include some Decentralized Exchanges (DEXes) such as SushiSwap (SUSHI) and Curve Finance (CRV), as well as non-fungible token (NFT) trading platforms such as OpenSea and Decentraland (MANA).
On March 31, the DeFi lending platform AAVE announced that it was exploring a new DeFi service with Polygon, and subsequently launched AAVE on the L2 solution to escape Ethereum's high fees.

According to DeFi Pulse data, Polygon itself ranks as the 17th largest DeFi protocol, with a total locked value of $755.9 million. Polygon's lock-up amount reached close to its highest value of $760.584 million on April 17.
Polygon (MATIC) Price Analysis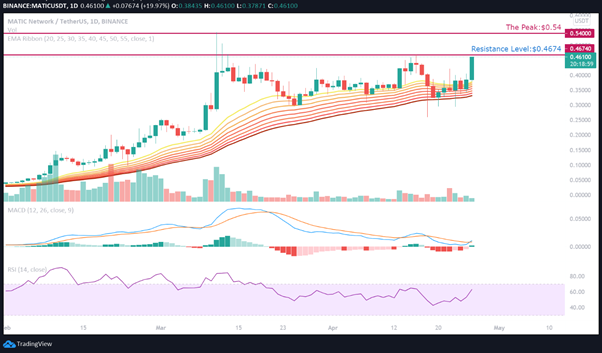 Source: MATIC/USDT Daily via TradingView
So far, Polygon's rate of return is very impressive, rising by more than 2600% from $0.0178 to $0.468 since the beginning of 2021. At the time of writing, Polygon (MATIC) is trading at $0.468.
Polygon has regained its upward momentum. MATIC's price has been particularly bullish, with the altcoin breaking through the previous consolidation phase.
Both the upward sloping moving average and the formed bullish crossover MACD index indicate that the bulls are currently dominating the market.
Relative Strength Index is stepping upward approaching the 70 mark of the overbought zone. This indicates that the altcoin may experience a wave of bullish momentum and surge.
If the bulls can push the decisive closing price above the resistance level of $0.4674 by the end of the day, then bullish momentum may prompt MATIC to hit its all-time high of $0.54.
Image source: Shutterstock
Disclaimer: The views and opinions expressed in this article are solely the author's and do not necessarily reflect the views of Blockchain.News. No information in this article should be interpreted as investment advice. Blockchain.News encourages all users to do their own research before investing in cryptocurrencies.


---

Read More