Coins Making The Biggest Moves in The Market Today: NXM, HBAR, and ENJ
The cryptocurrency market is waging its usual volatility war again and while some of the top-ranked coins are trading under bearish conditions, a few are taking advantage of the flow to add up some gains. While the entire cryptocurrency market is defined by a similar law of demand and supply, many coins have basic fundamentals and use cases that give them an edge at certain times when the market is experiencing a downturn.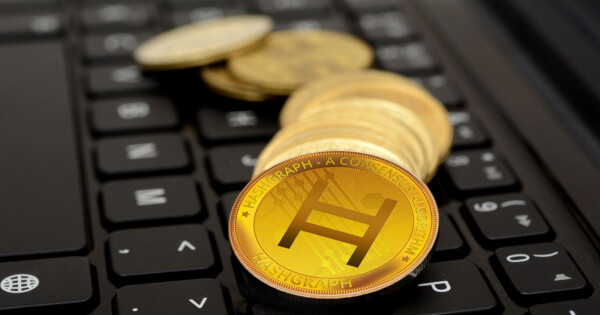 The current rate of growth of Bitcoin and Ethereum is not positively correlated as Bitcoin is down by 3.02% in the past 24 hours to $34,715 at the time of writing according to CoinMarketCap while Ethereum is up by 2.32% to $1,308.19. The majority of the top ten coins trailed the bearish downturn of Bitcoin. However, the tokens Nexus Mutual (NXM), Hedera Hashgraph (HBAR), and Enjin Coin (ENJ) are amongst the biggest earners in the market today.
The Upward Tick Of NXM, HBAR, and ENJ
The Nexus Mutual token is up by 20.42% in the past 24 hours according to CoinMarketCap and it is currently trading at $41.58 per coin. While the NXM token does not enjoy a top ranking in relation to other tokens in the space, its growth over the past month has been impressive. The coin has rallied by 102.4% over the past 30 days and an additional 16.67% in the past week. Apparently, the use of the coin in the governance of the to buy a cover, vote on governance decisions, and participate in Risk and Claims Assessments on the Nexus Mutual Protocol is gaining remarkable traction.
Hedera Hashgraph (HBAR), another favorite in the market today has rallied by 51.75% in the past 24 hours and by 98.83% in the past week. At a current trading price of $0.09406, the HBAR token is obviously trading below its potentials, especially for a coin that is governed by a council of global firms including IBM, Google, Deutsche Telekom amongst others. With the current price action, however, the HBAR token may be attracting new bulls and HODLers.
Enjin Coin is also making noteworthy moves in the market today with a 42.52% surge in the past 24 hours, a surge that consolidates the 150.72% in the past week. For a coin whose mainnet launched back in June 2018, today's performance may signal a move towards a new horizon for the coin owned by Enjin, a company that provides an ecosystem of interconnected, blockchain-based gaming products.
Coin's To Watch For The Rest of The Week
As President Joe Biden takes office today, his appointees including new SEC Chair Gary Gensler will commence acting immediately. With the inherited lawsuit with Ripple, the reports that the new Chair would not be able to save XRP coin may further complicate the dwindling price growth of the coin. Ethereum is also an asset to watch as it soared past and fights to form new support at its all-time high price
Image source: Shutterstock
Bitcoin Price Consolidates as Ethereum Price Surges to Hit All Time High
Read More