Bitcoin Price Consolidates as Ethereum Price Surges to Hit All Time High
The Ethereum network's native cryptocurrency Ether (ETH) finally surpassed its all-time high and peaked at a price of $1,432 yesterday, according to CoinMarketCap.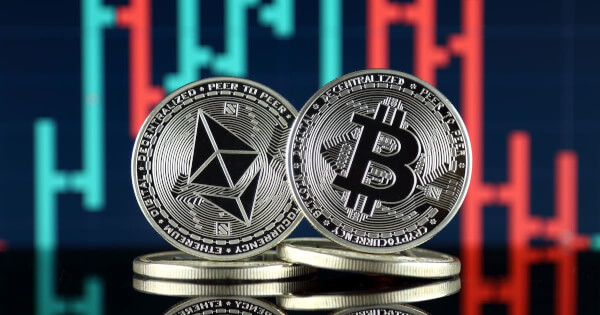 Ether rallied nearly 12% on Tuesday to reach the new price peak, with hints of the coming rally being projected by analyst's earlier this month. The Ethereum price has since seen a pullback and now trades at around $1,350.
Meanwhile, Bitcoin (BTC) suffered a huge correction from around $40,000 to $30,000 last week. The Bitcoin price has begun to move sideways and is currently trading at around $35,000.
With Bitcoin settling into a range now and the rush of interest in 2020 in Decentralized Finance (DeFi) which is hosted in majority on the Ethereum blockchain—Brian Norton, COO of MyEtherWallet (MEW), the leading Ethereum wallet interface, sees this surge as a positive indicator for the future of ETH despite recent criticisms of high gas prices on the chain.
In a note to Blockchain.News, Norton said:
"2020 saw the explosion of the DeFi ecosystem on Ethereum - first hitting $1B in Total Value Locked in February, now $20.5B in only 11 months. This growth has attracted many new users seeking yields that are not available on Bitcoin with centralized intermediaries."
In 2020, Ethereum also began the transition to its Ethereum 2.0 upgrade which is designed to improve scalability and security and a move from the proof-of-work (PoW) consensus algorithm to the proof-of-stake (PoS) algorithm.
Ethereum 2.0 has been divided into phases, with Phase 0 enabling the staking function of the project. Phase 1 enables the sharding of data, which would enhance scalability and increasing the storage capabilities of the network. Phase 2 enables thousands of transactions per second, as well as transaction sharding.
As the DeFi market continues to attract developers to the Ethereum network–the upgrade to Ethereum 2.0 is expected to help cope with growing demands on its network.
Norton added:
"What I am watching is developer activity on Ethereum, as it serves as an indicator that new and better use cases are coming which will increase demand for the native asset. Ethereum has over 5x the number of active developers as Bitcoin, and is adding developers at a faster clip every day."
In emailed comments to Blockchain. News, Paolo Ardoino, CTO at Bitfinex added:
"The price of Ethereum is going up in a resurgent decentralized finance (Defi) space. While the explosion of projects in Defi has caused growing pains for Ethereum, layering solutions are in the works that are helping the network to scale."
Bitcoin Still Bullish And in Good Hands
While the Ether price has trailed behind Bitcoin which had been pushing to new all-time highs on an almost weekly basis prior to last week's correction—Etheruem has in fact outpaced the top cryptocurrency in 2021, with a 92% gain. Meanwhile, the BTC price has risen 27% so far this year.
Despite Bitcoin's continued consolidation around the mid $30K range—Ardoino said that Ethereum's rally does not mean Bitcoin is through with its own price rally.
Ardoino said:
"Sentiment around Bitcoin remains overwhelmingly bullish[…]Bitcoin is providing a solid foundation for a staggering array of projects, some of which will fundamentally change the nature of money by the end of the decade. Those celebrating the rise of competing chains in a rampant bull crypto market should do well to remember that they owe everything to Bitcoin."
The crypto market is alive and well after a three-year bear market and the bulls have taken firm control. While Bitcoin price moves sideways, analysts expect that $30,000 has become the new floor for BTC due to a massive drive by institutional investors.
Additionally the recent naming of Gary Gensler to Chair the United States Securities and Exchange Commission (SEC) and replace Jay Clayton is truly exciting for cryptocurrency advocates as the SEC is desperately in need of a more refined and balanced approach to crypto regulations in the US.
As stated by Bitcoin bull and billionaire investor Tim Draper on Gensler's appointment:
"Congratulations to Gary Gensler on his appointment to become SEC Chief. #Bitcoin is in good hands."
Along with his extensive experience in regulating financial markets, Gensler also has a long history in public policy and finance. Gensler is a senior advisor to the MIT Digital Currency Initiative and lectures on blockchain technology at MIT sloan.
Image source: Shutterstock
Biden Appointed SEC Chair Gary Gensler is not Going to Save Ripple's XRP Token
Read More