CEX.IO Founder: US and UK Investors Expect Bitcoin to Serve as Hedge Against Currency Depreciation
Exclusive Interview with Oleksandr Lutskevych, CEO & Founder, CEX.IO
Oleksandr Lutskevych is the founder and CEO at CEX.IO LTD, a successful London-based group of companies, including CEX.IO Bitcoin Exchange. Established in 2013, CEX.IO is a multi-functional regulated cryptocurrency exchange registered as a Money Business Service (MSB) by the US regulator FinCEN.
CEX.IO is trusted by 3 million users in 220 countries and territories. In 2019, CEX.IO launched a dedicated US presence and has obtained Money Transmission Licenses in 25 states. They are able to currently serve 42 states in the US.
Lutskevych is a pioneer in the Bitcoin industry and serial entrepreneur with deep expertise in internet technology businesses. In this second exclusive interview with Blockchain.News, Lutskevych discusses the current Bitcoin market sentiments in the US and UK following Brexit as well as CEX.IO's next steps for 2020.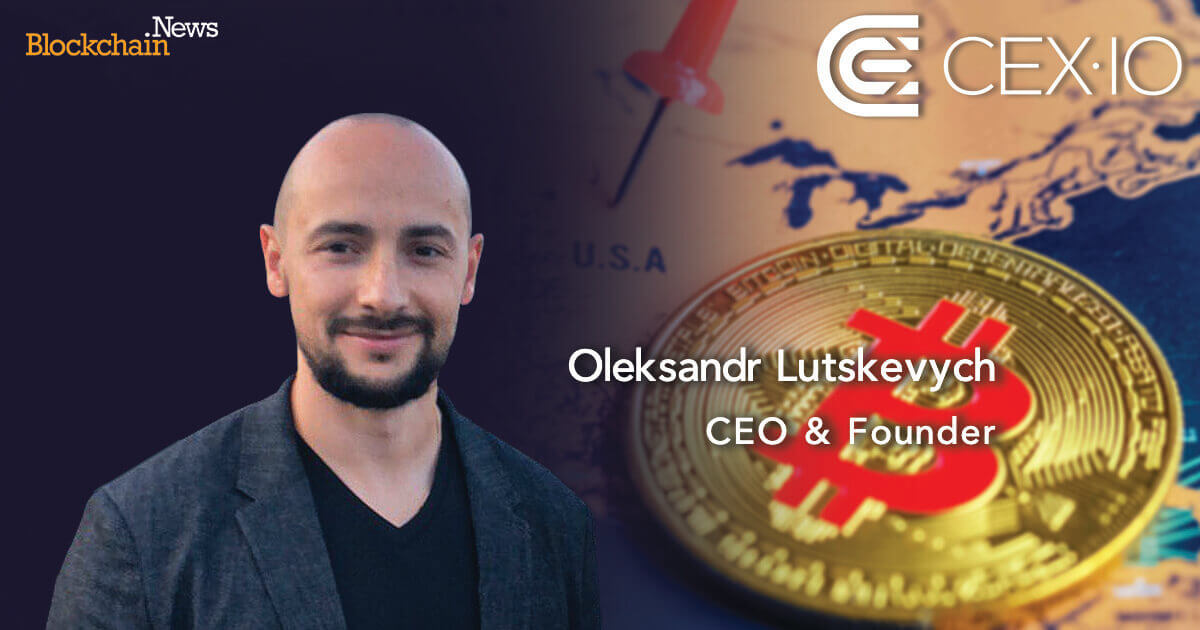 Bitcoin Market Sentiment in the US
The US is one of the toughest jurisdictions for digital assets and cryptocurrency from a regulatory standpoint. As a result, the variety of services, products, and digital assets that are available to people in other parts of the world are not available to US investors.
Lutskevych said, "People in the US look at Bitcoin as a store of value more so than in other parts of the world. We see that at every level of sophistication, from retail consumers to institutions." He explained, "The former (retail consumers) are price conscious, which is one of the main factors in their decision for which services to use. They want a trustworthy gateway into open finance and they carefully evaluate the fees and commissions, looking for clear pricing models."
Institutions are also showing a growing appetite for BTC, Lutskevych said, "Even some of them, traditionally regarded as conservative, allocate a portion of their funds towards BTC as a way to diversify their assets."
Comparing BTC Investment on Both Sides of Atlantic
According to Lutskevych, the UK and the US have very notable differences between what consumers want out of their investments but, "We have noticed that consumers in both countries are looking for bonafide store of value assets."
"With the uncertainty of Brexit consequences and the effect it will have on the GBP, consumers have expressed similar sentiments to consumers in the US who are concerned about the Federal Reserve's actions of quantitative easing," Lutskevych said, "As both established economies may see, and fear, a clear depreciation of their currencies, Bitcoin can become a hedge against that. We notice that the strength of that narrative and public sentiment is only increasing."
User-Friendly Staking
In part one of our exclusive interview, Lutskevych discussed CEX.IO's continued geographic expansion of service across the United States with the exchange now operating in 42 states.
A second mission of CEX.IO in 2020, is to expand services to US residents that have been recently introduced to the exchange's global customers. Lutskevych said, "Since the regulatory landscape varies in different countries, we distinguish between the services (and digital assets) we can offer to the clients outside and inside the US. Historically, we first introduce a service to the global clients, while vigorously researching the regulatory status of such a service in the US. Then we polish and adopt the service for our US consumers."
An example of one such product set to make its US debut is staking. Lutskevych explained, "CEX.IO customers can participate in staking with relevant coins and easily receive the rewards on their crypto balance. Some people call staking rewards a form of a passive income, and it is certainly an interesting way to participate in the crypto economy."
Staking is traditionally considered a thing for tech-savvy people, but CEX.IO has made it hassle-free. Lutskevych said, "For CEX.IO customers, staking is nothing more than storing coins and tokens in a CEX.IO account. At the same time, customers remain in full control of their crypto assets. They can trade and even withdraw staked cryptocurrencies at any moment, without needing to wait. It's a huge competitive advantage considering that staked funds are usually locked." He added, "Staking is certainly the service we look to bring to our US customers once we determine how it fits into our process with the remaining licenses."
Other Services Coming in 2020
As the cryptocurrency industry continues to mature, professional traders and institutions are seeking different services than the general everyday investor. Lutskevych said, "Professional participants of the market usually operate at scale, they need liquidity solutions, advanced API, institutional-level custodial services, and an OTC desk."
Having obtained a DLT license to provide those services in Europe, this year, CEX.IO is looking to expand them further to the US markets.
Lutskevych concluded, "Overall, we'll continue building trust with our users and looking for better ways to serve them. Either by offering more services or improving our existing ones, we want to always keep our hand on the pulse of the market and remain agile to meet its evolving demands."
Read More