Bitcoin Surges Higher as Visa Announces It Will Soon Support USDC Stablecoin
Visa announced that its network will be made compatible with USD Coin (USDC). The payments company is working on integrating USDC stablecoin as a settlement currency for transactions on its payment network.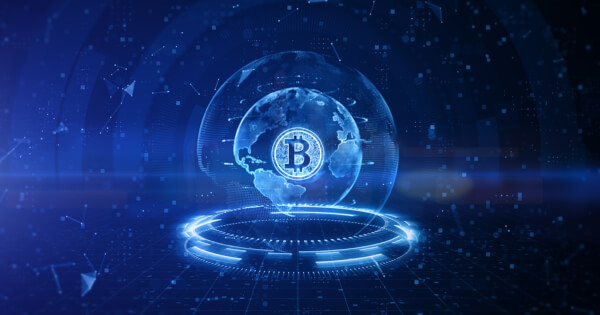 The announcement was made on March 29 and is significant as it will mean that crypto transactions will be made possible via USDC. The feature is expected to be finalized and functional by the end of this year.
USDC is a stablecoin directly pegged to the U.S. dollar in a ratio of 1:1. According to Coinmarketcap, USD Coin is ranked second among stablecoins behind the Tether (USDT) with a market cap of $10,561,481,540.
Visa stated that it has launched a pilot program with the payment and encryption platform Crypto.com and plans to offer the USDC settlement to more partners later this year.
The purpose of Visa's support is to eliminate the increasing need to convert cryptocurrencies into traditional currencies for online payment settlement by offering stablecoins.
As major financial companies such as JPMorgan and Square continue to invest in digital currencies, Bitcoin (BTC) has grown accordingly, topping $58K yesterday. At the time of writing, Bitcoin is trading at $57,294.
Bitcoin (BTC) price analysis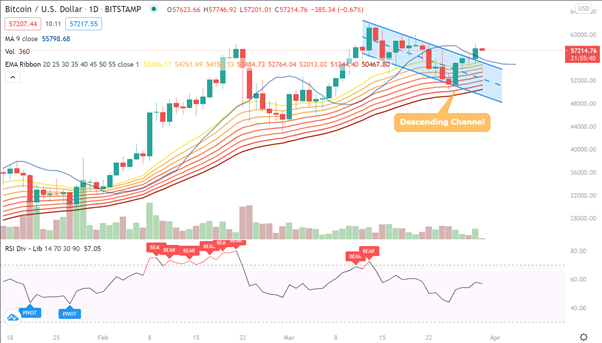 Source

:

BTC/USD Daily via TradingView
Bitcoin (BTC) successfully broke through the resistance line of Bitcoin's descending channel on March 29 with a long green bullish candlestick. The bulls are currently working hard to consolidate this breakthrough.
If the bulls try to maintain the price above the 9-day Moving Average, it will be possible to retest its all-time high (ATH) of $61,782.
The closing prices of the last three days all rebounded quickly after touching the 20-day Exponential Moving Average (20-EMA) of $55,061, which proves that the 20-EMA will be a critical support level.
Exponential Moving Average ribbon started to rise, indicating that bulls are now dominating the entire market.
The Relative Strength Index (RSI) rose to 57.05 and exceeded the median number of 50, which is the bullish side of the oscillator.
If a large number of buy orders are triggered, then BTC/USD will test the $60K psychological barrier of resistance. If the bulls successfully break through this resistance, then the bulls will try to break through its all-time high of $61,782. But for the time being, the bulls may face severe challenges at this level, because many investors who bought at a low price during the early decline and who were trapped in the previous period will sell for profits.
If BTC/USD breaks through and closes above $61,825.84, it will start a new round of uptrend momentum for Bitcoin, opening the door to $70K.Conversely, the BTC/USD currency pair fell from this level but remained above the 20-day moving average, indicating that market sentiment is still bullish as traders are still buying the dips.
Image source: Shutterstock
Disclaimer: The views and opinions expressed in this article are solely the author's and do not necessarily reflect the views of Blockchain.News. No information in this article should be interpreted as investment advice. Blockchain.News encourages all users to do their own research before investing in cryptocurrencies.


Read More