Bitcoin Outperforms Ethereum and Cardano as the Crypto Market Recovers
As the top three cryptocurrencies continue on their recovery, Bitcoin appears to be showing more impressive momentum than ETH and ADA.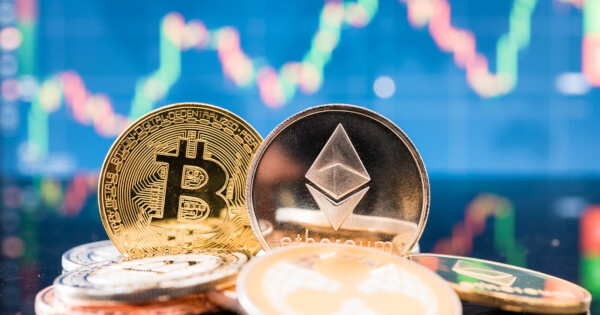 As the cryptocurrency market is showing recovery in a bid to recover from the losses experienced in the past week, the rate of performance of the top three cryptocurrencies by market cap is not aligned. While each of the coins including Bitcoin (BTC), Ethereum (ETH), and Cardano (ADA) have their own personal fundamentals, the market dynamics for all differ slightly.
In the prior week, the market recorded a crash in tandem with a massive dip in the price of Bitcoin. Ethereum respected the correlation, while Cardano recorded bullish behaviour, which drove its price to new highs above $1.48.
The market is largely in a better position this week, although the crypto market has been riddled with volatility. The hurdle to returning to price levels before the week-long crash has been daunting with significant pull-backs seen from the three digital currencies.
Bitcoin is aiming to break the $50,000 resistance level, a crucial mark that may trigger a bullish run towards its all-time high price above $58,000. At the time of writing, the cryptocurrency is up by 2.65% to $49,902.86 according to CoinMarketCap. The coin has been trading in this zone for days with the bears preventing a breakout. The cryptocurrency's efforts have been impressive though when compared with that of Ethereum.
Ethereum has formed new support at $1,500 with a sluggish drive to aim for the $2,000 resistance level smashed 11 days ago. Despite a lot of positive news around the Ethereum network, the latest being a backing from the Amazon Web Service (AWS), the second-largest cryptocurrency's effort to trail its past glories have been at a low ebb. ETH is currently exchanging hands at $1,577.20, a 2.14% growth in the past 24 hours period.
Cardano (ADA) saw the best of its days 4 days ago when it hit its ATH of $1.48. The momentum with which the coin attained this milestone has since died down slightly, and while it has maintained to trade at around $1.20, any further pull-backs will be disappointing to the hoard of new retail investors backing the various upgrades from the ADA development team.
Image source: Shutterstock
Read More