Bitcoin Mild Volatility Lower than the Other Leading Cryptocurrencies in 2021
In spite of the latest stimulus reflected on the Bitcoin market, the recent low volatility has made the Bitcoin market stagnate ever since it nosedived from an all-time high (ATH) price of $64.8K hit in mid-April. Therefore, the top cryptocurrency has found itself in a ranging market because its attempts to break the $30-$40K level have been thwarted.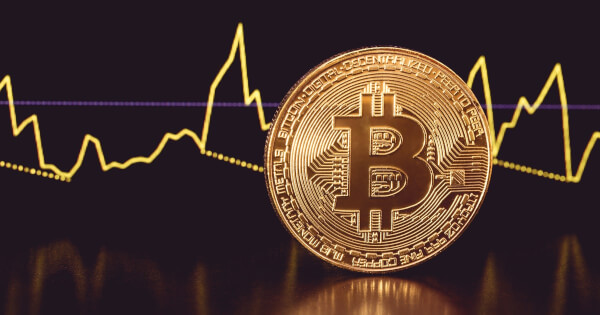 Despite the recent rebound stimulated by the potential of acceptance of crypto payment by Amazon, CryptoCompare acknowledged that BTC's volatility had been relatively lower compared to other leading cryptocurrencies, such as Ethereum (ETH), Ripple (XRP), and Cardano (ADA). The crypto analytic firm explained:
"BTC's volatility has been notably lower than the other top 4 cryptocurrencies in 2021 with an avg 30d rolling volatility of 89% - however, it had lower returns to match. ETH, ADA & XRP all recorded higher volatility - at 121%, 148% & 187% respectively."
Low volatility in the BTC market was partly caused by short-term interest plummeting from a record-high recorded in February. For instance, the number of addresses holding BTC for less than a month had decreased by 59% earlier this month.
Crypto analyst Joseph Young believes that Bitcoin will need a big short squeeze and a strong catalyst to break out the current range. He stated:
"The market isn't bullish or bearish. It's just consolidating. Constant fight between FUD and positive catalysts. Bitcoin will need a strong catalyst and a big short squeeze to break out."
Bitcoin's crowd sentiment on Twitter becomes bullish
According to on-chain data provider Santiment,
"The Bitcoin crowd on Twitter has become bullish once again. With BTC's +6.6% 24-hour rise and 12-day price high to above $34.4k, commentary is showing levels of FOMO that haven't been seen in 6 weeks."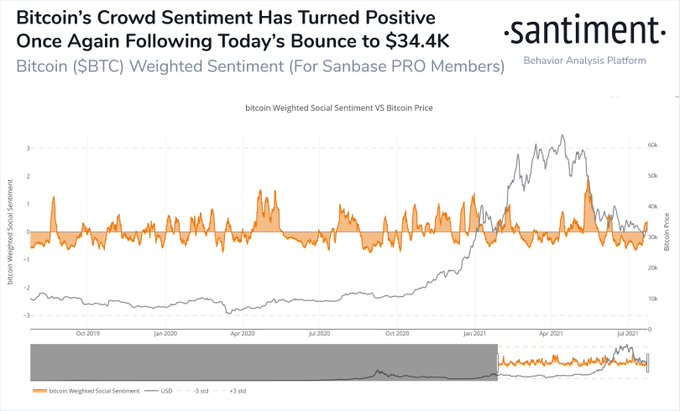 The crowd sentiment was negative mid this month, which was expected to trigger an upward momentum, leading to a market surprise.
Low volatility has caused weakness in the crypto space, as evidenced by the fact that this sector recently lost about $98 billion triggered by a big sell-off in the global stock market.
As nearly 200,000 Bitcoin has been wrapped out on the Ethereum blockchain, whether volatility will trickle into breaking the current ranging market remains to be seen.
Image source: Shutterstock
Read More