$600 Dollar Stimulus Checks to Stimulate Bitcoin Price Bullish Momentum
After the Black Thursday market crash in March 2020, the Bitcoin price plunged to around $4,000 falling with the traditional markets. As the Federal Reserve's money printer sprang into action, sending out $1200 in stimulus checks, Bitcoin (BTC) began to rise, US citizens were reportedly turning to the cryptocurrency in a mix of lost faith in their government's monetary policy and in an effort to hold on to their wealth as the US dollar weakened.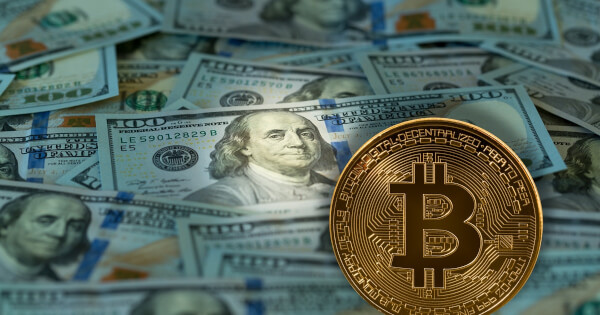 Yesterday, as the United States Congress passed a new coronavirus stimulus bill to be funded by the Federal Reserve's unrestrained money printer—Bitcoin billionaire Tyler Winklevoss tweeted:
"Another $900 billion dollar advertisement for Bitcoin."
If the stimulus check spending of US citizens in the first round of government-funded economic emergency relief this year is anything to go by, there appears to be a high possibility that many stimulus recipients will opt to invest in Bitcoin and provide a further boost to the crypto's bullish price momentum.
Bitcoin Separated Central Bank Control
Bitcoin has had an amazing 2020, the premier cryptocurrency has risen from $4,106.66 immediately following the Black Thursday global economic crash to setting an all-time high at $24,209.66 according to CoinMarketCap, and BTC has easily outperformed the S&P 500 over the year.
Bitcoin's ascent this year in a time of economic downturn may surprise some, but holding and creating wealth outside of the traditional financial system, free of inflationary policy is exactly why BTC was created by Satoshi Nakamoto in the first place.
Bitcoin serves to offer a way to separate your money from the control of the state as it was designed to be decentralized and created through non-sovereign processes. Investment in Bitcoin offers freedom outside of the Federal Reserve and other Central bank controls.
Bitcoin's price this year is in a sense merely fulfilling its destiny, as central bank money printing has never been more out of control it only makes sense that the Bitcoin price has never looked quite as bullish.
$600 Dollar Bitcoin Payments
Reactions have been mixed online to the announcement that the United States government will be offering a direct payment to all citizens of $600 which is half the amount that they received after March 2020.
Overall the new stimulus bill will cost exactly $908 billion and will mean more money printing by a state that is already trillions of dollars in debt. The faster the government prints the more inflation will spiral out of control, which puts a very high price on the meager $600 dollars which will come in the taxes that will be paid to cover the debt in the years to come.
Following the first round of stimulus after Black Thursday, Brian Armstrong, the CEO of US-based crypto exchange Coinbase, soon revealed data showing that a spate of $1,200 deposits similar to the stimulus checks being offered to Americans by the government were skyrocketing at the leading US crypto exchange.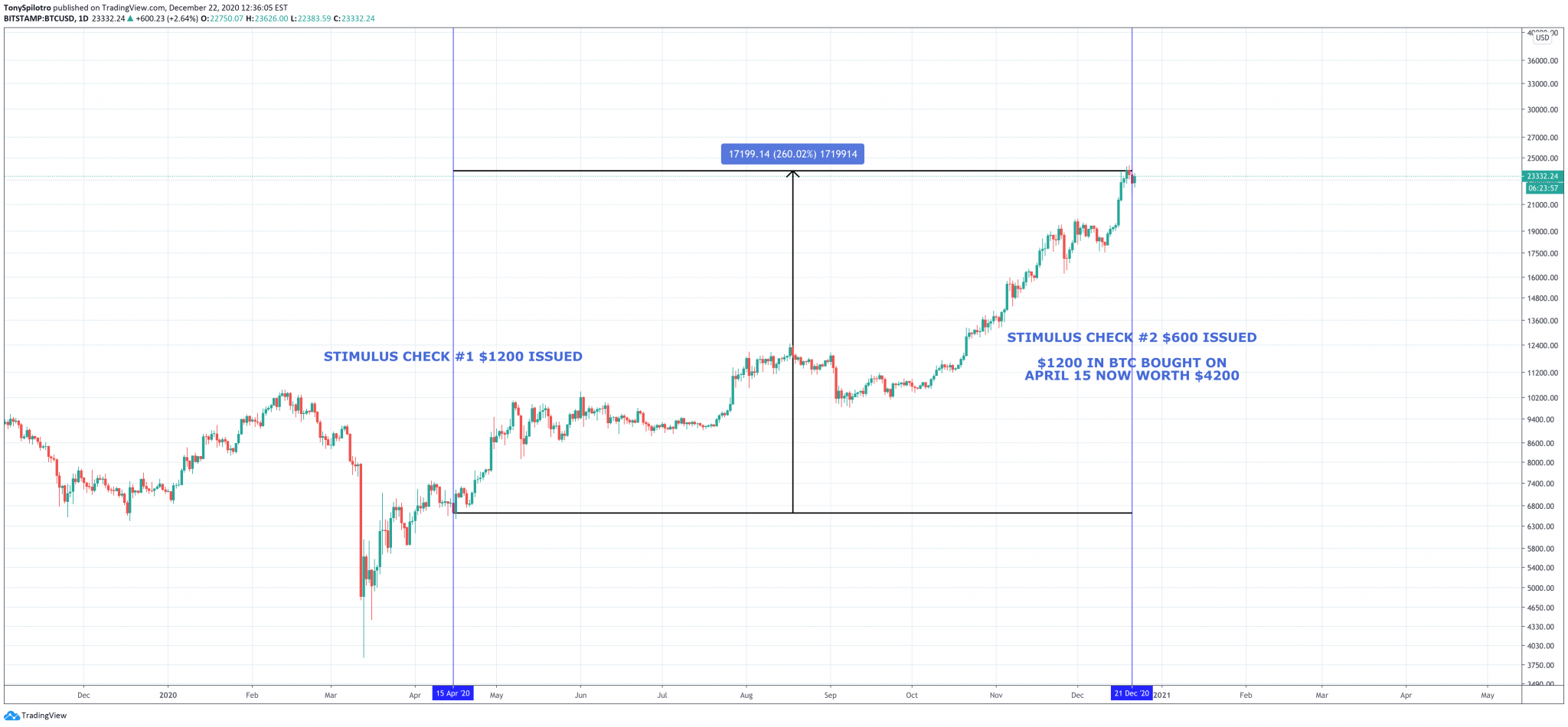 Bitcoin Price From the Time of $1200 Stimulus to Present - TradingView
Buy Bitcoin, Be Your Own Bank
Bitcoin has been enjoying greater mainstream acceptance than ever before seemingly led by a huge initial investment by market intelligence firm MicroStrategy in August when Michael Saylor led the company to purchase 21,454 Bitcoins for $250 million dollars.
Saylor's bet paid off in front of the entire world and MicroStrategy's has since committed another $825 Million to Bitcoin. The move is being followed by other major institutions and notably MassMutual, a traditional insurance giant has jumped in with its own $100 million BTC investment.
Bitcoin is in a parabolic phase of new price discovery and analyst's at Bloomberg Intelligence are tipping that this is just the start.
As the stimulus checks roll in, retail investors are now faced with a Bitcoin narrative less shrowded in mystery and more mainstream than ever before. What may make the decision to invest their stimulus checks into Bitcoin even easier is the fact that those who had invested the initial $1,200 check into Bitcoin would have generated a $3,000 ROI above and beyond the $1,200 investment. Turning $1,200 into $4,200 in less than a year during a market downturn must be extremely appealing and considering the heights Bitcoin is predicted to reach, another $600 invested into BTC this time aroung could be far more profitable.
As Tyler Winklevoss said alluded to in his tweet above, the new stimulus payment represents future inflation and depreciation of US dollar—and should see a further loss of confidence in the Federal Reserve's poor money management.
Inflation is coming as the money printer continues to go "BRR" and Bitcoin price is rising. So what will US citizen's do with their $600 stimulus check? —pay off half the average American monthly mortgage or invest it into BTC to store and grow their wealth beyond the control of careless central bank monetary policy.
Image source: Shutterstock
How the 2020 Bitcoin Bull Run is Different From 2017, High Confidence Seen in BTC at Current Price
Read More