Americans Present Stronger Desires than Canadians in Crypto, Ipsos Study Shows
The intention of investing in cryptocurrencies like Bitcoin (BTC) or using tokens as a payment option among Americans is higher than among Canadians, according to a new survey by Ipsos.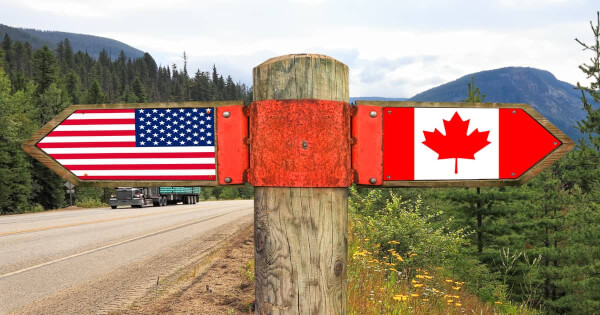 Per the study:
"Globally, one in three (35%) internet users are likely to invest in Bitcoin or another cryptocurrency as a short-term investment (USA 24%; Canada 17%)."
The preference for crypto is higher among Americans than Canadians based on varying reasons, like sheltering their wealth from taxes and avoiding cross-border banking fees.
One factor that makes Canadians lag behind Americans in crypto investment and usage entails differing attitudes.
Fen Hampson, Chancellor's Professor at Carleton University, pointed out:
"Given the big differences in attitudes between Canadians and Americans towards cryptocurrencies, there may be diminishing political capital in the Canadian population at large for those who want to promote the idea that consumers will use cryptocurrencies instead of the Loonie. However, in the United States, it is a different story."
Lower crypto intake noted in Canada
According to Sean Simpson, an Ipsos member:
"It is notable that intended uptake of cryptocurrencies is lower in Canada than in most countries surveyed. Conservative leadership hopeful Pierre Poilievre has advocated for cryptocurrencies and their ability to help users opt out of inflation."
A contrasting scenario is observed in the U.S. because of a more receptive audience, with Wyoming Senator Cynthia Lummis leading the pack as a vocal crypto supporter. She seeks to have this sector regulated and normalized.
Meanwhile, the appeal for crypto use is higher among younger generations. Per the report:
"In the United States, four in ten (40%) Americans aged 18-34 are at least somewhat likely to use a cryptocurrency to buy a good or service in the next year. In Canada, those aged 18-34 are most inclined to say they're at least somewhat likely (29%) to use a cryptocurrency in the next year to buy a good or service."
A recent poll by NBC News revealed that one in five (20%) Americans had used, traded, or invested in cryptocurrency.
The online Ipsos Survey interviewed 14,519 internet users in 20 countries between November 10 and 24, 2021. The respondents were aged between 16 and 74 years.
The countries involved included Sweden, Turkey, the United States, Spain, Singapore, the Republic of Korea, South Africa, Poland, Mexico, Kenya, Japan, Israel, Indonesia, India, Great Britain, Germany, France, Canada, Brazil, and Australia.
Image source: Shutterstock
26% Brazilians Invested in Crypto over Last 6 Months, Study Shows
Read More