Will XRP Fall Out of Crypto Top Five Ranking for the First Time since 2013?
XRP cryptocurrency has had a difficult run since 2017, with its price being stagnant on the market for the longest period of time. After recovering slightly and even hitting $0.90 momentarily on Coinbase in November, XRP has since resumed its downtrend.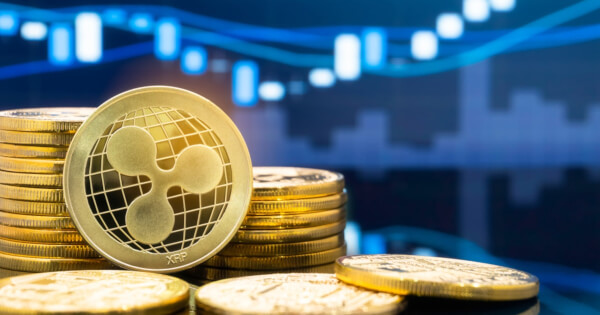 The Securities and Exchange Commission's against Ripple Labs served as a catalyst for its downfall on the market. The US Commission alleges that Ripple Labs and its head executives sold XRP unlawfully as unregistered securities and raised $1.3 billion in the process. Despite it all, XRP has managed to hold on to a top five ranking by market capitalization…at least for now.
Which cryptocurrencies will outrank XRP?
XRP has previously secured the title of third-largest cryptocurrency by market cap for the longest time. The altcoin held the position for the longest time, despite the lack of momentum that had been observed of the cryptocurrency since 2017. In fact, since 2013, XRP had always ranked third, behind Bitcoin (BTC) and Litecoin (LTC) back then.

Source: CoinMarketCap
Currently XRP has fallen to rank fifth on the crypto market. Its long-held seat of third-largest crypto by market cap was briefly occupied by Litecoin (LTC), but Tether (USDT) and Polkadot (DOT) has since surged ahead to outrank the altcoin. XRP threatens to be de-ranked by ADA, and its fall is likely to continue so long as the SEC lawsuit is not concluded. It may also be overtaken by Litecoin again, although LTC is trailing behind ADA with approximately $10 billion in market cap.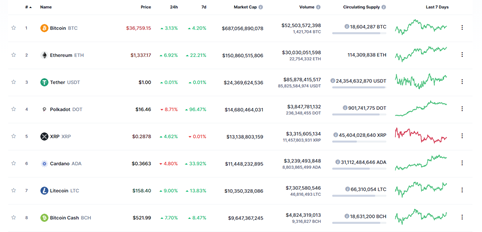 At the time being, XRP trades in the US are extremely restricted, as many coin exchanges have moved to delist the cryptocurrency. Kraken is the latest addition to the list of cryptocurrency trading platforms to announce they will no longer be supporting XRP trades, effective by the end of the month.
Image source: Shutterstock
Ripple XRP Crashes by 40% as Crypto Exchanges Halt XRP Trading
Read More