Why Bitcoin Crashed by $3000 and Is Currently Undergoing a Sharp Price Correction
After a bullish rally where Bitcoin soared past $18,500 on certain exchanges, the digital asset underwent a notable price correction, trading dropping below $16,500.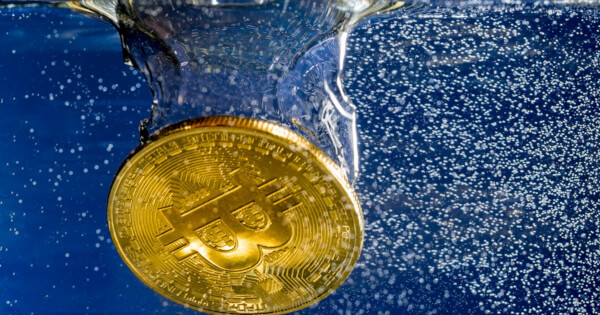 Bitcoin's price pulled back, down an approximate 5% in the last 24 hours. It has regained a bit of momentum since it dropped, trading at around $17,130.00 on CoinMarketCap at the time of writing and the resistance level seems to have transitioned from $19K to $17K.
Market analysts explained that a price correction was expected of the mainstream cryptocurrency, at least if one were to look at it from a historical point of view. Previously, after a massive bull run, Bitcoin's price has been known to fall back slightly on crypto exchanges.
This time around, experts allocated the price correction to numerous factors, namely sell-off pressure by Bitcoin whales, a case of FOMO (fear of missing out), and a short-term resistance level.
Be on the lookout for BTC whale activity
Market experts have noticed that Bitcoin (BTC) whales have been highly active during the bull run. According to data from CryptoQuant, there is currently a lot of selling pressure from whales. The All Exchanges Inflow Mean index suggests that corrections are still on its way, and marks $19K as a crucial point where Bitcoin whales began to sell off cryptocurrency in bulks.
This resulted in Bitcoin tanking, as a massive drop in price after it surpassed $19,000 momentarily was observed. $19K as a resistance level was short-lived, and across many exchanges, Bitcoin's price correction resulted in it trading around $16,500. Per Ki Young Ju, the CEO of CryptoQuant:
"More $BTC corrections might come. All Exchanges Inflow Mean remains still high. In my opinion, we'll face some corrections/sideways this week and it will break $20k by December this year. I'll stack some sats (satoshis) a few days after."
The price drop also created liquidity in the Bitcoin futures market, and as Bitcoin's increase in value was not sustained for long, the cryptocurrency may not reach $20K by the end of the year. Currently, it has fallen by at least $3000.
Bitcoin bandwagon
Its increase in price has however onboarded many new users, namely retail investors who have a fear of missing out (FOMO). While this may be good for Bitcoin in the long run, the investments are not sizeable enough for it to sustain a price above $19K. Per crypto analyst Willy Woo:
"The last phase of the run to ATH resistance was marked by smaller buyers, a class inrush of noob FOMO. That said, the rate of those new users coming last week was the highest we've seen in this bull cycle, right up there with 2017 mania levels."
Bitcoin (BTC) tanks but overall, it has done well
As Bitcoin has fallen from its highs in which it attempted to soar to $20K, the likelihood of it hitting that record-high remains an eventuality. Currently, its support level has been marked at $16,000. Bitcoin appears to be consolidating around $16,500-$17,000 across multiple crypto exchanges, as the resistance level of $19K was short-lived. A trader remarked that it was likely that Bitcoin was going to undergo a bigger price correction, as previously, after bull runs, Bitcoin was historically known to sink by 30%. He said:
"The top of the bullish channel has done an excellent job in acting as short-term resistance, just as it did at this stage in prior bull markets. What happened historically afterwards?"
Although Bitcoin has definitely pulled back and may even drop more, another market analyst indicated that overall, the mainstream digital asset has done well. Former Messari executive Qiao Wang observed that despite all, "BTC was still up 7% from a week ago," and added:
"We are still in a multi-month/year bull market, in case you were wondering."
2020 has been a revolutionary year for Bitcoin, as it has been incredibly seen as a store of value by institutional investors, as compared to 2017.
This time around, Bitcoin's price will definitely keep surging, although it may take some time before it tops $19K again. With the US dollar, the world's de facto currency, debasing as the second stimulus round is to be rolled out, Bitcoin is sure to gain in value as a hedge.
Image source: Shutterstock
Read More