Union Bank of Philippines Cooperates with Hex Trust for Promoting Pilot Digital Assets Custody Service
Union Bank of Philippines (UnionBank) announced Wednesday the bank has paired with Hong Kong-based Hex Trust to pilot digital assets custody service.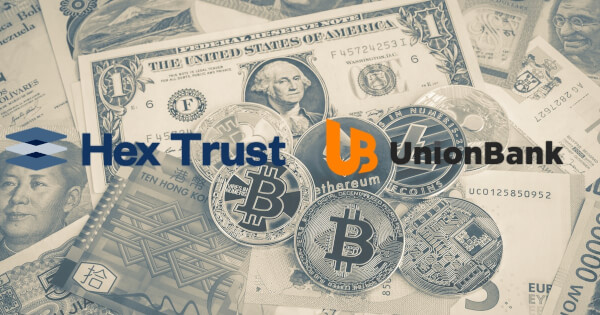 In response to maturing space and growing interest in digital assets and blockchain technology, and the need for trust and regulated institutions to manage digital assets from retail and institutional investors, this partnership will start by Hex Trust to provide internal services for the bank's employees as a trial run, before "fully commercialised digital assets service" to the public, according to the press release.
UnionBank believes the cooperation will help the bank enter the digital asset sector as a pioneer by fully complying with compliance with Bangko Sentral ng Pilipinas (BSP) regulation.
Henry Aguda, Chief Technology and Operations Officer, Chief Transformation Officer of the Union Bank of the Philippines, indicated that the market demand in the various forms of digital assets, including cryptocurrency, NFTs, or tokenised assets are arising, he said in the statement:
"We are excited to be the first Philippine bank to pilot a custody service for digital assets for our own employees, overseen by the BSP, so that we can prepare the groundwork for a safe and protected system for customers' digital assets,"
The HK-based Hex Trust said the company provides "bank-grade service" to their customers. Calvin Shen, Head of Sales & Business Development of Hex Trust, said:
"Hex Trust's collaboration with UnionBank enables secure access to the digital asset ecosystem via our award-winning enterprise-level custody platform. Millions of the bank's customers will soon have access to this new asset class,"
In May, Hex Trust has paired with Chianalysis to provide a compliance-driven custody solution for financial institutions. The Trust is also expanding to the European market in this remaining year, the company said.
Image source: Shutterstock
Decentralized Streaming Music Service Audius Partners with TikTok to Share Sounds for Artists
Read More