Hex Trust Partners with Chainalysis to Provide a Compliance-focused Custody Solution for Financial Institutions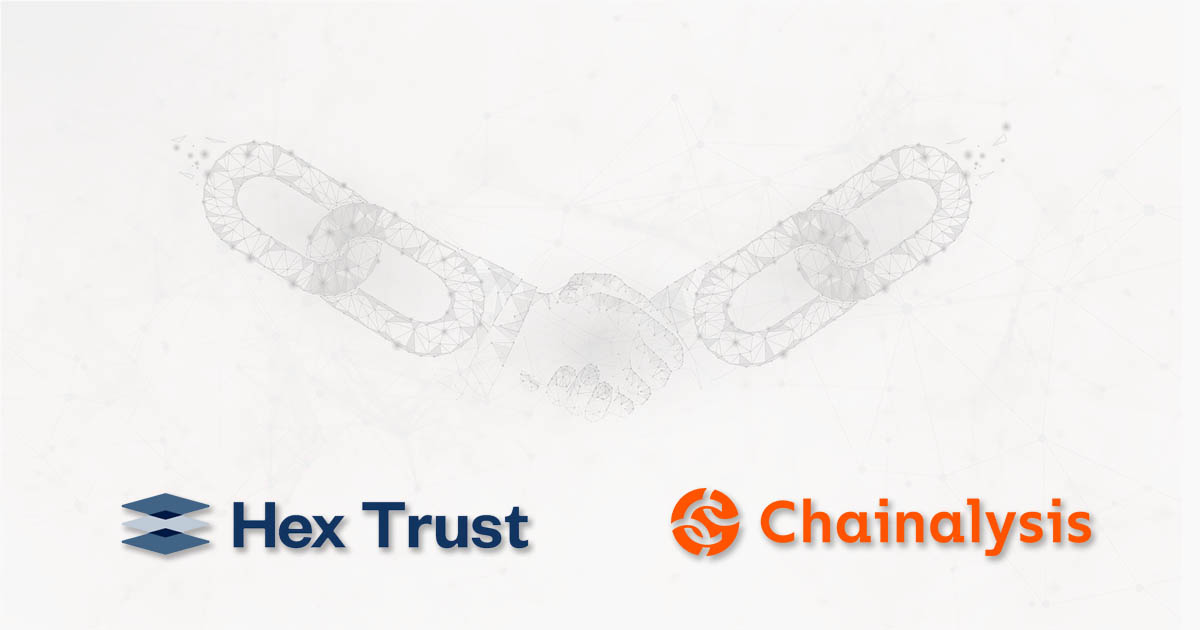 HONG KONG – MAY 13 2021 - Hex Trust, the leading digital asset custodian for the banking sector, today announced its partnership with Chainalysis, the blockchain analysis company. Hex Trust will adopt Chainalysis KYT (Know Your Transaction), the compliance solution, for realtime transaction monitoring, and Chainalysis Reactor, the investigative tool, for enhanced due diligence. This collaboration will enable Hex Trust to add an additional layer to its already robust compliance features for its proprietary platform, Hex Safe™, providing financial institutions peace of mind for their digital asset transactions.
Over the last year, cryptocurrency has become a more mainstream asset class, with an inflow of institutional dollars driving Bitcoin and other cryptocurrencies to record prices. Forward-thinking banks are increasingly giving customers direct access to cryptocurrency by partnering with custodian services to hold cryptocurrency on their behalf. This allows them to test the new offering with fewer resources invested, while also drawing on outside cryptocurrency expertise to increase their chances of success.
"Cryptocurrency and blockchain technology is at the forefront of innovation in the financial services industry, and traditional financial institutions that embrace the change are likely to come out on top," said Alessio Quaglini, CEO & Co-Founder of Hex Trust. "Our partnership with Chainalysis is another testament to Hex Trust's commitment to providing our clients with the most secure custody solution with a comprehensive compliance-first approach available in the market today."
"Chainalysis is thrilled to partner with such a trusted name in digital asset custody," said Ulisse Dellorto, Managing Director of APAC for Chainalysis. "With financial institutions increasingly looking to invest in cryptocurrency, this is the optimal time for trusted partners like Hex Trust to invest in their compliance technology."
Hex Trust is Asia's leading asset custodian, providing the industry's most comprehensive custody solution with enterprise-grade security and features, such as digital asset servicing. With services such as trade execution, access liquidity and price discovery, the company's platform enables investors to interact with digital assets confidently. Hex Trust has one of the industry's broadest digital asset support including cryptocurrencies, security tokens and NFTs. Hex Trust adopts a fully licensed approach and has a range of banking sector clients across Asia and Europe.
Chainalysis recently closed its Series D funding, raising $100 million with a more than $2 billion valuation. Chainalysis serves as a strategic partner to financial institutions, governments, and cryptocurrency businesses around the world, providing data, software, and expertise on sophisticated cryptocurrency crime and money laundering tactics, techniques, and procedures.
To learn more about Hex Trust, visit https://hextrust.com/
To learn more about Chainalysis, visit https://chainalysis.com/
ABOUT HEX TRUST
Hex Trust is the leading digital asset custodian for the banking sector. Headquartered in Asia, Hex Trust is led by veteran banking technologists and award-winning financial services experts. Hex Trust's proprietary bank-grade platform – Hex Safe™ – delivers the market's leading digital asset custody solution for banks, financial institutions, asset managers, exchanges, and corporations.
Through Hex Safe™, clients can access liquidity, exchanges, lending, borrowing, and staking platforms while assets are held in our compliance-focused platform with the highest security available in the market. Hex Trust has offices in Hong Kong and Singapore and is expanding to the European market during 2021. Hex Trust is a registered Trust Company under the Hong Kong Trust Ordinance and holds a Trust or Company Service Provider (TCSP) license under the Anti-Money Laundering and Counter-Terrorist Financing Ordinance.
ABOUT CHAINALYSIS
Chainalysis is the blockchain analysis company. We provide data, software, services, and research to government agencies, exchanges, financial institutions, and insurance and cybersecurity companies in over 60 countries. Our data platform powers investigation, compliance, and risk management tools that have been used to solve some of the world's most high-profile cyber criminal cases and grow consumer access to cryptocurrency safely. Backed by Accel, Addition, Benchmark, Paradigm, Ribbit, and other leading names in venture capital, Chainalysis builds trust in blockchains to promote more financial freedom with less risk. For more information, visit www.chainalysis.com.
MEDIA CONTACTS
PINK TIGER MEDIA FOR HEX TRUST
Victoria Baillie
Aimee Hillman
victoria.bailie@pinktigermedia.com
aimee.hillman@pinktigermedia.com
HEX TRUST
Sam Ameen
sam.ameen@hextrust.com
CHAINALYSIS
Maddie Kennedy
media@chainalysis.com
---

Read More