The Story Behind Kakao and Klaytn's Blockchain Dominance in Korea
During Hong Kong Fintech Week 2019 held on Nov. 4-8, Zachary Keats, the Director of Corporate Development at Klaytn and Ground X, shared his insights on blockchain adoption initiatives in Korea. Kakao, a South Korean internet company offering a platform of services including messaging, cab-hailing, and payments, has developed Klaytn, the blockchain business arm of the company.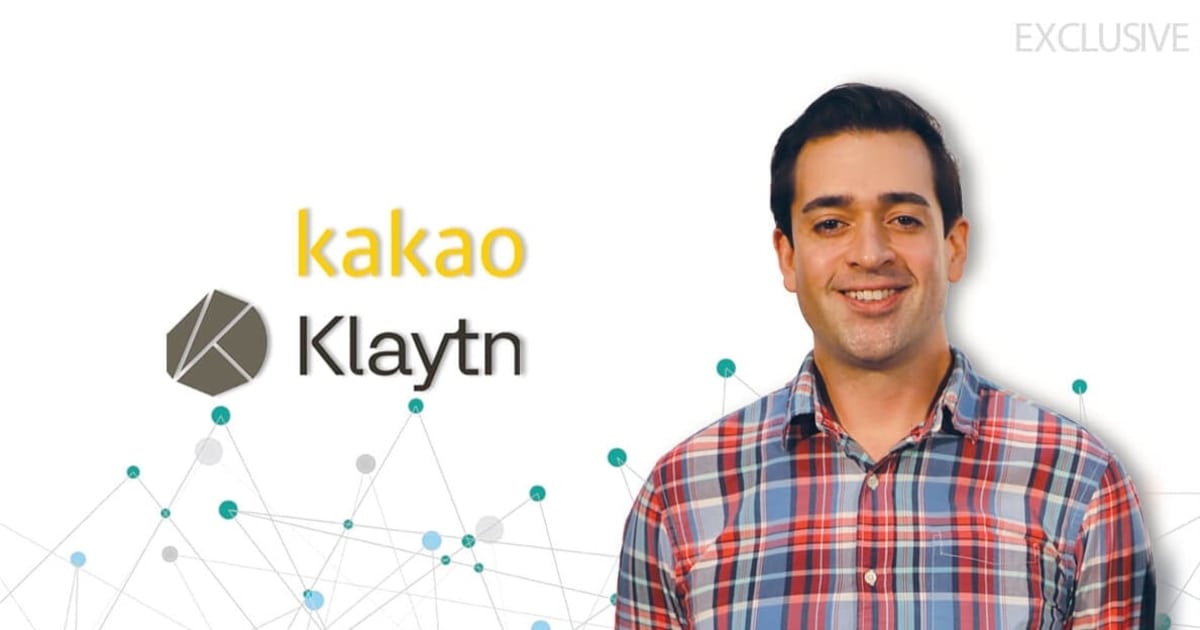 As many people are familiar with WeChat and other mobile applications that span from messaging, payments, ride-hailing, Kakao is the South Korean version of these applications.
"97% of people in Korea are using Kakao, it's an extremely loyal and dedicated user-base we have to work with," Keats elaborated. "We're very excited to be the only public blockchain platforms that have been launched by a public company, as Kakao is a roughly a $9 billion publicly traded entity and it has backed Klaytn's platforms. We also launched our mainnet in June of this year."
Kakao's captive audience as leverage for Klaytn
Keats explained that Klaytn aware that there are a number of messenger and social media networking sites that are launching a blockchain or using blockchain platforms such as Line, Telegram, Facebook, etc.
"While we don't have as many users as Facebook does, we have an extremely captive audience in Korea. Kakao is unavoidable in Korea, for messaging, cab-hailing, and payment services, it is a dominant ecosystem," he explained. "In terms of bringing real use cases and users to our platform, we are taking this opportunity to bring 50 million Koreans to the blockchain. At the same time, we are bringing third-party decentralized applications (DApps) on board, and we have made about 70 partnerships with the apps that already have existing crypto user bases."
"Next year, we expect more integrations between Klaytn and the Kakao messenger and the suite of services that Kakao provides. Korea and Kakao can lead that next mass adoption experiment, as Koreans will be able to see the ability to use blockchain for their everyday lives," he added.
Klaytn's collaboration with large Korean banks
Two dominant Korean banks, Woori Bank and Shinhan Bank has entered into a memorandum of understanding (MoU) with Klaytn to explore the applications of blockchain technology. Keats shed light on the current blockchain regulation in Korea: "Blockchain regulation in Korea is still a bit grey, it's still quite unclear what you can and cannot do. I believe that the government is very pro-blockchain, but maybe not pro-token."
These financial institutions have been interested in the back-end applications of blockchain and how it can help with know-your-client (KYC) functions as well as data validation issues. "From this perspective, they are experimenting with us to see how they can best achieve their needs through blockchain technology," said Keats.
"Klaytn also has a very interesting capability, called sidechains, which will be launched soon. This capability allows enterprises to operate their own private blockchain network, but selectively plug into the Klaytn public network as well," Keats announced. This is a hybrid approach for enterprises that need to keep some data off-chain but are interested in sharing other data on a public blockchain. "We are very big fans of interoperability, and I think the future multi-chain."
What has Klaytn been doing in the DApp space?
"We've been very aggressive in trying to bring DApps to the Klaytn platform, and we've made partnerships with about 70 of them. The first batch was heavily focused in Korea because we have had a lot of mindshare there," answered Keats.
"Roughly half of them are now coming from outside of Korea, in areas such as Southeast Asia, China, even Europe, and South America, and they're coming in verticals that are quite diverse. Obviously, gaming is a big focus for us, but also lifestyle, healthcare, and even finance to a degree. We have a number of the top applications currently listed on dapp.com."
The blockchain-powered phone – Klaytn Phone

Photo: KlaytnPhone. Source: Klaytnphone.com
GroundX, Klaytn's blockchain affiliate, has partnered with Samsung Electronics to release the Klaytn Phone to allow users to interact with blockchain-powered services. The Klaytn Phone project aimed to bring real usability to the average mobile user in terms of blockchain applications and cryptocurrency.
"If you buy a Klaytnphone, you will automatically have access to several of our DApps. There are also thousands of Klay tokens already loaded on the phone, which allows users to use it with ease – that's our theme, to make it user-friendly," Keats added. "Blockchain is actually a key focus on the Samsung Group. They are investing in several different properties, wallets, applications, and more. We are very excited to see that they wanted to support Klaytn and the Klaytn Phone."
Beyond Korea: Future plans to go global
Kakao has a huge dominance in Korea, as it has a loyal user base, kind of similar to a sandbox to play with, in Korea, to bring broader adoption and to prove blockchain as a mass adopted technology at least in one core market. "We hope to achieve something that hasn't been done in other regional markets or globally for that matter," said Keats.
Part of the reason Kakao started the Klaytn initiative was to bring a lot of Kakao's content overseas. Some of the core markets are in Southeast Asia, Indonesia, Vietnam, and Thailand. Klaytn is interested in getting into the Greater China market as well, as many of Klaytn's application partners are coming from China as well as Southeast Asia.
"Our goal is to prove adoption at a high level in Korea, then moves towards being a regional Asia Pacific player for the next generation of blockchain," he said.
Read More