Swiss's Luxury Hotel Chedi Andermatt Accepts Cryptocurrency Payments
Swiss local media report Thursday The Chedi Andermatt, a luxury hotel run by billionaire Samih Sawiris, said it will allow guests to use cryptocurrency to pay for their stay in the Swiss Alps.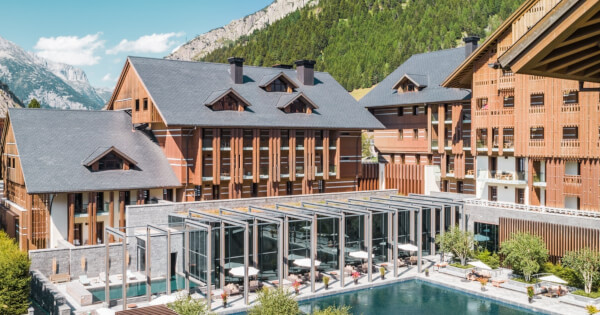 The five-star luxury hotel locates in the most luxurious and secret ski resort in Switzerland-Andermatt, which was founded in 2013 . According to a Swiss news media Blick report, The Chedi Andermatt Hotel stated that it is now accepting Bitcoin and Ethereum-based cryptocurrencies to pay for hotel expenses worth more than 200 Swiss francs.
Like traditional payment methods such as bank cards or credit cards, payment in crypto will not bear any risk subject to price fluctuations, because the hotel will immediately convert it to Swiss francs- the legal currency of Switzerland after confirmation.
The hotel's general manager Jean-Yves Blatt explained that:
"We have long known that cryptocurrencies also have a future in hotel operations. In the course of the increasing spread and acceptance of cryptocurrency payments, we are proud to be one of the first Swiss luxury hotels to be able to offer our guests cryptocurrencies as a secure means of payment."
For Chedi Andermatt, which has hundreds of rooms and suites, the lowest price in peak season is about 1,300 francs per night.
According to Coinmarketcap, at the time of writing, Bitcoin and Ethereum were trading at $47,103.82 and $3,111.56, respectively. According to the current transaction price, the peak season is about 0.03 BTC or 0.45 ETH per night.
Chedi Andermatt is not the only resort group to start accepting cryptocurrency payments. In July of this year, luxury hotel and resort group Pavilions also accepted cryptocurrency bookings, becoming the first international luxury boutique hotel group by accepting cryptocurrency for reservations by up to 40 types of cryptocurrencies.
Not only hotels have begun to accept cryptocurrency payments, but real estate developers have also begun to follow the trend of cryptocurrency and add them to many payment methods.
As reported by Blockchain.News on May 7, Arte by Antonio Citterio, a high-end luxury condominium located in Miami, announced that it will now accept cryptocurrency as a payment method for new residential developments and purchases of exclusive condos.
Image source: Chedi Andermatt
Fox Corp Leads a $100M Strategic Investment in Blockchain Digital Content Management Company Eluvio
---

Read More