Provenance Blockchain Foundation Names Morgan McKenney as CEO
The Provenance Blockchain Foundation, a San Francisco based public blockchain network designed and developed to support financial service industry needs, on Monday announced the appointment of Morgan McKenney as the company's CEO.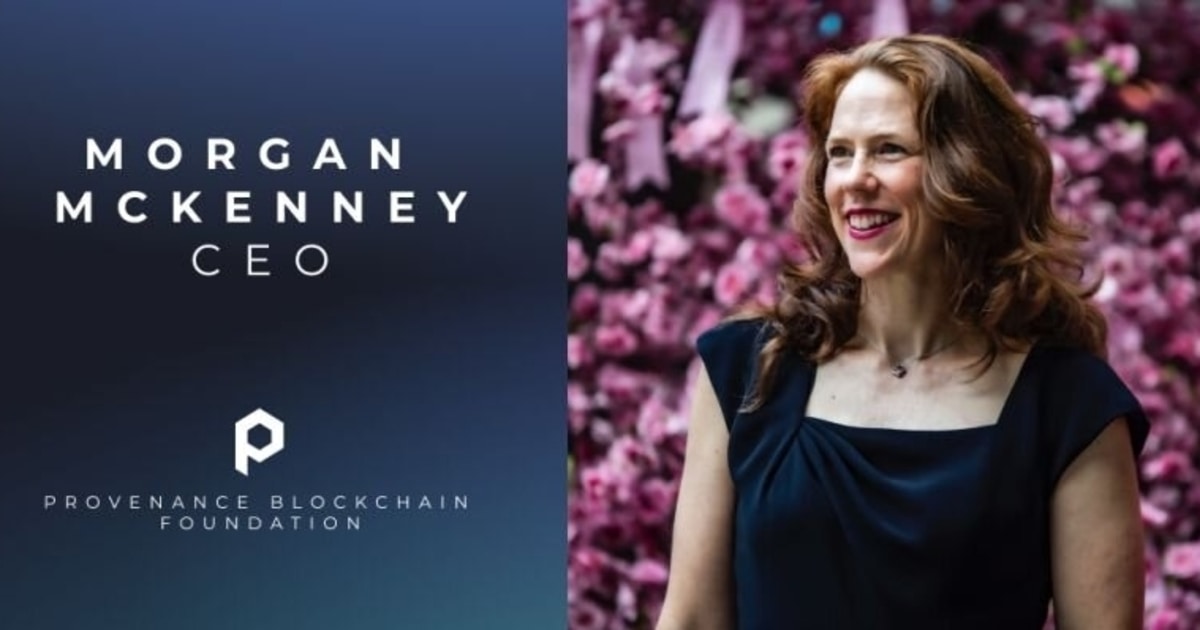 In her role, McKenney is tasked with spearheading growth and adoption of the Provenance Blockchain through enabling the firm to partner with various financial institutions, fintechs, developers, and industry players to realize significant business benefits from blockchain.
McKenney brings broad experience to this role. The executive spent almost twenty years at CitiGroup in various senior executive operating roles worldwide. In the past, McKenney led big payments businesses in the institutional industry globally in Africa, the Middle East, Asia, and Europe. She promoted partnerships with governments, corporates, and banks to help them operate their business and enable real-time commerce. She also managed Citi's innovation lab in Singapore and successfully implemented two blockchain projects with NASDAQ and Alibaba and Ant Financial.
McKenney recently served as the Chief Operating Officer for Global Consumer Banking, Citi's Personal Banking and Wealth Management business. Also, most recently, McKenney served as Special Advisor at Centre. This consortium promotes trusted use of fiat-backed stablecoins and as a Bain Expert Advisor in the digital assets space.
McKenney has therefore demonstrated a track of work that uniquely positions her to lead the Provenance Blockchain Foundation, a rapidly growing blockchain that is increasingly relied upon by financial institutions.
McKenney talked about her appointment and said: "The Provenance Blockchain has successfully demonstrated the ability to deliver material business benefits to participating financial institutions and their customers at scale. I am excited to advance the work underway and to deepen the innovation ecosystem of financial institutions, fintechs, developers, and other industry leaders building on and leveraging Provenance Blockchain to make financial services significantly more efficient, with more real-time capabilities and reduced counterparty risk."
Transforming the Financial Services Industry
Blockchain technology is considered most attractive to financial businesses because it solves several problems plaguing the industry today, namely efficiency and security.
Launched in 2018, The Provenance Blockchain Foundation continues bringing greater transparency and liquidity to digital transactions worldwide. The blockchain firm helps to revolutionize how financial institutions access, trade, and issue assets globally.
In May last year, The Provenance Blockchain Foundation launched a public, open-source, permissionless, decentralized, proof-of-stake blockchain that provides financial service companies with a ledger, registry, and exchange across multiple financial assets and markets.
The open-source blockchain reduces the need for third-party intermediation. Therefore it is significantly lowering costs and freeing up capital in financial transactions. Furthermore, the Provenance blockchain promotes greater transparency and liquidity and allows for new financial engineering and business opportunities. This decentralized ecosystem also enables a robust validator/staking framework and real-time settlement and market-driven pricing.
Many financial firms such as asset managers and banks are onboarding the Provenance blockchain in verticals like loan origination, banking and payments, financing and trading, and securities exchanges.
The Provenance Blockchain Foundation also provides grants to developers to accelerate growth in the DeFi ecosystem.
Image source: Provenance Blockchain Foundation
Crypto Trading Platform BitPanda Hires Former JPMorgan Executive Joshua Barraclough as CEO
---

Read More