Polkadot (DOT) Price Analysis – March 23,2021
The bulls tried to push Polkadot (DOT) to break through the upward resistance line of approximately $39 on March 20, but the long upper shadow on the candlestick indicated that the bears were selling on rallies. DOT's price failed to stand above the resistance line.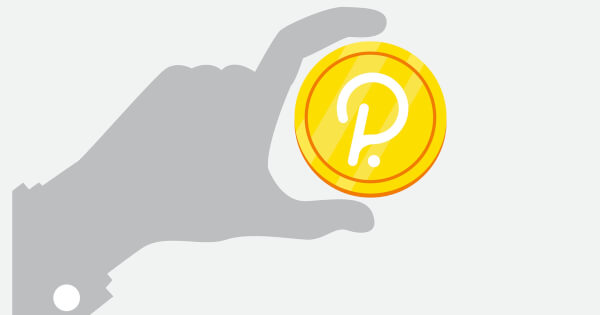 In the past few days, the bears have dominated the crypto market, leading to DOT/USD being pushed down to around $35. At the time of writing, Polkadot (DOT) has dropped by 5.55% in the last 24 hours and is trading at $35.05.
Polkadot (DOT) Price Analysis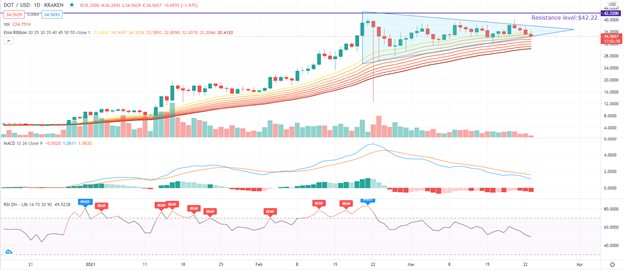 Source: DOT/USD Daily via TradingView
The bulls did not succeed in guarding the critical support level of $35.50, which is the 20-day Moving Average in the past few days. It proves that there are no more buying orders to support Polkadot's rise to its next psychological barrier of $38.
The flattening moving average distribution indicates that the bulls may lose control. If the price cannot stand over the 20-day Exponential Moving Average (20-EMA), short-term traders may be eager to sell their DOT holdings. This may cause the DOT/USD currency to fall even further and test $31.21, which is the 50-day Exponential Moving Average(50-EMA).
The first resistance zone for DOT to test will be the $38 level zone. If it can successfully break through the resistance line of the triangle area, an uptrend will be triggered for DOT. The bulls will aim to retest DOT's all-time high of $42.22. If DOT surpasses this level with the increased trading volume, then DOT will usher in a new round of bullish momentum, aiming for the next psychological mark of $50.
From a technical perspective, the MACD index forms a bearish crossover. The RSI indicator fell down to the midpoint of 50 marks, which may make it difficult for the bulls to initiate an upward breakthrough at the time of writing.
Image source: Shutterstock
The views and opinions expressed in this article are solely the author's and do not necessarily reflect the views of Blockchain.News. No information in this article should be interpreted as investment advice. Blockchain.News encourages all users to do their own research before investing in cryptocurrencies.


Read More