Microsoft Azure Cloud Solution Architect Lead Explains the Keys to Success for Blockchain Developers
The Microsoft Azure Blockchain Service is an enterprise service aiming to help businesses build applications on top of blockchain technology. The service is integrated with Azure Active Directory and offers tools such as adding new members, setting permissions, and monitoring the network and activity. Blockchain.News interviewed Saranya Sriram, the Head Cloud Solution Architect at Microsoft Azure, to find out more about the platform.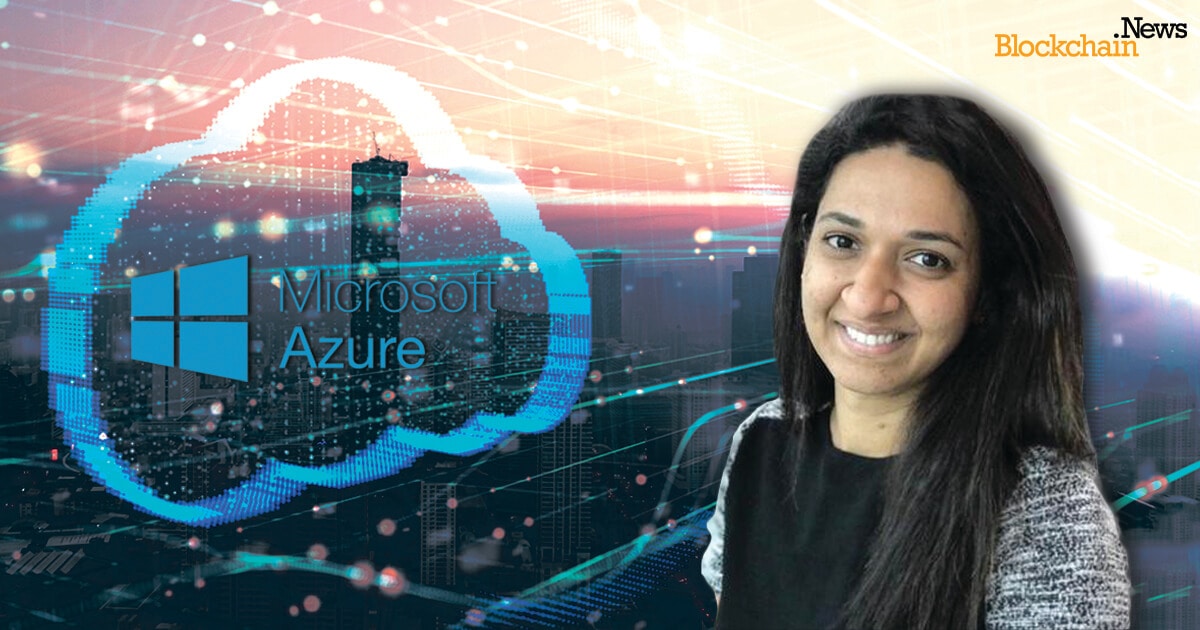 Sriram started her career at Microsoft along with many other developers, and then moved into to an exciting role called a 'technical evangelist or 'developer advocate,' and currently leads a team of cloud solution architects in the Asia Pacific region. Her team aims to help customers and partners to build end-to-end applications and solutions on Azure. "These solutions include everything from bare metals in terms of network computer storage, and we also have a bunch of blockchain projects happening, along with data access, AI competence, IoT, and more."
Blockchain Service Platform
Sriram described Azure's blockchain services as the 'core team.' "They've come up with about two or three layers. The way I like to unpack it is that you can build blockchain solutions by setting up your own nodes and create virtual machines as well. That's the infrastructure as a service, and we have Ethereum private blockchain available as well."
One of the exciting features that Sriram described was the public preview launch of the Azure blockchain service. "Corda's public preview launch has been announced, as well as JP Morgan's Quorum. That's primarily proof-of-stake and has the proof-of-authority ability for developers who know how to build smart contracts to be able to speed things up," Sriram explained. JP Morgan and Microsoft previously signed a memorandum of understanding to partner in accelerating the adoption of enterprise blockchain. In contrast, the Microsoft Azure blockchain Service featured JP Morgan's Quorum as the first service.
In the Asia Pacific region, there are developed markets as well as developing countries; therefore, there is an interesting mix. "There are markets, which are very open-source focused such as Korea. Fundamentally, the easiest way to move to Azure is infrastructure as a service (IaaS), which means core network storage and compute, our main,' explained Sriram. She added that the company is increasingly seeing more requests for developer API access services, including authentication and identity, which seems to be very critical. Microsoft Azure's DevOps toolchain is very integrated and has the ability to be on Windows and Linux operating systems. It can be an open-source for Dotnet developers, as well.
Challenges for developers
As blockchain is still very new in the enterprise space, Sriram said that there had been a lot of interest for Fortune 500 companies to start using the technology. "With production, commitment, and deployment - if that's not to that level, then there's going to be a lot of challenges," explained Sriram. "First and foremost, to be able to prioritize those challenges to say what Microsoft needs to ship first. That can happen when there are a lot of production deployments on a massive scale." To properly understand the feedback, Sriram suggested that this may take some time for Azure to prioritize and start building. Currently, Azure supports JP Morgan Quorum as well as R3 Corda.
Today, validator nodes need to be in a single region, Sriram believes that people are going to ask for a more delegated Proof of Stake (PoS), to enable validator nodes to be connected even if they are in different regions. Other feature requests, Sriram predicts that if there are production deployments, then feedback would be received quickly. "But if we don't have enough, there are capacity restraints and resource optimization problems; therefore, we have to do a tradeoff."
Women in the tech space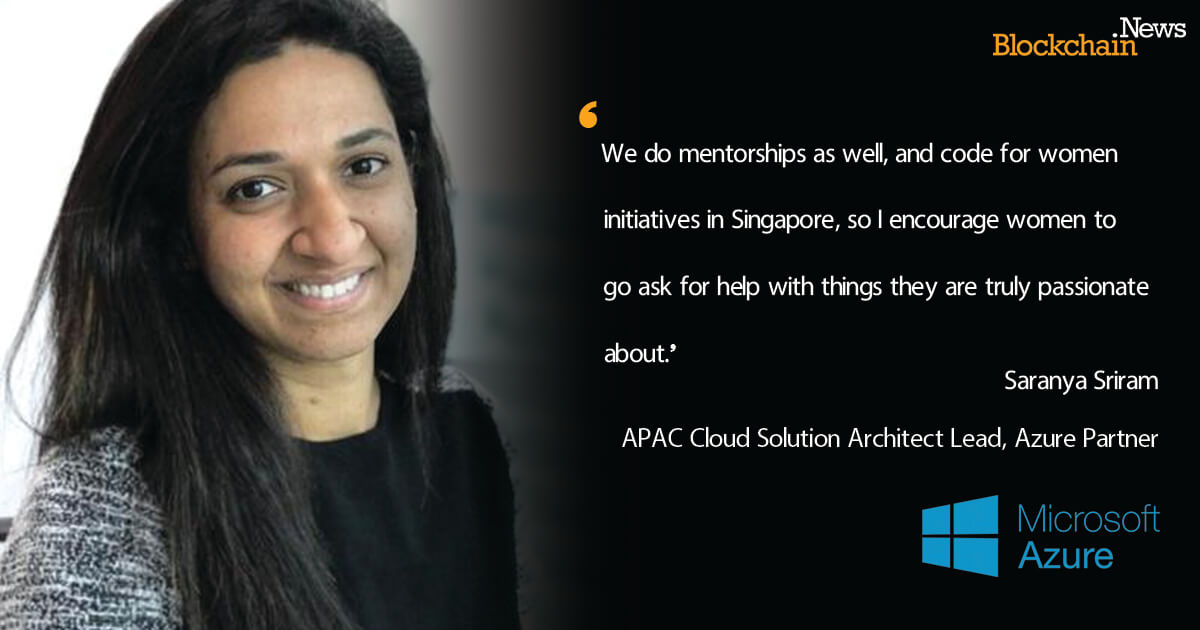 Sriram suggests that a lot of women are passionate about STEM (science, technology, engineering, and math). "To be fair, every company, not just Microsoft, wants diversity. In Asia, gender is still a diversity factor. In that way, all things equal gender will take a precedent, and we will be nurtured together." Sriram stated that she also takes part in events such as women in tech meetups, coffee mornings with women as well. "We do mentorships as well, and code for women initiatives in Singapore, so I encourage women to go ask for help with things they are truly passionate about. I think it boils down to the passion you have as your profession, that's the way to go," stated Sriram.
Talent in the Blockchain Space
As blockchain technology is still entirely new, Sriram believes that specialization is one of the most critical factors for a developer to become successful in this space. "I see a lot of young talent who are interested in getting into blockchain. I would encourage you to pick up specific areas and go deep. Early on in the career, technical talent need to grow deep instead of just growing broad." She explained what she learned from her career, is that the depth of her specialization is what sustains her to grow broader in her field. She elaborated, "You could be a developer and say 'I like to code' and understand full-stack development, or you could be more like a domain expert to know where it's coming from, and how I can add value, there are various avenues to do that."
Sriram believes that the key to success as a developer in the blockchain space is to be passionate and committed to the work. "I would find my only takeaway is that there is no shortcut to hard work," she added. "You just have to go deep into your specialization, then leverage your network ecosystem. If you focus on going deep, connect with the right people, and with the right code, that's all it takes."
Although there have been debates around decentralized systems and centralized data centers, Sriram believes that blockchain is here to stay. "I think that there will be hybrid scenarios for sure, and with data security concerns and other constraints, I believe there are going to be situations where you will parts on private blockchains as much as they have on public blockchains," said Sriram.
"When you talk about issues like pollution, rich countries want to track it hard, poorer countries want to get industrialized, so they take shortcuts to pollution. You have a lot of opportunities there. I think it's going to be very useful," Sriram said.
The areas that Sriram sees advancements in are hardware technology, software technology, adaptability, scalability, and better algorithms. Along with hardware technology advancements such as Intel, SGX, and others, Sriram believes there are a few indicators of advancements to look out for. The consensus is one of the indicators, Sriram highlighted speed and scalability as well as transactions per second as the second indicator to look out for in the industry.
Read More