Major Brazilian Investment Bank BTG Pactual Opens Crypto Trading Services to Customers
A major Brazilian investment bank, Banco BTG Pactual S.A. (BTG Pactual), has announced that it plans to unveil a platform for blockchain-based investments.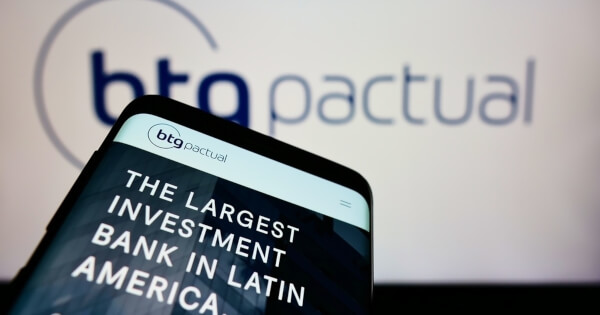 BTG Pactual, one of the five largest financial institutions in Brazil, is also the biggest investment bank in Latin America and the Caribbean. The investment bank recently stated that it is working on building its cryptocurrency arm, known as Mynt, which will be available from the next quarter, allowing Bitcoin and Ethereum services to its customers.
The initiative is set to begin the next quarter in which BTG Pactual plans to enable its customers to trade digital assets directly through the new platform called Mynt. The bank said that it would make the crypto service available to users of BTG Pactual digital and BTG+, its digital bank.
The crypto service will start offering two major cryptocurrencies, including Bitcoin and Ethereum, with the bank planning to expand support for other crypto assets in the future.
Andre Porthilo, the head of digital assets at BTG Pactual, talked about the development and said:
"At this first moment, we will have the two main assets of the market, but we will include other cryptos for trading over time. We will have a complete platform with blockchain-based assets."
Meanwhile, Roberto Sallouti, the CEO at BTG Pactual, said that the development of the Mynt platform comes in response to increased demand from customers who want to trade cryptocurrencies.
Sallouti further stated that Mynt would also provide content to inform and educate new users about cryptocurrency technology.
"As a new asset class, we will also have content to educate and inform our customers about these assets and the technology," Sallouti said.
The aforementioned initiative is not BTG Pactual's first involvement in the crypto industry. The bank started studying the cryptocurrency industry in 2017.
In May 2019, BTG Pactual tapped the Tezos blockchain and eventually started issuing its ReitBZ security token and now plans to use the token for future security token offerings (STOs). In April this year, the bank launched a Bitcoin fund whose custody service is being offered by Gemini, the U.S.-based crypto exchange.
Crypto Going Mainstream
Bitcoin is an investment product that more people are interested in getting into, and traditional banks are not missing sight of this development.
BTG Pactual joins the rising number of traditional banks starting to offer Bitcoin services to their clients.
Significant institutional adoption of Bitcoin and crypto assets has been seen in the past few months. Institutional investors are beginning to see the value that cryptocurrencies hold and seek more ways to gain exposure to the crypto market.
A list of 13 world's largest banks, including Morgan Stanley, JP Morgan Chase, Goldman Sachs, the Bank of America, and others, have moved to offer crypto services to their clients as a way to grab a piece of the booming $2 trillion cryptocurrency market.
Image source: Shutterstock
Visa Integrating Cryptocurrency Services into Brazilian Banks
---

Read More