Justin Sun: Tron Network is Holding 3000 Bitcoin
Tron network, a blockchain-based decentralized operating system, is hosting 3,000 Bitcoin (BTC) configured as BTCTRON, according to its CEO and founder Justin Sun.
8,128 transactions
Sun tweeted this milestone to the crypto community, noting that the wrapped version of Bitcoin, BTCTRON, had 838 holders who had undertaken 8,128 transactions. This number is continuously increasing, depicting the growing adoption.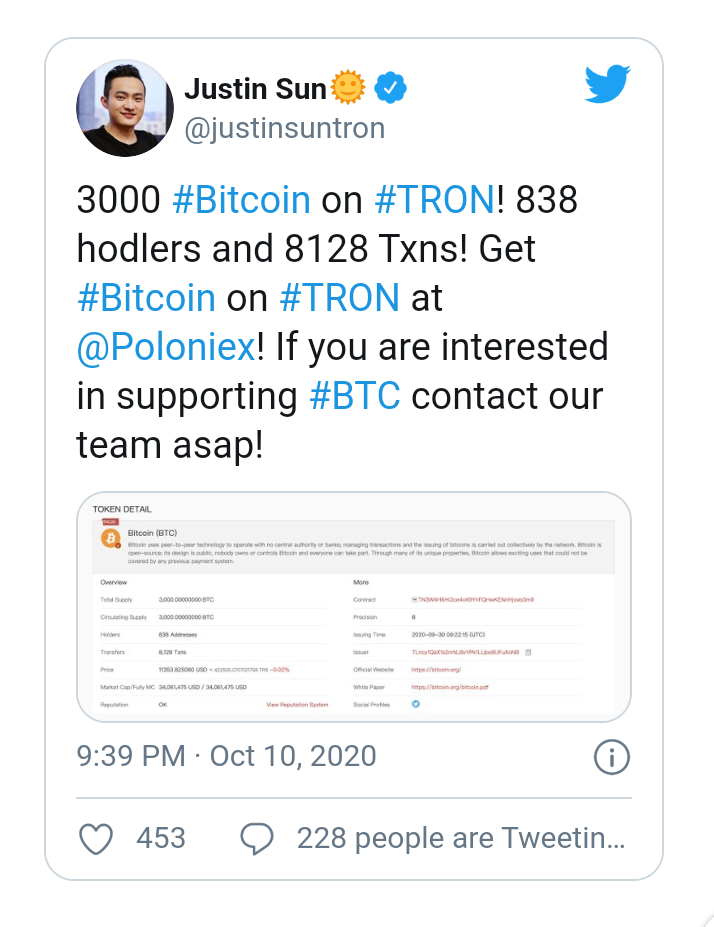 This follows the launch of its sidechain solution, the Sun Network, in August. The Sun Network is a scaling solution that aims to provide unlimited scalability to the Tron MainNet.
The Network incorporates several scaling projects such as DAppChain, which is a sidechain scaling project that offers unlimited scalability to the Tron MainNet. Furthermore, it focuses on improving the transaction processing systems of the smart contract transactions as well as lowering transaction fees.
Later in September, Sun indicated that BTCTRON could be deployed on the Tron DeFI ecosystem, which materialized earlier this month. As a result, users can utilize a swap feature on crypto exchange Poloniex to exchange their Bitcoin for BTCTRON.
Aiding transfers
The wrapped version of BTC enables users on the Tron blockchain to make different transfers. Moreover, it can be utilized on DeFi platforms found on the Tron network.
In May, Tron received $2 million from the US government in releif funds due to the coronavirus pandemic. This news emerged after the American administration created the Paycheck Protection Program (PPP) to help small businesses stay afloat.
Earlier this month, another distributed-ledger technology developer IOTA Foundation introduced IOTA Access, an open-source DLT framework, for decentralized and automated smart device access control capable of managing billions of machines. It was expected to enable smart device owners and users to request or grant access to their data stream or device in an auditable, contactless, permissionless, and remote manner.
Image source: Shutterstock

Read More