Hong Kong Fintechs Embrace Blockchain and DLT
Blockchain firms make up nearly 40% of all new Hong Kong financial technology (fintech) companies launched in 2019.
Nearly 40% of new fintech firms to launch in Hong Kong over the past year are operating in the blockchain sector.
According to Hong Kong's Financial Services and Treasury Bureau (FSTB), 39% of new fintech firms, established in 2019 within the HKSAR, are operating with blockchain or some form of distributed ledger technology (DLT).
Hong Kong's treasury department reports that the increase of DLT and blockchain in the country's new fintech firms is up 12% from 2018.
Blockchain Accelerates Within Hong Kong FinTech Space
A report published on June 1 by the FTSB provides an overview of the accelerated growth of blockchain and DLT within Hong Kong.
The report states that out of 57 fintech firms that launched in Hong Kong last year, 22 are operating with DLT, making blockchain the fastest emerging technology being adopted and integrated by fintech's within the territory.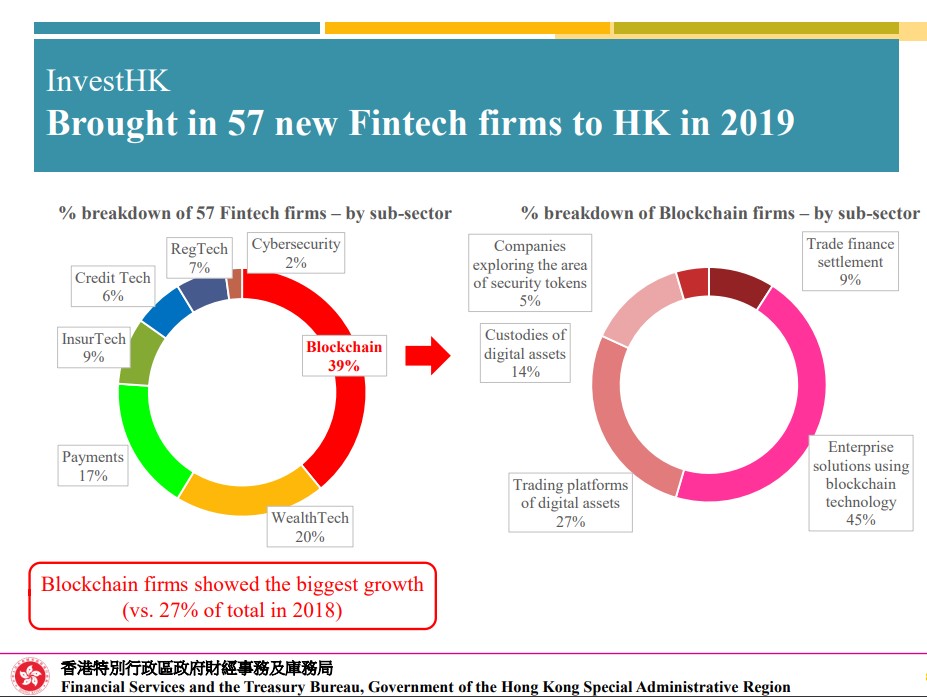 Source : FTSB - Development of Financial Technologies
According to the FTSB, the number of fintech businesses operating in Hong Kong has exceeded 600 since April 2019, including the issuance of 4 virtual insurance licenses and eight virtual bank licenses.
COVID Accelerates FinTech adoption
The Hong Kong treasury report finds that enterprise DLT solutions comprise 45% of the blockchain industry within the territory.
Hong Kong's blockchain sector can be further segmented into cryptocurrency exchange platforms at 27%, virtual asset and digital custodians at 14%, and trade finance settlement accounting for a further 9%.
The FTSB asserts that the coronavirus outbreak has accelerated the drive for fintech solutions, as the restrictions on industry and supply chain disruption caused by the pandemic has served to highlight the efficiency and use cases for DLT and blockchain technology.
Image source: Shutterstock
Read More