Ethereum Whales are on a Spending Spree as Addresses with at least 10,000 ETH Hit All-Time High
After surging to a new all-time high (ATH) of $1,432 on Jan 19, a milestone not achieved in the last three years, Ethereum (ETH) has dropped by around 10.2% to trade at around $1,200 at the time of writing, according to CoinMarketCap.
Profit-taking tendencies by some investors have caused the price to drop, but Ethereum whales see this as the silver lining needed to accumulate more cryptocurrencies.
New data by Santiment reveals that the number of Ethereum addresses with more than 10,000 ETH has broken the record at 1,225. The on-chain data provider explained:
"Think Ethereum whales are taking profit after ETH's first ATH in 3 years? There were 1,211 addresses with 10,000+ ETH addresses Saturday, just before history was made. This is now up to 1,225. Meanwhile, smaller addresses are profit taking."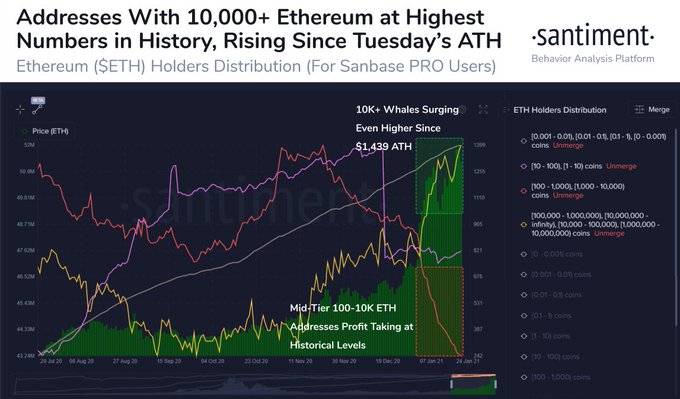 These statistics show that as smaller Ethereum hodl-ers are selling, ETH whales are doing the contrary by buying more coins. Ethereum continues to make waves, with its daily transaction volume recently going parabolic and surpassing Bitcoin by $3 billion.
Ethereum 2.0 might reduce velocity and push the price higher
The much-anticipated Ethereum 2.0 went live earlier last month and seeks to transit to a proof-of-stake consensus mechanism, where validation of block transactions is based on the number of ETH held, and this approach is deemed more environmentally friendly than mining.
Ali Martinez, a technical and on-chain analyst, has acknowledged that theoretically, Ethereum 2.0 might make it more cumbersome to liquidate ETH by reducing velocity and prompting a price increase. He explained:
"In theory, ETH 2.0 is negatively impacting the rate at which ETH can be exchanged for cash. As Ethereum's velocity decreases, the higher the chances that its price will increase."
There seems to be a light at the end of the tunnel for Ethereum because crypto analyst Michael van de Poppe also expects ETH to go ballistic by the end of the year because it has been looking bullish with the BTC pair.
Image source: Shutterstock

Read More