Dr. Ben Goertzel—Creating an AI Marketplace for Paypal's 286 Million Users
Exclusive interview with Dr. Ben Goertzel of SingularityNET: Part 2 (Link: Part 1)
Dr. Ben Goertzel is the founder and CEO of SingularityNET, a decentralized blockchain-based AI marketplace project. He is one of the world's foremost experts in Artificial General Intelligence (AGI) and has decades of experience leveraging AI to create solutions in natural language processing, robotics and even national security. In addition to being the Chairman of the OpenCog Foundation and the Artificial General Intelligence Society, he has authored around 20 books and 140+ research papers.
In this second part, we discuss SingularityNET's recent projects and collaborations with Toda Network, PICC Services and the adoption potential of its recent PayPal integration.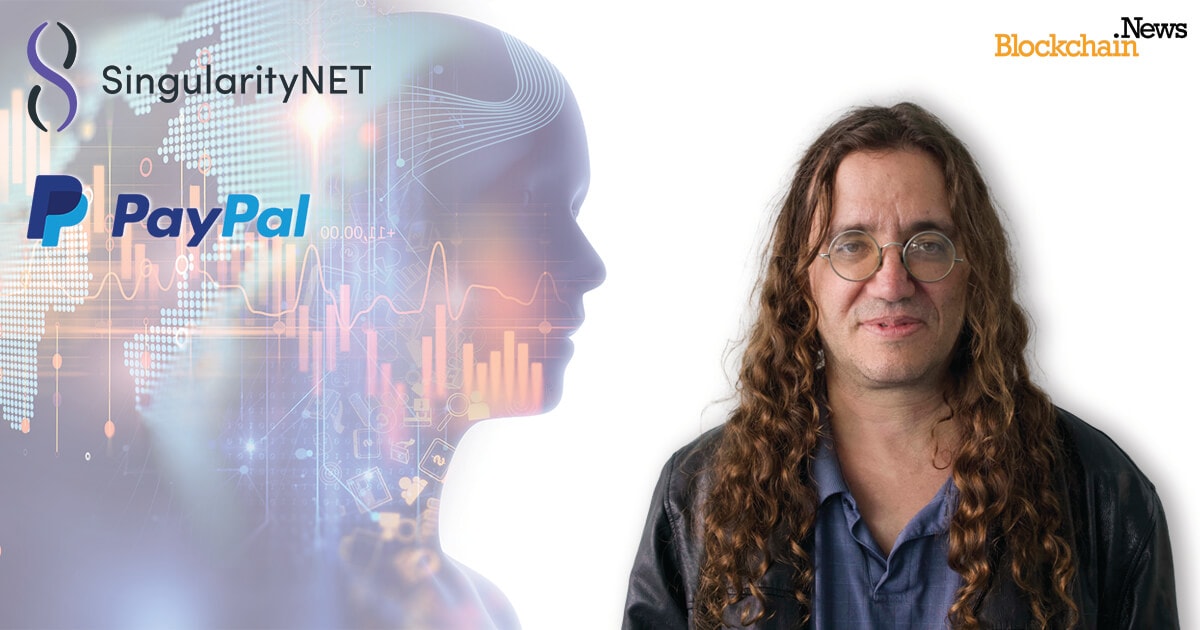 PayPal Integration to SingularityNET
The integration of PayPal's service represents a significant step forward for SingularityNET and its community.
By making its AI marketplace easily accessible to PayPal's 286 million users, SingularityNET opens its doors to a much wider scope of customers. Earlier versions of SingularityNET's marketplace required customers to pay for AI services offered by AI agents in the network directly using the AGI utility token. With the recent update, the marketplace is now open for customers who have no experience with cryptocurrency.
On the integration of PayPal as an alternate payment interface to cryptocurrency for SingularityNET's AI services, Goertzel said, "It opens the door to getting much broader utilization of AI services. What we have found when reaching out to people who are creating products that need AI is that they typically don't have an Ethereum wallet and their company doesn't want to be dealing with cryptocurrency due to volatility concerns." Personally he added, "Eventually I would like to see the decentralized cryptocurrency economy render services like PayPal and the whole Fiat economy obsolete, but this is the reality we live in and this integration is a huge step for continued AI adoption."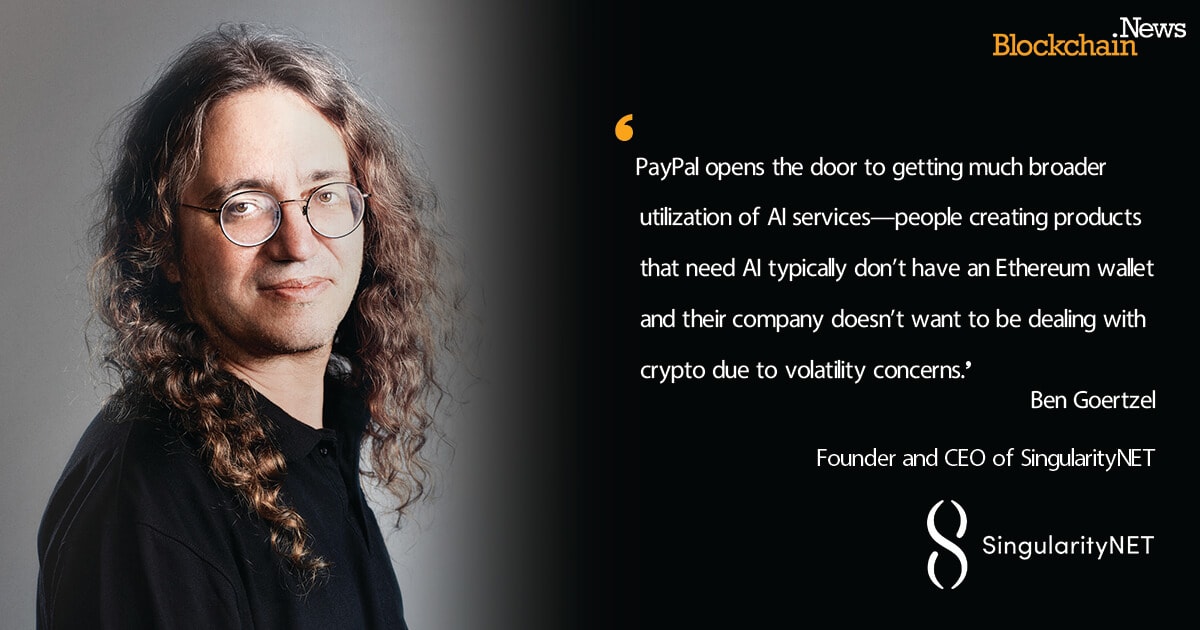 The increase in AI adoption enabled by PayPal integration will accelerate the realization of SingularityNET's vision of a decentralized marketplace powered by blockchain technology and based on tokenomic incentives, serving customers across vertical markets and achieving increasing levels of Artificial General Intelligence.

Todalarity — Two Worlds Collide
In the global AI market, there are many imposters with vague ideas and a lot of underwhelming development looking to capitalize on the technological buzz and the corporate spending on automated processes. On a panel at the Blockshow 2019 by Cointelegraph—Toufi Saliba, CEO, Toda.Network acknowledged that true innovators and developers to partner within AI were in a minority of around 1% of the market, he views his partnership with Dr. Goertzel as "finding my 1%."
Saliba and Goertzel have known each other for some time and both are strong believers of the libertarian and decentralized aspect of the blockchain world and want to see a democratic and participatory focus in the way money, information, AI and data are organized. In the first part of interview with Dr. Goertzel, we focused mainly on the philosophical aspects of AGI and the need for the emerging global brain to be decentralized and democratically governed. According to Goertzel, the union of SingularityNET and the Toda.Network—Todalarity—will be at the core of the "emerging global brain."
After SingularityNET launched its initial Beta version on the Ethereum network, it became clear to Goertzel that the Ethereum blockchain was not able to meet the needs of the project. He said, "I knew that Toufi had the Toda.Network so I looked into it and found it had a very interesting architecture and it appeared to have the ability to scale to the needs that SingularityNET has right now." Together they built a simple private prototype version of SingularityNET running on Toda and found it worked very well. Goertzel said, "It's very fast and very simple to work with, I really became a believer in Toda after that, the technology is very cool and scalable. So I had to find a way to bring our two worlds together."
Todalarity is essentially a product accelerator that aims to help new AI startups to integrate their products into the Toda.Network and SingularityNET blockchain ecosystems by providing some engineering assistance, advice and even some injections of funding. Goertzel highlighted, "There are two communities this we are aiming at—one is the developers with AI algorithms that would like to access SingularityNET as a marketplace and Toda as a tool to allow their AI to leverage decentralized networks. The second group we are reaching out to is the people who have products that need AI and we want to make it easy for them to access the decentralized SingularityNET or Toda.Network instead of going to a centralized vendor."
PICC Financial Services
Singularity Studio, the for-profit spin-off of SingularityNET recently signed a "Strategic Cooperation Memorandum" with PICC Financial Services, the wholly-owned FinTech arm of the People's Insurance Company of China (PICC). The MOU is to open a new accelerator in Beijing to promote the development of AI and blockchain-based services for the insurance market.
The initial focus is on applications such as AI-enabled marketing, linguistic and voice recognition, smart evaluation and settlement of claims, and the use of blockchain to manage the supply chain and identify fraud. Goertzel said, "One of the more interesting projects with PICC is regarding auto-insurance claims and being able to analyze photographs of damaged vehicles to give an estimate on repair costs. This is difficult and requires some reasoning from the AI agents and requires multiple AI tools to interact and provide a response to what's wrong with the car." He added, "They're also having some issues involving speech analysis for Chinese language and we have some interesting AI tools for deep neural net speech analytics running in Singularity."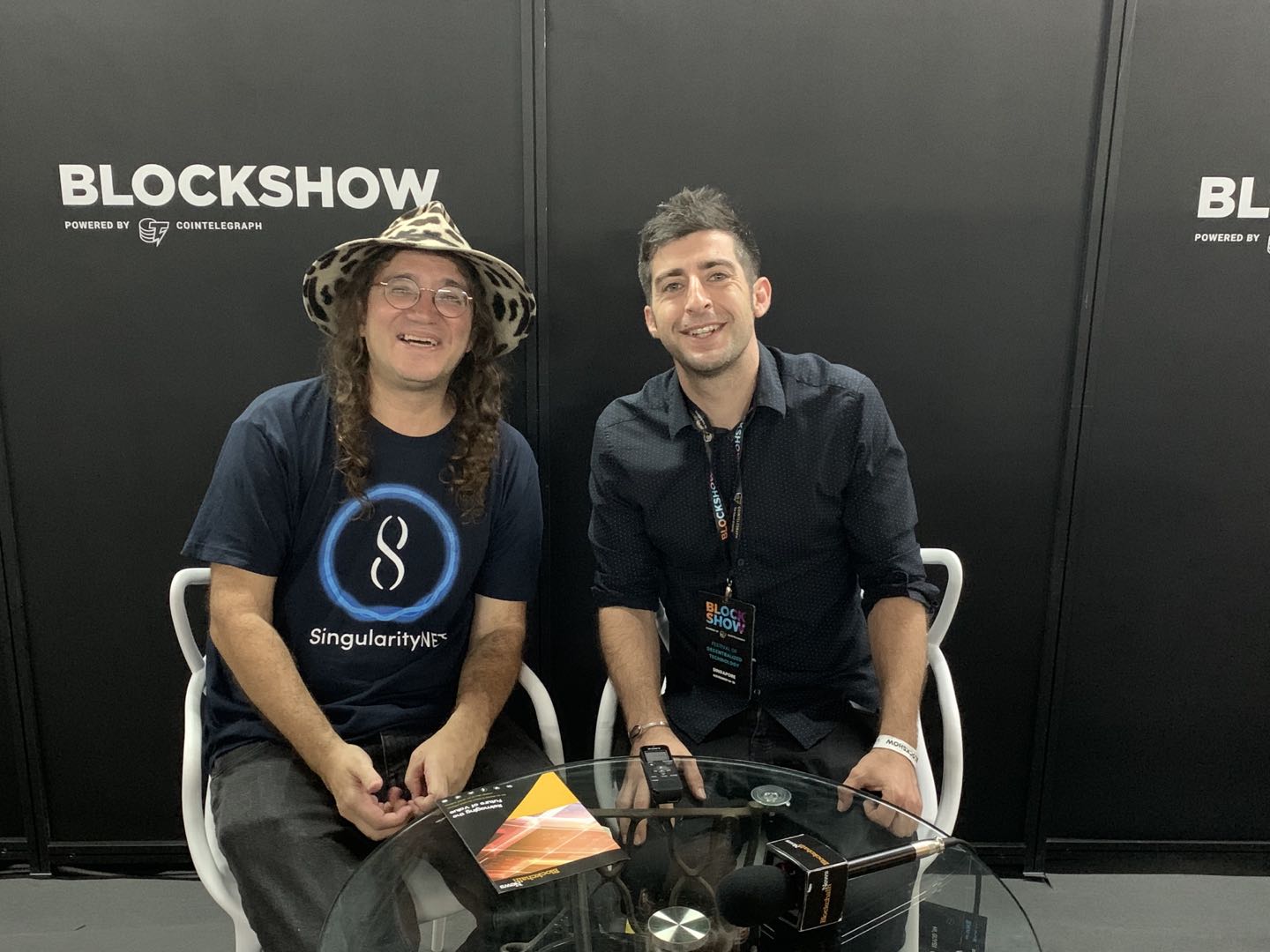 Adoption is Key
Besides the financial benefits, the main impetus behind the many enterprise collaboration projects that SingualityNET is facilitating growth in the network's AI agents. The AI agents interact and learn from each other, new challenges means more learning and teaching and AI agent copying. New stimulus and work mean that the AI is growing and together forming an intelligence greater than the sum of its parts.
Goertzel reiterates this sentiment saying, "Really by working with PICC, Cisco, Dominoes other large enterprises, it's stimulating more and more AI for the network. Because in the course of voice analytics, or say image analytics regarding car engines, the AIs that are filling the network to serve PICC's or Cisco's needs remain in the network to be used for other purposes, so you're building out just the overall capacity in the network, much more so than if we were just building proprietary software for these companies."
Read More