CNBC's Jim Cramer Changes Mind, Finally Buying Bitcoin
CNBC's most famous stock market pundit Jim Cramer has joined the ever-growing list of high-profile Bitcoin investors. This significant move is made after Bitcoin investor and former Facebook team lead, Anthony Pompliano, convinced Cramer to buy Bitcoin.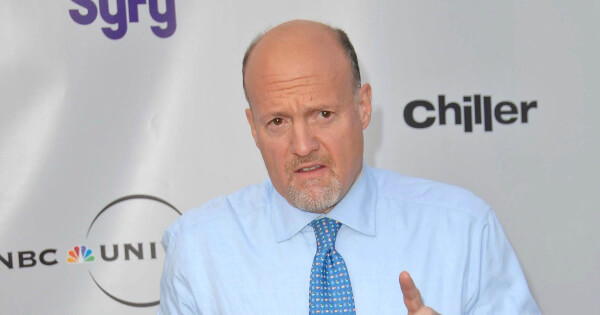 Pompliano plans to release a new podcast episode on Monday, 14th September, to feature how he managed to convince Cramer.
Cramer is one of the most respected and recognized individuals in the financial media sector, hosting the famous "Mad Money" show on CNBC media company.
Bitcoin Investment Hopes Rise
Cramer's relationship with the top cryptocurrency has been quite erratic. In the past three years, he has been sending mixed signals concerning Bitcoin. In June 2017, Cramer claimed that Bitcoin's price could hit $1 million. But he has also been critical, calling Bitcoin an "outlaw currency".
When Bitcoin was approaching its all-time high of $20,000 in December 2017, Cramer made a prediction that the launch of Bitcoin Futures by Chicago-based Cboe Global Markets Inc., would "annihilate" the largest cryptocurrency.
After Bitcoin fell below $6,000 in August 2018, Cramer said that the tide had turned against the cryptocurrency. He added, "I'm not saying its time has passed but there is a notion that the sun seems to be setting."
In May 2019, Cramer responded to a Twitter follower who asked if he thinks it's logical to have 40% of his wealth in Bitcoin and 60% in stocks. Cramer tweeted:
"Mad Money into Bitcoin? Hmmm.. not top of mind. but then again, it is YOUR mad money so you must do what you think is right."
A Wall Street veteran, Cramer is now investing in Bitcoin.
Barstool Founder Portnoy Consults Winklevoss for Bitcoin
Bitcoin (BTC) has continued to rise in mainstream circles, undergoing inflation in pricing after Barstool's Dave Portnoy consulted Gemini exchange founders and BTC billionaires, the Winklevoss twins, learned everything, and eventually invested in Bitcoin.
Raoul Pal, the founder of Real Vision and former head of Goldman Sach's hedge fund sales business, recently stated that he has put a portion of his assets into Bitcoin as an inflation hedge.
Raoul Pal is joined by Bill Miller, Paul Tudor Jones, and several others as famous Wall Street bulls, which are bullish on Bitcoin.
Bitcoin as Portfolio Hedge Against Inflation
During inflationary times like the current difficult economic period, money flocks to the so-called safe-havens. Gold is the traditional haven asset used as a hedge against inflation. It has been around for several thousands of years and continues holding value to this current time. With historic amounts of monetary policy easing by major central banks sparking a significant increase in gold prices, investors seeking to cover themselves against inflation are also thinking of Bitcoin.
In the month of May this year, one of the world's most successful investors, Paul Tudor Jones, announced that he was putting a small portion of his assets into Bitcoin as a hedge for inflation. However, he has not been alone as the list of investors betting on Bitcoin is beginning to look pretty impressive. On top of Tudor Jones, the list is expansive, including Mike Novogratz, Peter Thiel, Marc Lasry, Chamath Palihapitiya, Raoul Pal, and others.
Image source: Shutterstock
Related: CNBC Mad Money Host Jim Cramer From Skeptic to Bitcoin Bull
---

Read More