Bitcoin Wallets Transferring Funds to Crypto Exchanges have Doubled Since January
Glassnode, an on-chain market analytics firm, has disclosed that addresses sending Bitcoin to crypto exchanges have doubled since January 2020.
The number of Bitcoin transactions to crypto exchanges stands at nearly 100,000 each day, and this is a notable change given that the majority of funds were being withdrawn in droves as the year started.
Bull Trend Pattern
Glassnode tweeted that the last time Bitcoin wallets making transfers to exchanges stood at around 100k unique addresses was during the peak bull market of 2017.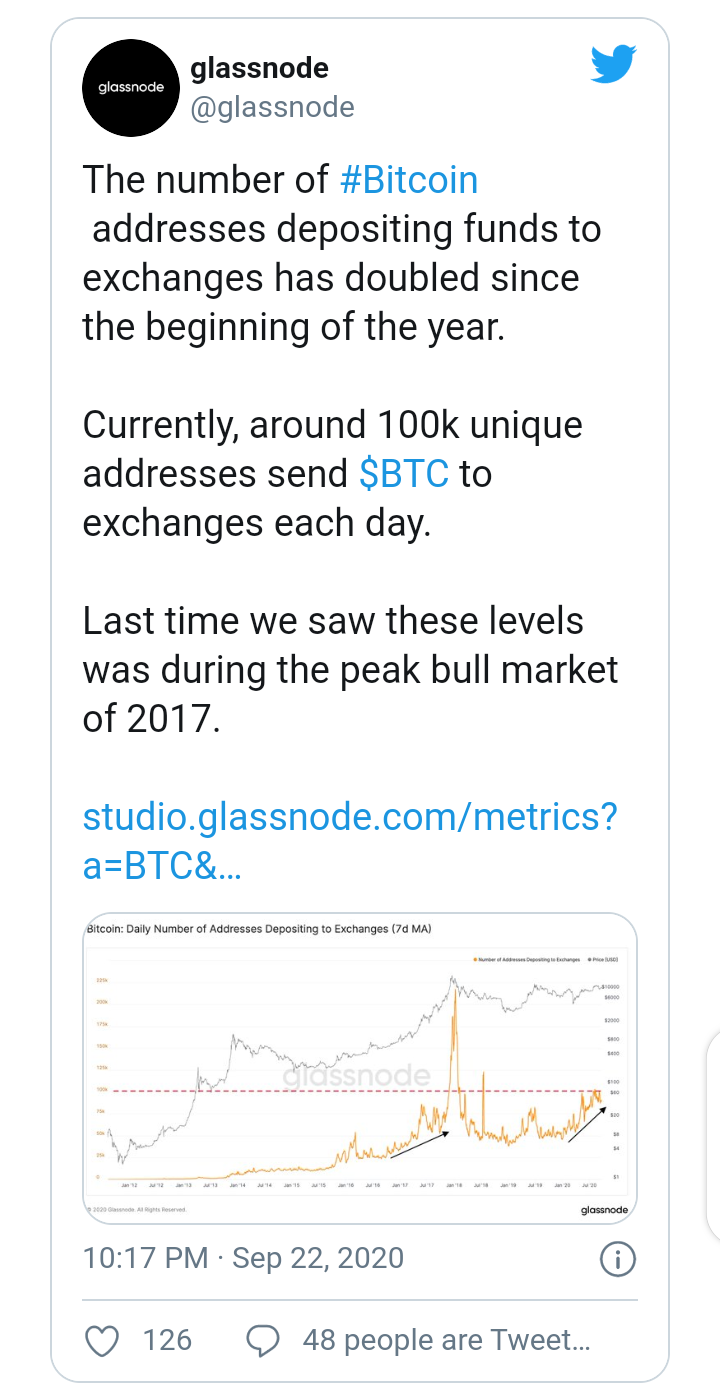 The firm asserted that this trend had not been witnessed in recent times because what followed the bullish run in 2017 was a steep decrease in Bitcoin price.
Keeping a watchful eye in 2020
The crypto community's expectations were high as 2020 kicked in because of the much-anticipated Bitcoin halving event that happened in May. Pundits, investors, and traders kept a keen eye on this event because mining rewards were slashed from 12.5 BTC to 6.25 BTC.
However, the coronavirus (COVID-19) pandemic took the world by storm, and measures like lockdowns and social distancing were put in place. The American administration resorted to printing over $6 trillion and pumping it to the economy as a bailout to the economic turmoil triggered by COVID-19. In turn, this has constantly increased the U.S. Dollar inflation rate, and it is anticipated to worsen if printing continues indiscriminately.
Therefore, investors seem to be looking for alternatives, and Bitcoin is coming in handy as depicted by the doubling of Bitcoin addresses making deposits to crypto exchanges. Additionally, fiat currencies like the dollar are inflationary because their value decreases with time-based on the printing of more money. In contrast, Bitcoin is deflationary as its supply is fixed at 21 million coins. As a result, its value is expected to increase with time.
Image source: Shutterstock
Read More