Bitcoin Pizza Guy and the Tenth Anniversary of the Most Regrettable Purchase in Human History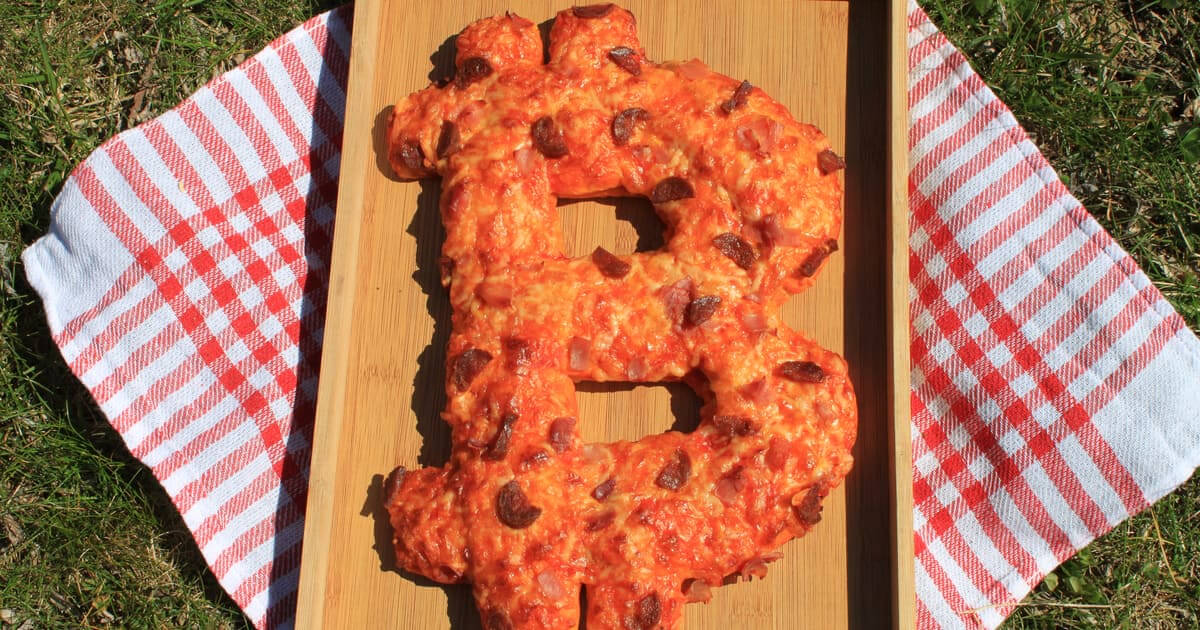 This year on May 22, the cryptocurrency world will celebrate the 10th anniversary of the day now known as Bitcoin Pizza Day. In May 2010, ten years ago, Laszlo Hanyecz, aka 'Bitcoin Pizza Guy,' traded his 10,000 BTC for two large Papa John's Pizzas with eighteen-year-old Jeremy Sturdivant, aka jercos. At that time, this looked like a bargain and worthwhile deal based on Bitcoin's low price, and it is believed to be the first real-world transaction involving cryptocurrency.
The success of this transaction is well documented on a bitcointalk forum page, whereby Hanyecz had posed a question, "Pizza for bitcoins?"
He went ahead and stated, "I'll pay 10,000 bitcoins for a couple of pizzas.. like maybe 2 large ones, so I have some leftover for the next day."
Before Hanyecz had sealed the deal with jercos, another member named ender_x suggested that the deal was excessive even by 2010's bitcoin price, "10,000... That's quite a bit.. you could sell those on the bitcoin market for $41USD right now."
At the time, one BTC was retailing at $0.0041. Fast forward to the current day, and one BTC is now worth close to $10,000. By the time of posting, one Bitcoin was trading at $9,674 based on data from CoinMarketCap. This means that by today's standards, the pizza consumed by Hanyecz would be worth $96.74 million USD, which would be enough to leave a sour taste in anyone's mouth.
Hanyecz Cries Poor
As per Laszlo's Twitter page, he indicates that he is poor and asks for any amount of BTC as a donation. He ascertains, "I am the person who bought the 10000btc pizza 8 years ago. I am poor now. Feel free to donate any amount of BTC."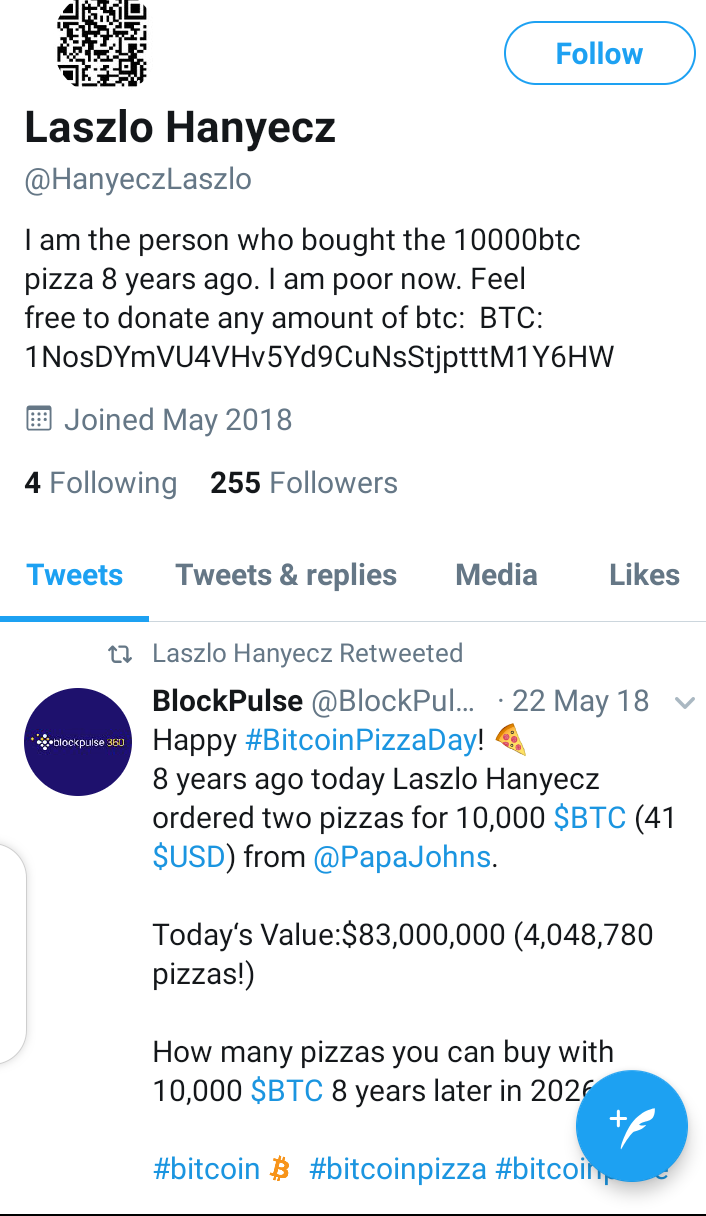 Nevertheless, Hanyecz, who is now a computer programmer, ascertained that he was rewarded with the Bitcoins by Satoshi Nakamoto's software as his computer was among the ones being used to maintain the Bitcoin network at that time. He stated that there was nothing much he could do with them back in 2010, and resulted in trading them off for pizza.
Bitcoin's incredible journey
The birth of Bitcoin Pizza Day since May 22, 2010, plays an instrumental role in enabling the crypto community to reflect on the outstanding journey Bitcoin has endured emerging as the 'king' of crypto. Bitcoin has, therefore, become an eye-opener about its incredible value as it has proven those who had written it off wrong.
Notably, Bitcoin reached its record high of $20,000 on Dec 17, 2017. Its future looks bright as it is speculated that bitcoin halving will happen this May, which has acted as a precursor to major bull runs in the past.
Bitcoin halving is an upgrade to the Bitcoin blockchain, where the mining reward for new blocks is reduced by half, meaning miners get 50% less BTC for achieving block ownership. Bitcoin halvings are scheduled events that happen after every 210,000 blocks have been achieved. It occurs and will continue to occur approximately every four years until the maximum supply of 21 million Bitcoins is generated. By limiting the number of Bitcoins generated by a network, supply reduces and price may increase if demand remains strong.
Bitcoin goes mainstream
By trading off 10,000 BTC for two pizzas, Laszlo unwittingly pioneered cryptocurrency trade as this transaction is now regarded as the first real use-case payment involving cryptos. It is the reason why Bitcoin Pizza Day is highly celebrated in the crypto space as it serves as a reflection of the notable journey Bitcoin has undergone.
In the present day, cryptocurrencies, such as Bitcoin, have begun to enter the mainstream and are being leveraged in modern society. Cryptocurrencies are viewed as game-changers that are set to alter traditional financial systems, increase inclusive finance and eliminate expensive and time-delaying intermediaries.
Bitcoin is the most favored cryptocurrency in modern society and even serves as a safe-haven during geopolitical uncertainty. Moreover, its holders enjoy enhanced spending autonomy because it is powered by blockchain's decentralized public ledger technology.
Bitcoin is also being increasingly used as a mode of payment across different industries. For instance, in December 2019, Ellington Properties, a Dubai-based developer, selected Bitcoin Suisse (BTCS) as its ideal crypto brokerage provider to facilitate Bitcoin payment for its international home buyers. Recently, Norwegian Air, one of the largest airlines in Europe, revealed that it could soon accept cryptocurrency payments for booking flights.
So all hail Bitcoin Pizza Day, a memorial to the first Bitcoin use-case and a day we doubt Laszlo Hanyecz will ever forget.
Image via Shutterstock
Read More