Bitcoin Can't Drive Financial Inclusion for Unbanked But CBDC Can says Mastercard CEO
Ajay Banga, the CEO of Mastercard believes Bitcoin is unable to function as an inclusive currency for the world's unbanked as the cryptocurrency is too volatile and lacks transparency.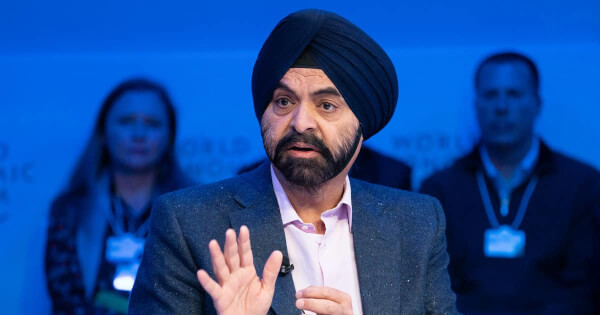 The CEO of payments giant Mastercard believes that central bank digital currencies (CBDC) will be far better suited to drive financial inclusion than, Bitcoin which he say is still too volatile.
Speaking at the Fortune Global Forum on Oct 27, Mastercard's CEO said that Bitcoin's lack of transparency in its origins was a concern along with its extreme volatility make it unsuitable for empowering the unbanked. However, the CEO said that central bank digital currencies are a different story.
Regarding Bitcoin, Banga said:
"I am not a believer in the volatility or, for that matter, the absence of transparency in who is the person who's involved with that currency. So, that's why central bank digital currencies, we're believers in."
The Mastercard CEO also revealed that the payment giant has a large library of patents relating to CBDC. In addition, it was also announced in September that Mastercard has launched a virtual testing platform to allow central banks to evaluate use cases and test roll-out strategies for CBDCs by simulating a CBDC ecosystem.
Bitcoin remains of the table as a potential solution to financial inclusion as far as Banga is concerned. The Mastercard CEO claimed that the landmark cryptocurrency value was too unstable, and gave a crude example of BTC's price volatility pertaining to how much coca-cola one could buy changing from one day to the next.
The Mastercard CEO explained:
"Can you imagine someone who is financially excluded trading in a way to get included through a currency that could cost the equivalent of two Coca-Cola bottles today and 21 tomorrow? That's not a way to get them [included]. That's a way to make them scared of the financial system."
Banga reiterated that a digital version of sovereign digital currencies would be much better suited to help with cross-border finance.
Mastercard's CEO Banga has not ever been known as a fan of cryptocurrency or their lack of regulation and transparency and was reported as calling Bitcoin and crypto "junk" in 2018 by the Times of India—stating that crypto should not be considered a medium of exchange.
However, Mastercard has shown public support for digital fiat currency. In 2019, Senior MasterCard executive Ari Sarker told the Financial Times that if governments look to create national digital currency the payment's giant would be very happy to look at those more favorably than cryptocurrency. Sarker said at the time:
"So long as it's backed by a regulator and the value . . . it is not anonymous, it is meeting all the regulatory requirements, I think that would be of greater interest for us to explore."
Mastercard Holistic Approach to Digital Currency
Despite Banga's reported hostility towards cryptocurrency—in September 2020, Mastercard's Blockchain and Digital Assets Lead for the Asia Pacific, Ashok Venkateswaran told Blockchain.News that Mastercard is taking a "holistic" approach to digital currencies. The payment giant is looking at everything from central bank digital currencies (CBDC) to cryptocurrencies like Ethereum or Bitcoin, as well as stable coin options.
After revealing that Mastercard has over 90 blockchain-specific patents—the Venkateswaran said that as one of the most recognizable payment systems on earth, despite its interest, Mastercard works with regulation and many for crypto, the regulations have not yet been in place.
An important way to increase adoption of new payment technologies and digital currencies in the mainstream, according to Venkateswaran is by changing the regulatory environment:
"Regulations are still trying to catch up to a lot of these things. We're following the regulatory principles, but also trying to see how we can help some of those regulations get formed … As one of the largest networks in the world, we want to make sure that we can support any kind of transaction."
Image source: Greg Beadle
Read More