Whales are Depositing Bitcoin on Crypto Exchanges - What This Means
Bitcoin (BTC) is struggling to maintain above $50K. Currently, at the time of writing, it is trading at around $45K. The top cryptocurrency nosedived by almost $10,000, going from $55K to $46K last week as Tesla's CEO Elon Musk revealed that the firm will no longer accept BTC payments.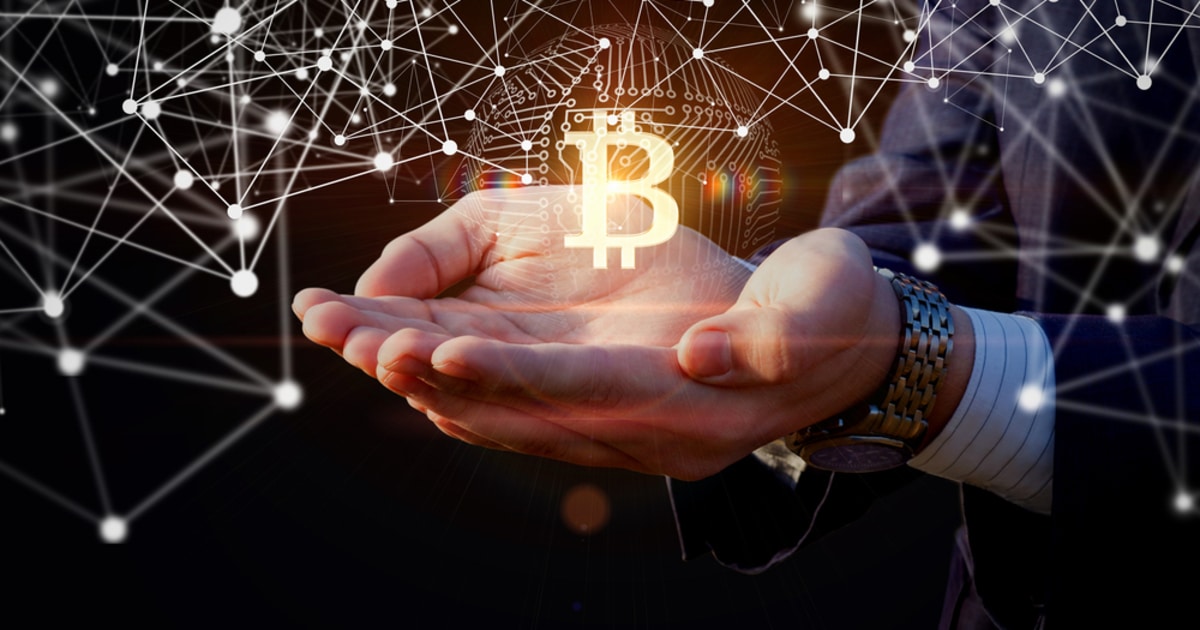 Tesla attributed this to the "rapidly increasing use of fossil fuels for Bitcoin Mining and transactions, especially coal, which has the worst emissions of any fuel."
Ki Young Ju, the CEO of on-chain analytic firm CryptoQuant, has revealed that whales are depositing Bitcoin on exchanges. He explained:
"If you're a long-term BTC investor, don't worry. Your portfolio is the same as institutional investors in the States. If you're a derivative trader, be careful in the short term. (Relatively speaking) whales are depositing BTC to exchanges."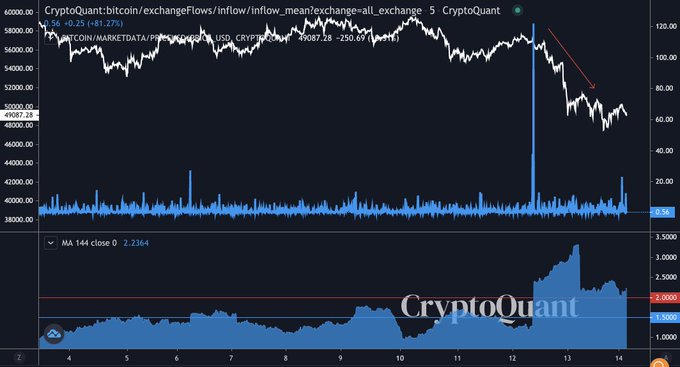 Whales usually remit Bitcoin on exchanges to cash in profits, and this may cause selling pressure. As a result, this will drive the price down.
IntoTheBlock also acknowledged massive Bitcoin inflow into centralized exchanges. The crypto data provider noted:
"ITB Netflows indicator detected the second-largest BTC inflow into centralized exchanges in >15 months of 24.84k BTC."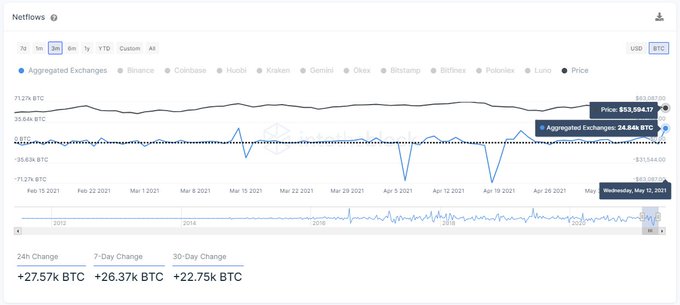 Hodlers stored more than 8% of Bitcoin's circulating supply
According to on-chain data provider Glassnode:
"Bitcoin HODLers today actually hold +8% more of the circulating supply in dormant wallets."
It, therefore, shows that hodlers or holders continue accumulating more BTC even as prices are dipping for long-term objectives.
For instance, leading American business intelligence firm MicroStrategy ramped up its Bitcoin investment by purchasing an additional 271 BTC for $15 million.
In other news, Bitcoin mining difficulty recently rose to a 7-year high of 21.5%.
The level of Mining Difficulty is determined by the amount of computing power consumed by the BTC network and is measured by hashrate. This measure allows computers to process and resolve problems that would enable transactions to be approved and confirmed across the network.
Image source: Shutterstock
Read More