100,000 Bitcoin Options Scheduled to Expire in Two-Days Time, Indicating a Potential Price Plummet to $28,000
Bitcoin's consolidation state continues as the leading cryptocurrency has been down by 12.43% in the last 24 hours to trade at $31,260 at the time of writing, according to CoinMarketCap.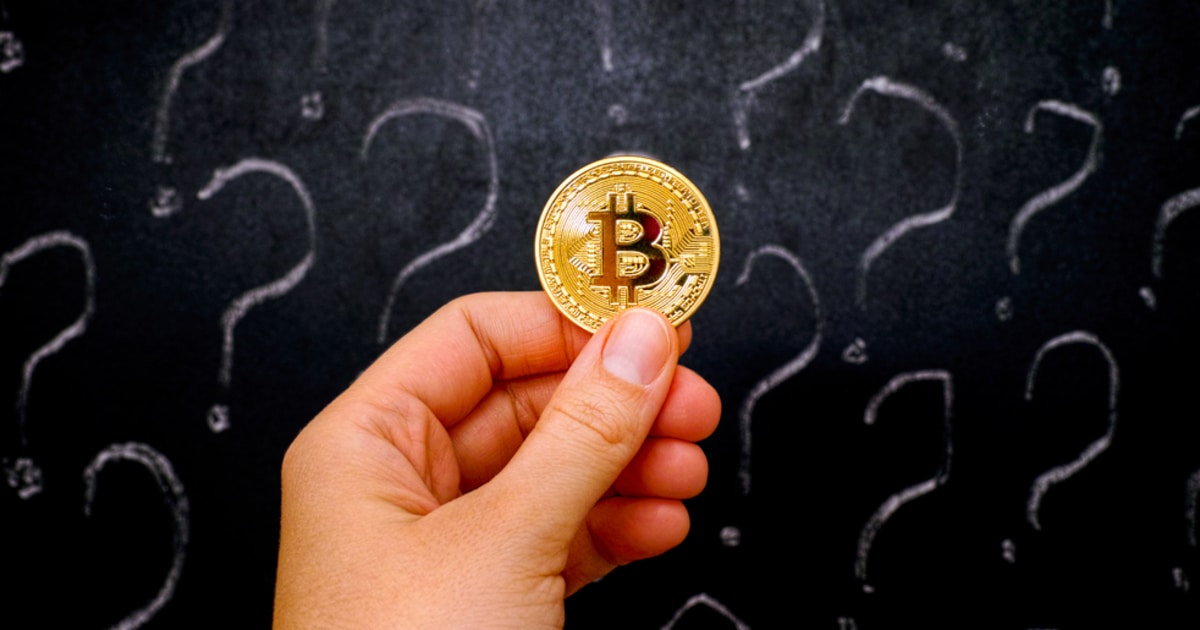 New data by unfolded reveals that 100,000 BTC options are scheduled to expire on crypto exchange Deribit in the next two days. The crypto market provider explained:
"Massive 100k Bitcoin options expiry at DeribitExchange coming up in two days, max pain $28,000."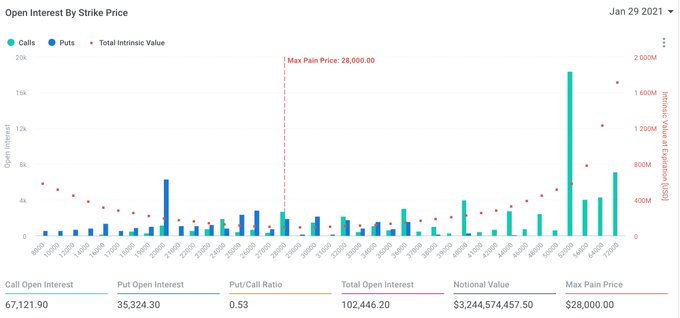 The market provider noted that this expiry could push the price further down to $28,000. These sentiments are echoed by Carl Martin tweeting under the pseudonym "The Moon" who indicated that based on the formation of a head and shoulder pattern, a reversal with a price target of $28,000 may be possible. The crypto analyst acknowledged:
"Bitcoin's head and shoulders pattern forming with a target of $28,000 if we break the neckline!"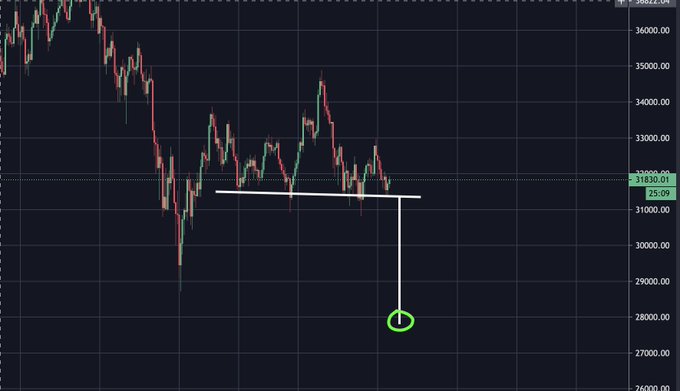 The raging market might continue in the short term
Meanwhile, Joseph Young, a crypto analyst and investor, has alluded to the fact that the market ranging $31,000 to $35,000 might continue in the short-term. He noted:
"Bitcoin has been very choppy lately. Seeing 10% ups and downs, between $31k and $35k. - Options market weight towards sellers and puts. In the short-term, I see the big range between $31k~$35k continuing."
Despite the current consolidation in the Bitcoin market, SkyBridge Capital founder Anthony Scaramucci believes that it is the new age of micro investors. Retail traders are now increasingly shunning Wall Street and triggering bull runs in stocks like GameStop Inc., and this is positive for Bitcoin (BTC).
Furthermore, Crypto exchange Luno and brokerage OSL believes that Bitcoin is still in the right trajectory and set to hit $50,000 in the long term. As hedges against inflation continue to be sought out by investors, Bitcoin's neck-to-neck battle with gold as the better safe-haven asset continues.
Image source: Shutterstock
Bitcoin Bull Peter McCormack Slams Bank of England Andrew Bailey's Narratives About Bitcoin
Read More