PwC Global Crypto Leader Henri Arslanian on the Future of the Crypto Ecosystem
Henri Arslanian, the PwC Global Crypto Leader, Chairman of the FinTech Association of Hong Kong, is the highest-profile FinTech consultant in Hong Kong according to ChambersGlobal. 
Blockchain.News interviewed Arslanian at the Asian Financial Forum held in Hong Kong earlier this month, where he was invited to speak on the development of FinTech. The Asian Financial Forum brought over 3,500 speakers and influential financial experts, policymakers, and business leaders.  
Arslanian found one of the most interesting topics discussed during the panel he was moderating was the topic of environmental, social, governance (ESG) and how it applies not only to finance but also FinTech. "I'm a big fan of AFF every year because it brings not only a lot of international visitors but also a lot of business leaders from across Asia as well," said Arslanian.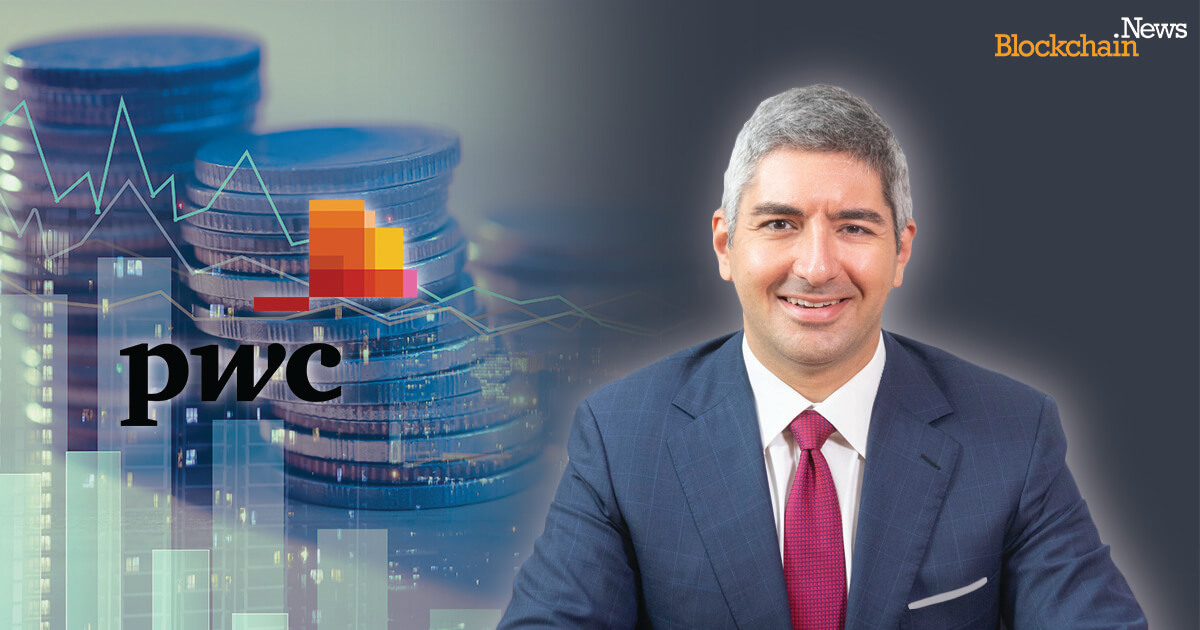 One of the topics discussed at the Asian Financial Forum was the environmental impact of proof-of-work. "One Bitcoin transaction consumes the same amount of electricity as the average US household for 20 days. We're moving to an era, where ESG, climate change is becoming more predominant," explained Arslanian. "I'm personally very interested to see how proof-of-stake and other more energy-friendly consensus mechanisms will develop across the crypto ecosystem."
Asia as the region for the future of finance 
Arslanian considers Asia to be one of the top regions for the development of blockchain technology. With the recent announcements in China, including Xi Jinping's endorsement of the technology, blockchain development has been prioritized in the region. "I am very excited about the developments going on in China, not only with blockchain technology, but also with every other vertical of technology including AI, fintech, 5G, and IoT, which makes Asia the region to be in if you're working on the future of finance. 
In the last 18 months, PwC has conducted over 320 crypto engagements globally, spanning across 15 different countries. "I think it's very exciting to see how PwC is getting involved in the crypto ecosystem," said Arslanian. "Our purpose is to build trust in society and solve important problems and there is a big need for that in the crypto and blockchain ecosystem. We set up this PwC crypto team almost three years ago as the crypto ecosystem was growing, to support crypto firms not only on areas like strategy or fundraising but also on day-to-day functions such as crypto accounting, tax or KYC/AML reviews." Arslanian believes that firms like PwC are essential for the ecosystem to "go from 1.0 to 2.0," and "that PwC has a big role to play."  
Arslanian is often known for his popular Crypto Capsule series which he created in 2018, as a sixty-second segment presented in a video that he publishes every week on social media sites, such as LinkedIn, Twitter, and YouTube. Arslanian was also named by LinkedIn as one of the global Top Voices in Economy and Finance. Having created a recognizable face around the world due to its popularity, he explained that the reason behind the idea was that he believes that many people want to be aware of the latest important developments in the global crypto ecosystem but they need that information in a short amount of time. "Everyone is busy, so I believe that I need to deliver the content in a format and duration that can be watched entirely in an elevator ride up or down. Although the segments are sixty seconds, it actually takes me between four to six hours on a weekly basis to make the video in my spare time."  
Arslanian believes that if you are not able to highlight and summarize the key developments that someone needs to know in sixty seconds, then you do not know the industry well enough. Amazed by the feedback behind his Crypto Capsule series, Arslanian currently has over half a million followers on LinkedIn. "I think it's been really humbling to see the impact that this kind of content has, not only from people who are in the crypto ecosystem but also from those who are outside and just curious."
Arslanian believes that putting out content on social media is quite important, as he believes it is one of the best ways to educate people on this topic. He added, "We have this moral duty to make sure that we're able to educate the general public and empower them with the information they need to be able to make their own decisions on whether they believe in the future of the crypto ecosystem or not. " 
Arslanian's crypto key trends in 2020
Decentralized finance (DeFi) has gained significant traction in 2019 and is continuing with its strong momentum in 2020. The total value locked in the DeFi market surpassed USD 800m as of mid-Jan 2020, compared to 666m in the end of 2019. Arslanian believes that DeFi could start becoming more mainstream in 2020. "I think the decentralized finance movement is very interesting. If you think about the original vision of Satoshi Nakamoto, the reason behind creating Bitcoin was because it allowed for peer-to-peer transfers without intermediaries. DeFi is the 2.0 of that, and we are currently in the very early stages," said Arslanian.  
Although he believes that DeFi main gain more popularity this year, he does not consider DeFi lending to have a significant impact on the traditional lending markets, virtual banks, and others. DeFi lending platforms aim to provide loans to the public without the involvement of intermediaries. For example, DeFi lending allows anyone with crypto to be able to put them up as collateral to receive stable coins that can be used for various purposes. This can be very useful for many in the crypto ecosystem who may not use their cryptocurrencies to get loans from traditional intermediaries.
Non-fungible tokens (NFTs), unlike cryptocurrencies, which has unique characteristics and are not interchangeable. Arslanian believes when it comes to provenance or traceability, NFTs could provide the perfect solution as tokenization advances. From a legal perspective, Arslanian said, "Five years ago, I was hoping that by now many governments would seriously start using blockchain for government records and other purposes like land titles. It didn't happen as quickly as I hoped, but I am very excited about the potential of NFTs and believe we may see faster adoption." 
In the gaming industry, an industry that is now worth $160 billion a year, Arslanian suggested that tokenization and NFTs can be crucial for the development of the ecosystem as a whole. Game developers have been creating virtual assets, given the push of a new digital environment; many games have a form of currency within the game where players can earn, purchase, and spend within the game. The rise of gaming combined with the increased popularity of cryptocurrencies is the perfect mix for the tokenization of game assets. By using blockchain technology, gaming assets can be not only bought, sold, or traded outside of the game but can be actually owned by the player.
Crypto Accounting and Taxation  
In the last two years, a lot of regulatory clarity has been observed in the crypto sector. According to Cambridge University, only 5% of regulators around the world do not have a team working on crypto within the regulatory body; however, this is not the case yet with tax authorities.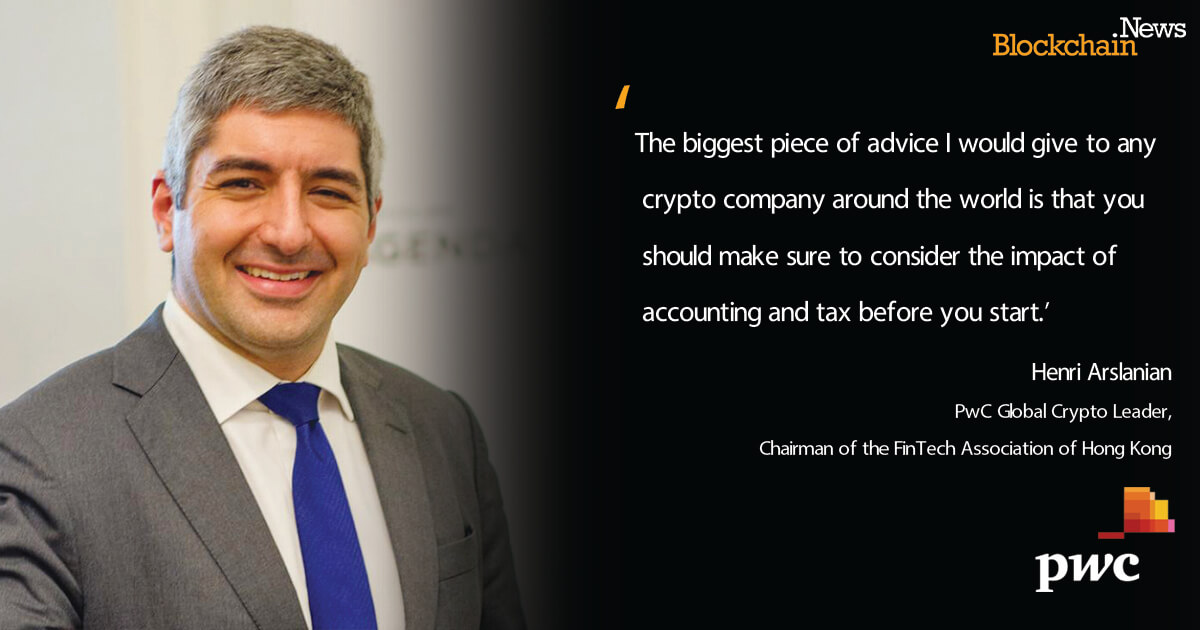 Arslanian is expecting to see more tax clarity from tax authorities around the world in 2020. "Within PwC, we advise a number of leading crypto players around the world on crypto accounting and crypto tax. One of the challenges that I've seen with my clients is that they are very decentralized, many of them have staff and operations in various countries. This creates transfer pricing and other tax issues that need to be addressed." 
The second issue that he mentioned, was crypto accounting, which companies need to consider from the beginning. "I remember two years ago, we saw a number of initial coin offerings (ICOs) from the US and around the world, who did not seek crypto accounting and tax advice before their ICO and had to deal with the often expensive tax consequences of their actions subsequently" he explained. "The biggest piece of advice I would give to any crypto company around the world is that you should make sure to consider the impact of accounting and tax before you start because, in addition to avoiding future headaches, there could be benefits and tax savings in properly structuring beforehand."
In established financial jurisdictions such as Hong Kong and Singapore, Arslanian believes that there are many service providers, like PwC, who could advise clients on how to make sure that they are addressing these issues upfront, rather than dealing with them subsequently.
Read More