Public Demand for Bitcoin over Gold Could See BTC Price Target Hit $146,000, according to JPMorgan
Bitcoin (BTC) has enjoyed a rollercoaster ride in recent weeks by hitting a record-high of $34,800 even though it has corrected to $31,079 at press time. Leading American bank JPMorgan Chase & Co. believes that this uptrend might be the tip of the iceberg in the long-term if the leading cryptocurrency is able to continue to steal market share and public support from traditional safe-haven asset gold.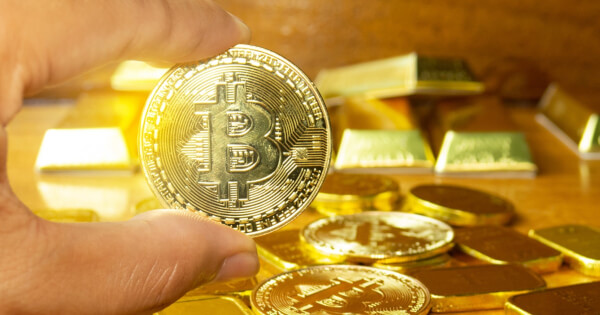 Bitcoin faces an uphill task
JPMorgan strategists noted that BTC will have to increase its current market capitalization of about $575 billion by 4.6 times to hit the theoretical price of $146,000. By doing so, it will match gold's total private sector investment in the form of bars and coins or exchange-traded funds.
The strategists led by Nikolaos Panigirtzoglou acknowledged:
"A crowding out of gold as an 'alternative' currency implies big upside for Bitcoin over the long term."
They, however, noted that volatilities between BTC and gold could not converge in the short-term, thus the price target of $146,000 was not achievable in 2021. They stated:
"A convergence in volatilities between Bitcoin and gold is unlikely to happen quickly and is in our mind a multiyear process. This implies that the above-$146,000 theoretical Bitcoin price target should be considered as a long-term target, and thus an unsustainable price target for this year."
A trade-off is required
JPMorgan believes that if BTC will continue cementing itself as an inflationary hedge, this could edge out gold by driving more investment flows into the leading cryptocurrency.
BTC and gold are taking part in a neck and neck race of wooing investors as safe-haven assets with the latter taking a beating as its investment outflows hit a record $9.2 billion in November 2020.
The leading American bank also sees headwinds for BTC based on indicators like a buildup of speculative long positions and a rise in crypto wallets holding small amounts of Bitcoin. Big four accounting firm PricewaterhouseCoopers (PwC) recently acknowledged that big investors were the driving force behind Bitcoin's notable surge.
Image source: Shutterstock
Big Investors Are Fueling Bitcoin's Record-Breaking Rally, According to PWC
Read More