Four Reasons Why Filecoin Increased by 430% Within a Month
The title of hottest cryptocurrency in the market may be attributed to Filecoin (FIL). Filecoin is an open-source, publicly-opened cryptocurrency and digital payment system. The Filecoin system aims to create a data storage and retrieval method based on the blockchain system.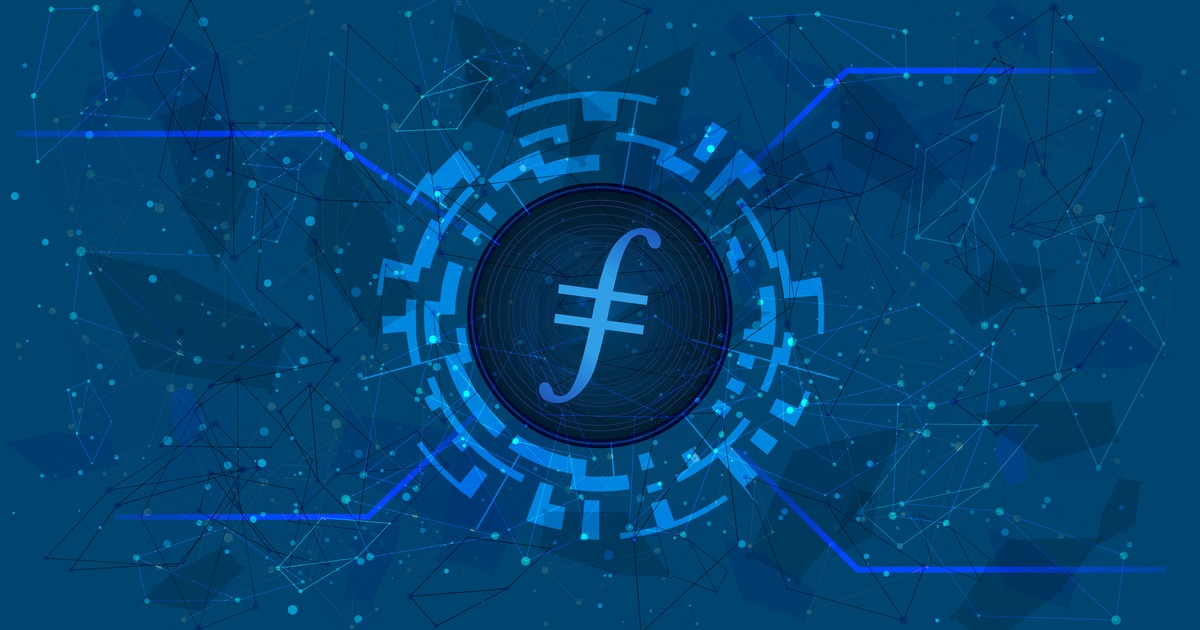 FIL has risen by 89.74% within 7 days and has increased by over 430% since the beginning of March. After it broke through the $100 mark in one swoop on March 26, Filecoin continued to set a new all-time high, reaching a milestone of $198.
Filecoin's market capitalization ranks No.15 with a value of $9,796,202,622 and at the time of writing, Filecoin is trading at $189.580.What are the factors behind Filecoin's skyrocketing surge?
IPFS communication protocol
Filecoin is based on the InterPlanetary File System (IPFS) communication protocol. The InterPlanetary File System is a network transmission protocol designed to establish persistent and distributed storage and sharing of files.
Therefore, Filecoin has blockchain document storage capabilities. This is different from other cryptocurrencies such as Bitcoin.
The system has a built-in block reward mechanism to encourage the expansion of network capabilities so that the entire system has enough storage space to cope with the continuous growth of stored data, so as to ensure the long-term safe storage of files and the stability of the network security.
This is one of the reasons behind the price rally as Filecoin has huge application scenarios and market potential as a distributed storage network serving the global human society.
Backing by major institutions
On March 17, Grayscale officially launched five new crypto investment trusts including Filecoin. The new trusts include Grayscale Livepeer Trust, Grayscale Filecoin Trust, Grayscale Decentraland Trust, Grayscale Chainlink Trust, and Grayscale Basic Attention Token Trust. Among them, Grayscale Investment Company held no more than 500 FILs at an average price of around $50.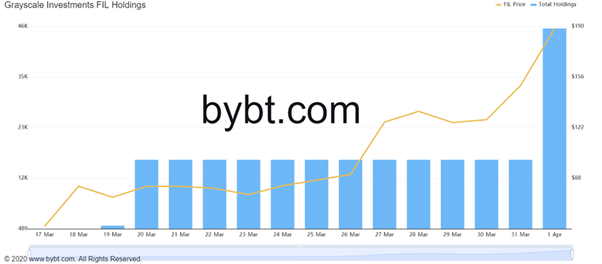 According to Bybt data, Grayscale has increased its holdings of 29,554 Filecoins in the past 24 hours, and currently holds a total of 45.55K FILs, worth a total of approximately $8.58M.
On March 23, Hisaishi Capital announced the official launch of Bitcoin, Ethereum, Filecoin, and Decentralized Finance digital asset special funds. The special fund will focus on the global Bitcoin, Ethereum ecology, distributed storage (FIL), and Decentralized Finance (DeFi) tracks.
On March 24, Fenbushi Capital announced the completion of the fundraising of the Filecoin Ecological Special Fund with the final management scale of 300,000 FIL (contracted at $57,600,000 at the current market price).
Mutual cooperation in the cryptocurrency industry
On March 24, the decentralized storage network Filecoin announced its integration with Chainlink. This integration will help Filecoin realize its storage function and automate access to other blockchains while creating a connection with Ethereum.
On March 27, Filecoin officially released a tweet stating that it will cooperate with the live streaming protocol Livepeer to carry out a joint mining pilot. This enables Filecoin miners to also become Livepeer video miners through storing the transcoded video data and mining on the Filecoin network.
Filecoin production cut on April 15
According to official sources, Filecoin will reduce its output on April 15. The reason is that the FIL received by all Filecoin Simple Agreement for Future Tokens (SAFT) holders is subject to linear restrictions lock-in for 6 months, 1 year, 2 years, and 3 years. The first half-year term of SAFT will expire on April 15.
At present, the original output of Filecoin is about 648,000 pieces per day. After the linear release of Semi-year's SAFT on April 15, the daily circulation of Filecoin will be reduced by 280,000 units, which means a 43.2% reduction in daily production.
The actual circulation of Filecoin will be reduced. This reduced supply will stimulate future price increases.
Image source: Shutterstock
Litecoin Expected to Move Towards Its Resistance of $214 as PayPal to Enable Crypto Payments
Read More