Filecoin (FIL) Price Analysis – March 26,2021
On March 17, Grayscale, an American crypto-asset investment company, launched five new cryptocurrencies trusts include Filecoin(FIL). This stimulated Filecoin's price and triggered a large wave of increase that day that saw FIL reach a high of $96.67. But then, the altcoin market witnessed sellers cashing out their profits, which resulted in Filecoin reaching a low of $74 on March 22.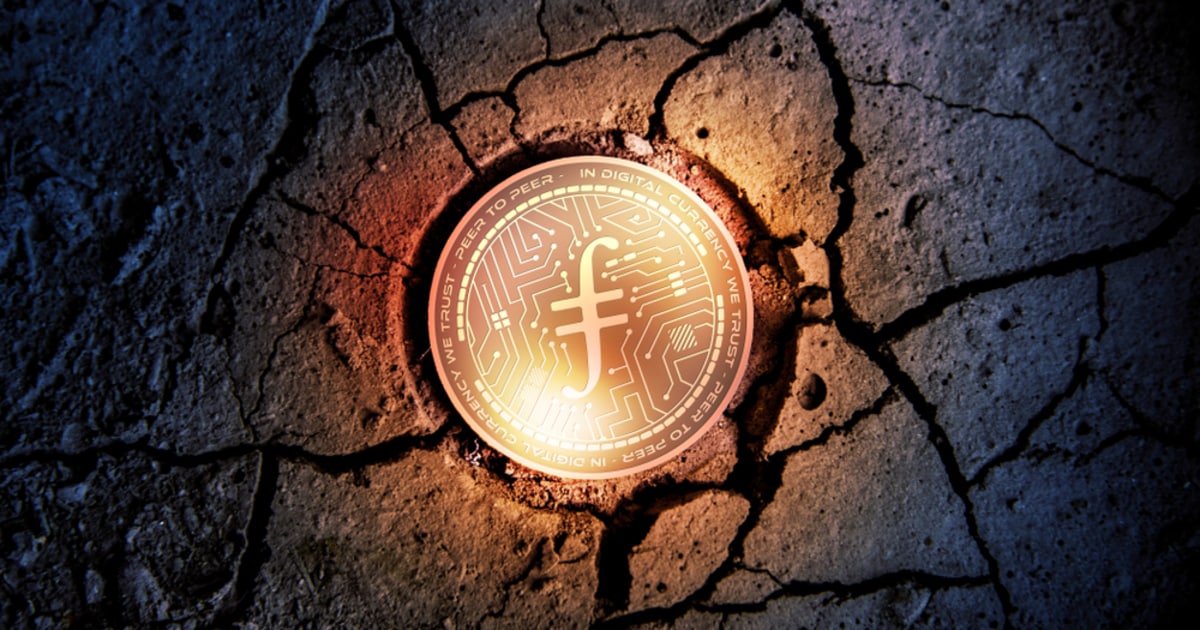 On March 24, the decentralized storage network Filecoin announced its integration with Chainlink. This integration will help Filecoin realize its storage function and automate access to other blockchains while creating a connection with Ethereum. Filecoin tried to retouch it's all-time high on March 25, and reached a maximum of $96.19.
The recent Chainlink integration seems to have driven Filecoin's upward trend. The cryptocurrency is expected to break the resistance of $96.67 and continue it's upward momentum.
Filecoin ranks No.19 in market capitalization, with a market cap of $5,691,099,345 and a 24-hour transaction volume of $2,761,059,385.
Filecoin(FIL) Price Analysis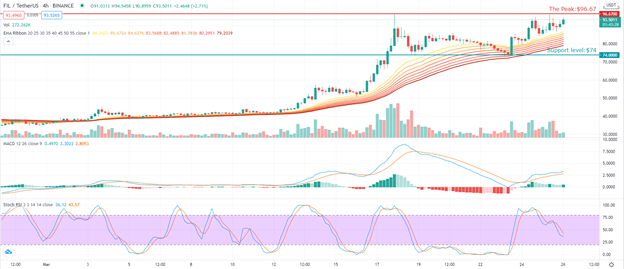 Source: FIL/USDT 4-Hour via TradingView
Judging from the 4-hour candlestick chart, the bulls are persistently pushing FIL prices up. After March 17, Filecoin suffered considerable losses after touching a record-high of $96.67, so this area will be a key psychological barrier for Filecoin. If the bulls can push the decisive closing price above $96.67, then the bullish momentum may prompt FIL to reach a new high of $100.
The transaction price of FIL/USD is much higher than the Exponential Moving Average ribbon. Both the upward sloping moving average and the bullish MACD indicate that the bulls are currently dominating the market.
Stochastic RSI is below the median number of 50, which is the bearish side of the oscillator. If a large number of sell orders are triggered, then FIL/USDT will test the 20 day-Exponential Moving Average of $86 support level. If the bulls fail to defend $86, then the $74 support line will be tested.
Image source: Shutterstock
Disclaimer: The views and opinions expressed in this article are solely the author's and do not necessarily reflect the views of Blockchain.News. No information in this article should be interpreted as investment advice. Blockchain.News encourages all users to do their own research before investing in cryptocurrencies.


Read More