Why Bitcoin Plunged to $42K before Spiking Back to $45K
During the previous few days, the Bitcoin bulls have not been able to defend the 100-day Exponential Moving Average (100-EMA) of around $51K. Bitcoin did not regain its rising momentum.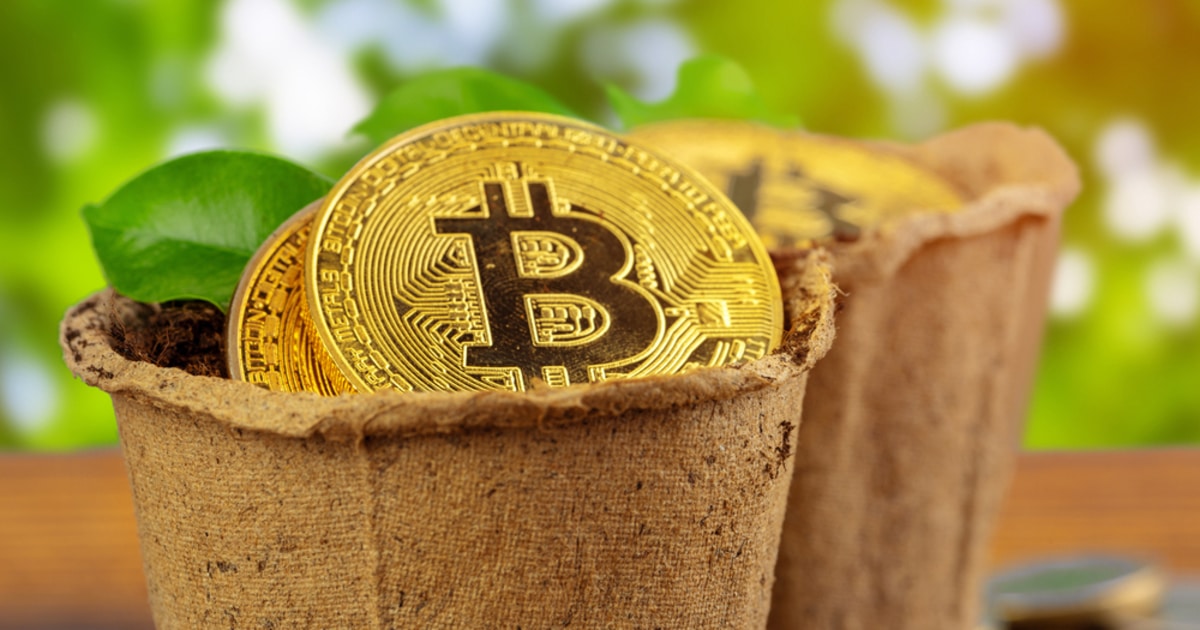 The decline of BTC accelerated the correction of the entire crypto asset. Ethereum (ETH) fell by 7.07%, Binance Coin (BNB) by 8.86%, and Cardano (ADA) by 8.58% within the last 24 hours.
Today's Bitcoin price touched the lowest point of $42,118. After Elon Musk tweeted to clarify on the speculations that Tesla did not sell any Bitcoins, the Bitcoin price bottomed out at $42K and quickly rose to around $45K.
At the time of writing, Bitcoin is trading at $45,347.
From the current point of view, today's trading volume is showing an increase compared to the previous few days, which proves that more investors are pouring into the market.
If today's trading volume exceeds the threshold of $104.39K, which is the trading volume of Bitcoin on Huobi exchange on May 13, then it is possible that a bottom pattern will be formed.
Bitcoin's dominance rate is also supporting this conjecture. Now Bitcoin's dominance percentage has hit its lowest point in more than 2 years, at around 40.73%. This number is infinitely close to Bitcoin's dominance indicator in early May 2018, which was around 39.22%.
Bitcoin(BTC) Price Analysis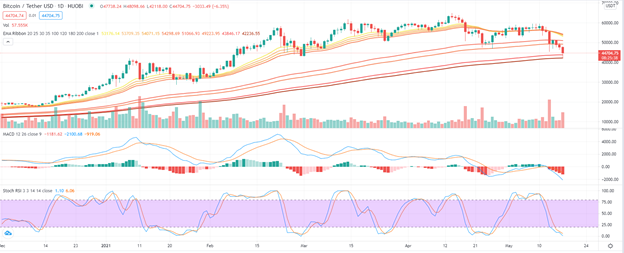 Source: BTC/USDT Daily via TradingView
At present, the Bitcoin price has fallen below the 120-day Exponential Moving Average of around $49,229. Just like the forecast a few days ago, BTC/USDT will likely test the 200 day-Exponential Moving Average (200-EMA) support level of around $42K.
Today, the bulls have not given up easily. They have prevented the bear forces from pushing the BTC price below 200-EMA of $42,242.
However, if the bulls fail to defend against the drop, the decline may be significant. A drop below the $40,000 mark will trigger a panic in the market, which will lead to a greater correction for Bitcoin. If that is the case, the next target for the bears will be $37,000.
Although both the downward sloping moving average and the MACD index - which made a bearish crossover below the zero axes - indicate that the bears are currently dominating the market, the Stochastic RSI is below the oversold zone of 20, meaning that the RSI value is trading at the lower end of Bitcoin's predefined range. Also, the short-term direction of Bitcoin may result in the cryptocurrency reaching a low point, before rebounding higher.
Tom Lee, the managing partner of Fundstrat Global Advisors, believes that Bitcoin's upward trend still exists. Lee believes that Bitcoin will go from $100,000 to $125,000 by the end of this year.
Image source: Shutterstock
Internet Computer (ICP): Everything You Need to Know
Read More